Campaign Period Flights boarded from July 10, 2020 (Friday) to September 30, 2020 (Wednesday)
Registration is required for this campaign.
Please confirm the campaign description and proceed with your registration.
Deadline for applicationSeptember 30, 2020 at 23:59 (JST)
1 million members who won and met the conditions of the campaign will receive Double Miles* for all eligible flights boarded during the campaign period.
Campaign Flow
Complete campaign registration

Board on ANA Domestic flight

Flight miles must be accrued to ANA Mileage Club account

1 million members who won this campaign

receive Double Miles* for all eligible flights boarded during the campaign period.
Double miles means the equivalent amount of flight miles that you gain from your boarding. Bonus miles by ANA Card or Premium Status are not included in double miles.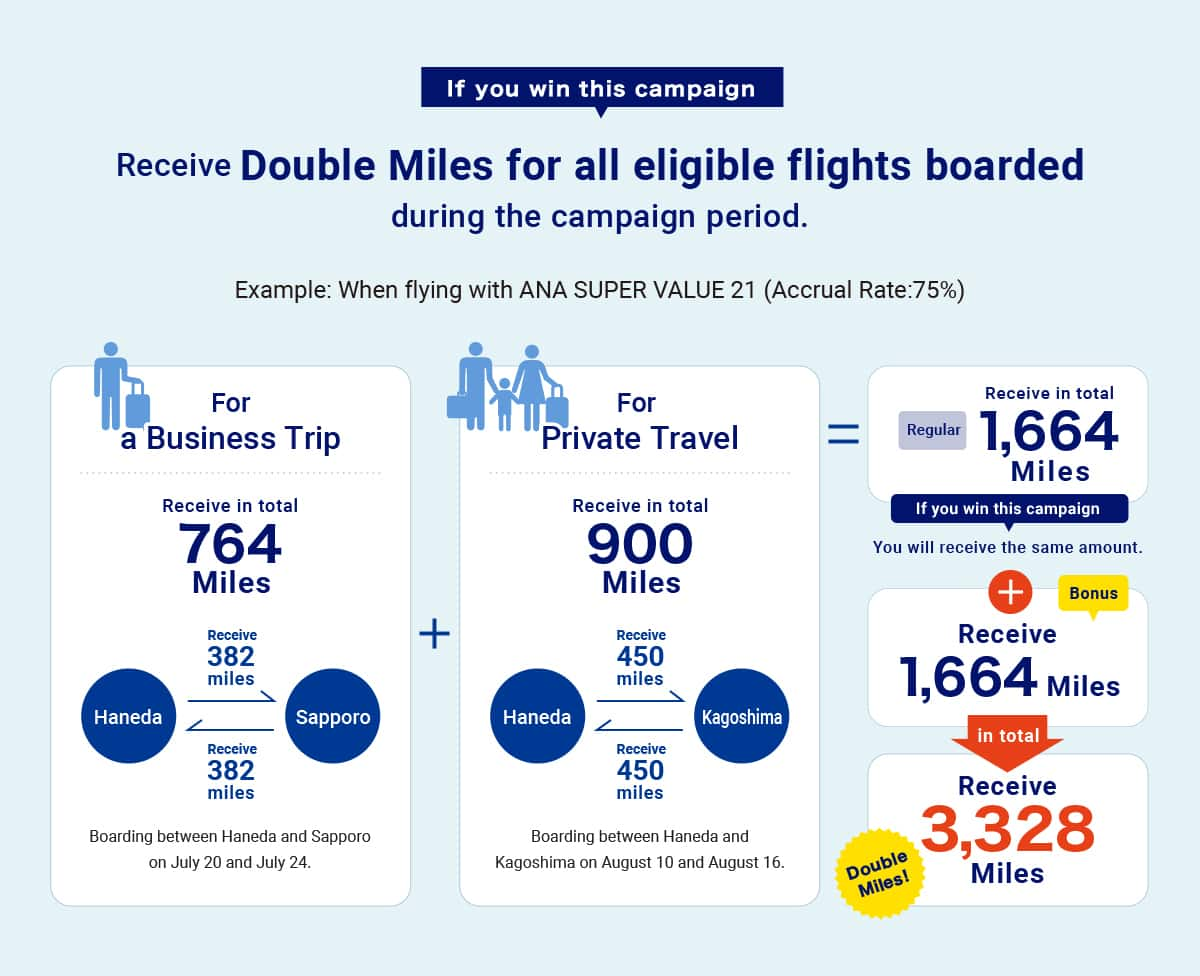 All Domestic flights operated by ANA Group.
Domestic codeshare flights are eligible when the flight is booked with an ANA flight number (NH).
Domestic Flight Ticket Search and Reservation

All Domestic flight fares for which mileage can be accrued
All ANA Mileage Club Members
Please be advised that this campaign may suspend in accordance with the Government office's notice (e.g. Measurements for prevention of the spread of COVID-19 infection). We really appreciate your understanding.
Among the customers who meet the campaign conditions, the winners will be selected by lottery.
ANA will credit double miles to winners account without further notification. Customer who couldn't be selected as winners won't be notified. Please log in to ANA website and check your Mileage Account Balance Reference around late October 2020.
ANA cannot respond to inquiries regarding the selection of winners.
Rights of the winner are not transferable.
In compliance with the "Act Against Unjustifiable Premiums and Misleading Representations", please note that customers selected as winners in this campaign may not be eligible for selection in other promotions carried out by ANA during the same period.
To earn ANA Double Bonus Miles, you must complete the retroactive registration of your flight miles by October 4, 2020 (Sunday) 23:59 (JST).
Bonus Miles will not be eligible for Premium Points.
Personal information of participants is used for this campaign purposes only.
Please refer to the ANA Privacy Policy for information about the handling of personal data.
Press this button and register for the campaign.
Registration by customers themselves is required by the registration deadline.
Registration for the campaign can only be done through this campaign site.
The order of campaign registration and boarding does not affect eligibility.
Campaign can be registered at any time during the Campaign Registration Period.
For a limited time only! Enjoy even greater value with ANA SUPER VALUE.
From June 26, 2020 onward, customers purchasing an eligible fare for a flight between July 1 and September 30, 2020 will be able to be change to a flight on a later date (up to 355 days later; sector changes included) without paying any handling fees.
Customer Support
Select 3 for Inquiries about Mileage
Campaign inquiry number::MKT2020-0605-265