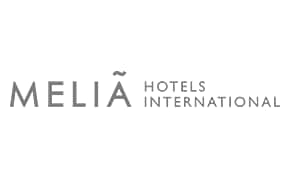 Meliá Hotels International was established in 1956 in Palma de Mallorca (Spain),is the world's leading hotel chain for holidays,as well as being the overall market leader in Spain,both in the leisure and the business sectors. It is the third largest chain in Europe,the twelfth largest in the world and is the global leader for holidays and in Latin America and the Caribbean. Currently there are more than 350 hotels in 35 countries on 4 continents and the company has a workforce in excess of 33.000 employees.
Commercial brands used to offer their product include Gran Meliá,Meliá Hotels & Resorts,ME by Meliá,INNSIDE by Meliá,TRYP by Wyndham,Sol Hotels,Paradisus Resorts and Club Meliá. Each of these brands has been created to satisfy demanding customers who appreciate the hotels' strategic location and their quality services,as much as the personal service that enables them to have a great experience throughout the whole of their stay Meliá Hotels International has taken into account the different stages in their customers' lives,their changing tastes and requirements,and offers appropriate products designed for each of them.
500 miles per stay

Paradisus
ME by Meliá
Gran Meliá
Meliá
INNSIDE by Meliá

300 miles per stay
* Accommodations made by any travel agency or at a group rate are not eligible.
Conditions for Mileage Accrual
Please click here to confirm conditions for mileage accrual.
Please click here to confirm mileage accrual method.
Please allow approximately 1-2 months to confirm mileage accrual after stay.
Please contact the following for retroactive registration of mileage.
* Please click here to confirm the retroactive registration method.
ANA Mileage Club Service Center

Kamata Post Office District 144-8526
Meliá Hotels International


+86-21-3382-0800

* Reservations made on the above-mentioned web site may not be eligible for mileage accrual. Please contact us by phone for reservations.