on April 14th, 2020 (JST) current information.
Furthermore, the details under "Visa" and "Passport" are for Japanese nationals.
This information is likely to change suddenly, so please contact the relevant official authority (e.g., embassy) for the latest information.
You do not require a visa to stay in the UK for general tourist purposes (generally stays of 6 months or less for Japanese citizens)
Your passport must be valid for at least the expected number of days of your stay (preferably at least 6 months at the time of entry) and you must have both outbound and return tickets. You may be asked for proof of having sufficient funds for your stay (e.g. bank certificate of your outstanding balance in English; as of Of October 2019).
Visa, passport, and other inf+E3:E13 is subject to change without notice. Be sure to check with the Embassy, Consulate, or travel agency.
When visiting from Japan, it is prohibited to bring the following items into England.
a. Meat, meat products, milk, dairy products
b. Potatoes (all food, seeds, or plants), most plants
c. Soil
d. Endangered animals or plants and products made from them
Most fruits and vegetables (excluding potatoes) are permitted. However, they must be in hand luggage, they must be for personal use or for family or friends and not for sale, as well as they must show no signs of pests or disease. Some items are subject to permissible amount per person or are prohibited or restricted.
Marine products, eggs, and honey are allowed to bring into the country, with some exceptions, but there are conditions such as the allowable limit.
Food products that are brought in against the regulations will be confiscated. You may also be fined or prosecuted.
Many plants require a plant quarantine certificate.
There are specific regulations and conditions for animals in addition to by species.
There may be other conditions or regulations in addition to the above.
The regulations may change if England leaves the EU.
There are no special restrictions for travelers bringing it in for personal use.
For bringing and possession of tax-free cigarettes
Tobacco: 200 cigarettes, 100 slender cigars, 50 regular-sized cigars, or 250g of cut tobacco (possession of combinations of the above is generally acceptable within the restrictions).
Alcohol: 1L of liquors over 22% alcohol, 2L of alcoholic drinks up to 22% alcohol (e.g. sparkling liquor or sherry). Combinations of two or more types are allowed as long as the volume is within the restrictions. In addition to the above, 4L of non-sparkling wine and 16L of beer.
Other: Goods equivalent to up to £390 per individual (including perfumes and gifts).
Those under 17 are prohibited from bringing in tobacco or alcohol.
Although there is no limit to the amount of foreign currency you can bring in, you must declare cash in an amounts of €10,000 or more being brought in. This applies to entry from a country outside of the EU. Please check the details. GOV.UK Homepage
Time difference and Daylight Saving Time
There is a 9-hour time difference between Japan and London. Subtract 9 from the hour in Japan. In other words, 8:00 in Japan is 23:00 on the previous day in the UK.
This changes to an 8-hour difference during daylight saving time, which begins at 1:00 (2:00) at night on the last Sunday of March and ends at 2:00 (1:00) at night on the last Sunday of October.
London is on a higher latitude than Hokkaido but is not as cold as Hokkaido thanks to warm currents and the westerlies. However, you will need a warm coat in winter. In summer, although some years have heat waves, the air is dry and some days are cool, so it is best to bring a cardigan or shawl. It rains often throughout the year, so a jacket with a hood comes in handy.
Temperature and precipitation in London and Tokyo
The average maximum temperature in Tokyo and London, The average minimum temperature in Tokyo and London

| month | The average maximum temperature in Tokyo | The average minimum temperature in Tokyo | The average maximum temperature in London | The average minimum temperature in London |
| --- | --- | --- | --- | --- |
| Jan. | 10℃ | 2℃ | 6℃ | 3℃ |
| Feb. | 10℃ | 2℃ | 7℃ | 3℃ |
| Mar. | 13℃ | 5℃ | 11℃ | 4℃ |
| Apr. | 18℃ | 10℃ | 15℃ | 5℃ |
| May | 23℃ | 15℃ | 17℃ | 9℃ |
| Jun. | 25℃ | 18℃ | 20℃ | 11℃ |
| Jul. | 28℃ | 23℃ | 21℃ | 14℃ |
| Aug. | 31℃ | 24℃ | 20℃ | 13℃ |
| Sep. | 27℃ | 21℃ | 19℃ | 10℃ |
| Oct. | 23℃ | 15℃ | 15℃ | 9℃ |
| Nov. | 17℃ | 10℃ | 10℃ | 5℃ |
| Dec. | 13℃ | 5℃ | 8℃ | 3℃ |
The average precipitation in Tokyo and London

| month | The average precipitation in Tokyo | The average precipitation in London |
| --- | --- | --- |
| Jan. | 50mm | 50mm |
| Feb. | 60mm | 40mm |
| Mar. | 110mm | 40mm |
| Apr. | 130mm | 40mm |
| May | 130mm | 40mm |
| Jun. | 160mm | 40mm |
| Jul. | 160mm | 60mm |
| Aug. | 150mm | 60mm |
| Sep. | 210mm | 50mm |
| Oct. | 110mm | 60mm |
| Nov. | 90mm | 60mm |
| Dec. | 40mm | 50mm |
Currency and Exchange Rate, Tax, Currency exchange, Tip
Currency and Exchange Rate
The unit of currency is the pound (£) and pence (p). £1 is 100 p, JPY133 (as of April 5, 2020). There are four denominations of banknotes: £5, £10, £20, and £50 (Only Scotland and the Channel Islands have £1 notes.). In general, £50 notes are not often used.There are eight types of coins: 1 p, 2 p, 5 p, 10 p, 20 p, 50 p, £1, and £2.
Scotland, Northern Ireland, and other countries in the UK issue their own banknotes, but these can also be used in England. Note that banknotes issued by the Channel Islands, however, cannot be used in the UK. Also, Scotland and Northern Ireland currency cannot be exchanged in Japan and should be used or exchanged to British pounds as early as possible.
In the UK, a 20% value-added tax called "VAT" (tax-inclusive) is applied to many products. However, travelers can receive a partial refund for this tax by completing a procedure. If you make purchases over a certain value, do not forget to complete this procedure. In general, this procedure can only be used for unused products. It does not apply to items used during your trip or services received during your trip such as hotel fees or eating costs.
Fees charged in places such as restaurants and hotels often include a service charge, so a tip is not always required. However, you may tip someone providing you with a service as a show of gratitude. The amount differs depending on whether a special request was made and the level of satisfaction with the service, but the following values serve as references.

Taxis: About 10-15% of the fare. Tip well if you have a lot of luggage.
Restaurants: If there is a service charge, generally no tip is required. If not, though it depends on the quality of the restaurant, tip about 12-15% to bring the total to a nicely rounded off amount when paying at the table.
Hotels: About £1 each time for the bellhop or when asking for room service.
Restrooms: About £0.20 to £0.50 if there is a cleaning person sitting in the restroom with a plate in front of him/her, which is becoming less common.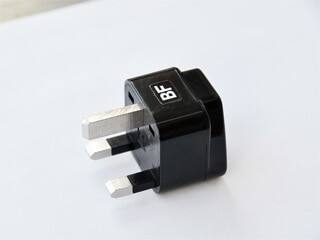 The voltage is 220V to 240V and the frequency is 50 Hz. Plugs are generally Type BF. Although you can often plug digital camera battery chargers or computers in directly, you will need an adapter for some electrical devices. Check the voltage details on the label.
The TV and video system in the UK differs from that of Japan, so media from the UK cannot be played on ordinary media players in Japan. The DVD region code is 2, the same as Japan, so it can generally be played on a computer equipped with a DVD player but not on ordinary DVD players.
The Blu-ray region code is A in Japan and B in the UK.
Post offices in the UK have been privatized but are called the Royal Mail. In addition to postal services, some post offices also sell products such as handy boxes for shipping presents and stationery and some shops have a small postal counter.
They are generally open from 9:00 to 17:30 on weekdays. Some are also open on 9:00 to 12:30 on Saturdays. They are closed on Sundays and holidays. Some small post offices close for lunch and are closed on Saturdays. Hours vary between post offices.
Sending postcards and letters by airmail to Japan costs £1.35 up to 10 g and £1.55 up to 20 g. You can also send small parcels up to 2 kg.
Telephoning Japan from England
Ex. When calling (03) 1234-5678 or (090) 01234-5678
dial 00 (International telephone ID Number)
3 or 90 (Remove the first 0 for area codes and mobile telephone numbers)
1234-5678 (Other parties telephone No.)
Telephoning England from Japan
Ex. When calling London (020) 1234-5678
International Telephone Company No.
001 (KDDI)*1
0033 (NTT Communications) *1
0061 (SoftBank) *1
005345 (au Mobile) *2
009130 (NTT DoCoMo Mobile) *3
0046 (SoftBank Mobile)*4
010 (International Identification No.)
44 (Country Code, England)
20 (Remove the first 0 from telephone numbers)
1234-5678 (Other parties telephone No.)
*1.

Not required if you have an international registration with "My Line". See URL My Line(www.myline.org) for details.

*2.

au does not require 005345.

*3.

Pre-registration to World Wing is required for NTT DoCoMo. Does not require 009130.

*4.

Call are possible without dialing 0046 from SoftBank.
For the three cell phone carriers, hold down 0 until + appears, then add the country code and the phone number your wish to dial.
Holiday / National holiday
Holiday / National holiday
Many holidays are related to Christianity and you should note the holidays with dates that vary by year.
When public holidays fall on a Saturday or Sunday, there is a substitute holiday.
Some establishments close before and after Easter and from around Christmas to New Years, so it is best to get information in advance.
In particular, note that subways, buses, trains, and other public transportation do not run on the regular schedule from before Christmas to New Years.
January 1: New Year's Day
January 2: Bank Holiday (only Scotland)
March 17 (March 18 is a substitute holiday): St. Patrick's Day (only Northern Ireland)
April 10 to April 13: Easter Holidays
May 4: Early May Bank Holiday
May 25: Spring Bank Holiday
July 12: Orangemen's Day (only Northern Ireland)
August 3: Summer Bank Holiday (only Scotland)
August 31: Summer Bank Holiday (without Scotland)
November 30 (December 2 is a substitute holiday): St. Andrew's Day (only Scotland)
December 25: Christmas Day
December 26: Boxing Day
Primarily English. Welsh and Gaelic (Scotland and part of Northern Ireland) are also used.
Hours vary widely by bank, but are generally 9:00 to 17:00 weekdays. Some also open Saturdays in the morning only. They are closed on Sundays and holidays.
Department stores and shops
Monday to Saturday, 10:00 to 18:00. A growing number have extended hours until about 20:00 on Thursdays and are open only 6 hours on Sundays and holidays.
Lunch is from 12:00 to 14:30, afternoon tea from 15:00 to 17:00, and dinner from 17:30 to 23:00 (roughly). These are just a guide for general business hours. There is a 30 min. to 1 hour or so difference between stores. Many close or have irregular hours around Easter and Christmas, during the New Years holidays, and on public holidays.
In the UK, you cannot purchase alcohol if you are under 18 or tobacco products if you are under 16. When renting a vehicle, age restrictions vary with the car rental company, the type of vehicle, and other factors, and a credit card is requested as ID.
When lining up (forming a "queue"), stand in one line even if there are multiple agents, and go to a free agent when you reach the front of the line. To hail a taxi or stop a bus, signal by sticking out your arm. Pay your taxi fare through the small window between the drivers seat and back passengers seats.When standing on escalators, stand on the right. The left side is for people to walk.
Smoking is prohibited in restaurants, pubs, shops, hotel lobbies, and other public buildings. Violators will be fined. It is allowed in outdoor terraces. You will also be fined for littering cigarette butts in the street.
Copyright (C) Globe-Trotter Media Partners Inc. All Rights Reserved.
Copyright (C) Diamond-Big Co., Ltd. All Rights Reserved.