on November 27th, 2019 (JST) current information.
Furthermore, the details under "Visa" and "Passport" are for Japanese nationals.
This information is likely to change suddenly, so please contact the relevant official authority (e.g., embassy) for the latest information.
Not required for a tourism visit that is no more than ninety days in any 180-day period.
Your passport must be valid for at least three months from the date of departure from Austria or another country in the Schengen Area.
Schengen Agreement
As of January 2018, countries in the Schengen Area are Iceland, Italy, Estonia, Austria, Holland, Greece, Switzerland, Sweden, Spain, Slovakia, Slovenia, the Czech Republic, Denmark, Germany, Norway, Hungary, Finland, France, Belgium, Poland, Portugal, Malta, Latvia, Lithuania, Lichtenstein, and Luxembourg.
When entering from Japan or another country outside of the Schengen Area, complete immigration and customs clearance upon arriving at the first country in the area during your visit.
When visiting from Japan, it is prohibited to bring the following items into Austria.
a. Meat, meat products (ham, sausages, or other processed foods containing meat)
b. Milk, dairy products (up to 2 kg of powdered baby formula or baby food for personal use is permitted)
c. Vegetables
d. Fruit (including grape vines)
The types of controlled items may change depending on circumstances such as contagious disease outbreaks.
They can be brought in for personal use. If traveling by air, you will not be taxed for up to the equivalent of €430.
For bringing and possession of tax-free cigarettes
Tobacco products (only for those aged 17 or older): 200 cigarettes or 100 cigarillos or 50 cigars or 250 g of cut tobacco.
For a combination of the above types, a total weight of 250 g or less. Alcohol (only for those aged 17 or older): 4 L wine, 16 L beer, 2 L other alcoholic beverages up to 22% volume, 1 L other alcoholic beverages over 22% volume.
Other goods: Value of EUR 430 per item (EUR 150 for those younger than 15).
Equivalent of EUR 10,000 or more in cash: Must declare when carrying it in or out of the country.
Time difference and Daylight Saving Time
There is an 8-hour time difference between Japan and Austria. Subtract 8 from the hour in Japan. In other words, 7:00 AM in Japan is 11:00 PM on the previous day in the Austria. The time difference is 7 hours during daylight savings.
Daylight savings is from 2:00 AM (3:00 AM) on the last Sunday of March until 3:00 AM (2:00 AM) on the last Sunday of October.
Austria is very cold in the winter. When considering clothing, prepare as if for slightly colder temperatures than Hokkaido.
In summer, there are heat waves some years, but some days are quite cool, for example when it rains, so a cardigan or other protection from the cold is essential.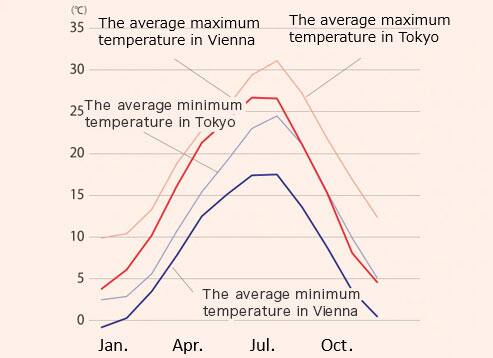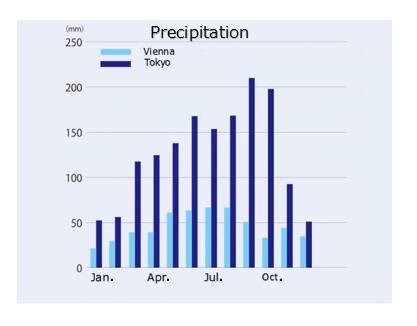 The average maximum temperature in Tokyo and Vienna, The average minimum temperature in Tokyo and Vienna

| month | The average maximum temperature in Tokyo | The average minimum temperature in Tokyo | The average maximum temperature in Vienna | The average minimum temperature in Vienna |
| --- | --- | --- | --- | --- |
| Jan. | 10℃ | 2℃ | 4℃ | -1℃ |
| Feb. | 10℃ | 2℃ | 6℃ | 1℃ |
| Mar. | 13℃ | 5℃ | 10℃ | 4℃ |
| Apr. | 18℃ | 10℃ | 16℃ | 8℃ |
| May | 23℃ | 15℃ | 21℃ | 12℃ |
| Jun. | 25℃ | 18℃ | 24℃ | 15℃ |
| Jul. | 28℃ | 23℃ | 27℃ | 17℃ |
| Aug. | 31℃ | 24℃ | 27℃ | 17℃ |
| Sep. | 27℃ | 21℃ | 21℃ | 14℃ |
| Oct. | 23℃ | 15℃ | 15℃ | 9℃ |
| Nov. | 17℃ | 10℃ | 8℃ | 4℃ |
| Dec. | 13℃ | 5℃ | 5℃ | 1℃ |
The average precipitation in Tokyo and Vienna

| month | The average precipitation in Tokyo | The average precipitation in Vienna |
| --- | --- | --- |
| Jan. | 50mm | 20mm |
| Feb. | 60mm | 30mm |
| Mar. | 120mm | 40mm |
| Apr. | 130mm | 40mm |
| May | 140mm | 60mm |
| Jun. | 170mm | 60mm |
| Jul. | 150mm | 70mm |
| Aug. | 170mm | 70mm |
| Sep. | 210mm | 50mm |
| Oct. | 200mm | 30mm |
| Nov. | 90mm | 40mm |
| Dec. | 50mm | 30mm |
Currency and Exchange Rate, Tax, Currency exchange, Tip
Currency and Exchange Rate
The currency is the Euro (denoted as €, Euro, or Eur, for short), which is divided into cents. In German, these are pronounced Oyro and Tsent, respectively.
EUR 1 is 100 cents, approx. 121 yen (as of November 8, 2019).
Banknotes are available in 5, 10, 20, 50, 100, 200, and 500 Euros.
Coins are available in 1, 2, 5, 10, 20, and 50 cents and in 1 and 2 Euros.
In Austria, a 20% value-added tax is applied to almost all products (10% for books and foods). Travelers living outside EU countries can have up to approx. 13% of this tax returned by completing a procedure. Incidentally, it is the tax paid when shopping that is refunded. Taxes paid for hotel and restaurant fees are not refunded.
Although a service charge is included in the prices of restaurants and hotels, there is a custom of paying tips (called Trinkgeld in German) in Austria. It is a gratuity expressing your gratitude for a person providing you with a service, so the amount varies depending on whether you have made a special request or how satisfied you are with the service, for example. Use the following amounts as a guide.
Taxis: About 10% of the fare (about EUR 1 to 3). Tip well if you have a lot of luggage to put in the trunk.
Restaurants: Though it depends on the quality of the restaurant, generally tip 10%. When paying at your table, it is customary to round up to a whole number.
Hotels: Tip bellhops and room service about EUR 1.
Bathrooms: If there is a cleaning person sitting behind a tray for money, tip about 20 to 30 cents.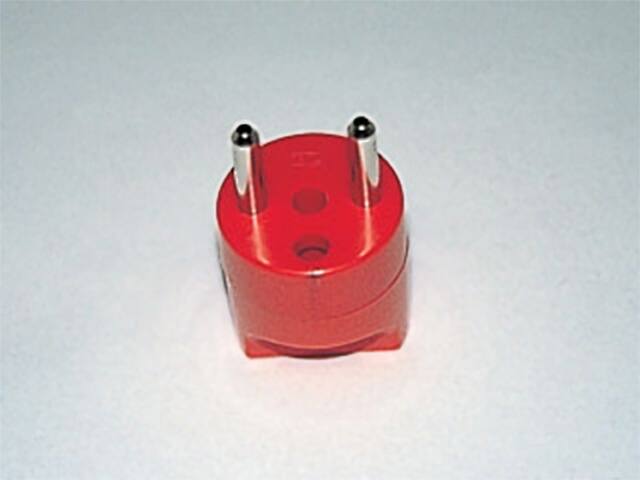 The voltage is 230V and the frequency is 50 Hz.
Plugs are generally type C, but some are type SE. Most electrical products for use in Japan must be used with a converter.
The TV and video system in Austria (PAL) differs from that of Japan (NTSC), so media from Austria cannot be played on ordinary media players in Japan. If a DVD displays the same region code as Japan (2), then it can be played on a computer equipped with a DVD player, but the DVD cannot be played on ordinary DVD players (it is possible if the machine is compatible with PAL). The region code for Blu-ray Discs that are next-generation DVDs is different in Austria (Region B) and Japan (Region A).
Post offices are generally open from 8:00 AM to 6:00 PM on weekdays and 9:00 AM to noon on Saturdays and are closed on Sundays and public holidays. Hours vary, for example stations in major cities and the main post office stay open later and smaller post offices close for a lunch break.
Postal fees are generally divided into priority and economy. Priority mail arrives in Japan in 2 to 6 days, and the estimated time of arrival is not shown for economy. Parcels (Paket) arrive in about 6 to 10 days for Light mail and 2 to 5 days for express EMS International mail.
When sending to Japan, a postcard or letter is EUR 1.80 up to 20 g (priority only). Mail up to 75 g is EUR 2.75 for priority and EUR 2.55 for economy. International parcels up to 2 kg (sum of 3 sides of up to 90 cm) are EUR 21.92 for Light and EUR 69.46 for EMS.
Telephoning Japan from Austria
When calling Tokyo (03) 1234-5678
dial 00 (International telephone identification number)
81 (Country Code, Japan )
3 (Remove the first 0 for area codes)
1234-5678(Other parties telephone number)
Telephoning Austria from Japan
When calling Austria (01)1234567
International Telephone Company No.
001 (KDDI)*1
0033 (NTT Communications) *1
0061 (SoftBank Telecom) *1
005345 (au Mobile) *2
009130 (NTT DoCoMo Mobile) *3
0046 (SoftBank Mobile)*4
43 (Country Code, Austria)
1 (Remove the first 0 of the area code)
1234567 (Other parties telephone number)
*1.

Not required if you have an international registration with "My Line" or "My Line Plus". See URL My Line/My Line Plus(www.myline.org) for details.

*2.

au does not require 005345.

*3.

Pre-registration to World Wing is required for NTT DoCoMo. Does not require 009130.

*4.

Call are possible without dialing 0046 from SoftBank.
For the three cell phone carriers, hold down 0 until + appears, then add the country code and the phone number your wish to dial.
Making domestic calls within Austria
When calling within the city, you do not need the area code. When calling to a place outside of the city, start with the area code.
Holiday / National holiday
Holiday / National holiday
Many holidays are related to Christianity, and holidays with dates that are varied by year. Also note that museums and other facilities are closed or have shorter hours on December 24, 25, 26, and 31 and January 1.
Jan. 1: New Year's (Neujahr)
Jan. 6: Epiphany (Heilige Drei Konige)
Apr. 12: Easter (Ostern)*1
Apr. 13: Easter Monday (Ostermontag)*1
May 1: May Day (Maifeiertag)
May 21: Corpus Christi (Christi Himmelfahrt)*1
May 31: Whit Sunday (Pfingsten)*1
Jun. 1: Whit Monday (Pfingstmontag)*1
Jun. 11: Corpus Christi (Fronleichnam)*1
Aug. 15: Assumption of Mary (Maria Himmelfahrt)
Oct. 26: National Day (Nationalfeiertag)
Nov. 1: All Saints' Day (Allerheiligen)
Dec. 8: Immaculate Conception (Maria Empfangnis)
Dec. 25: Christmas (Weihnachtstag)
Dec. 26: St. Stephen's Day (Stephanstag)
*1.

Dates differ each year for some holidays.
Below is a guide for general business hours. There is about a 30 min. to 1 hour difference between stores.
Although hours vary among banks, they are usually open from 9:00 AM to 3:00 PM on weekdays, remaining open until 5:30 PM on Thursdays. They are closed on weekends and public holidays.
Department stores and shops
10:00 AM to 6:00 PM on weekdays and 9:00 AM to 1:00 PM on Saturdays (until 5:00 PM at department stores in major cities and during the Christmas season).
Lunch is from about 11:30 AM to 2:00 PM and dinner from about 5:30 PM to 10:00 PM.
When renting a vehicle, age restrictions vary with the car rental company and the type of vehicle, and a credit card is requested.
In Austria, smoking is prohibited in airports, train stations, and on trains. Indoors at restaurants and cafés, smoking is prohibited or there are completely separate areas for smoking and non-smoking. There is a sticker for smoking or non-smoking at the entrance. Smoking is allowed at tables outside.
Copyright (C) Globe-Trotter Media Partners Inc. All Rights Reserved.
Copyright (C) Diamond-Big Co., Ltd. All Rights Reserved.