on March 31th, 2020 (JST) current information.
Furthermore, the details under "Visa", "Passport" and "Vaccination" are for Japanese nationals.
This information is likely to change suddenly, so please contact the relevant official authority (e.g., embassy) for the latest information.
Not required for stays of up to thirty days. To stay longer than thirty days, you can get a tourist visa from the Philippine Embassy or Consulate General in Japan that is valid for 59 days. You can also complete a stay extension procedure in the country to extend your stay initially by 29 days.
Your passport must be valid until your date of departure from the Philippines.
There is no list of specified items that cannot be brought into the Philippines from Japan. However, an import declaration is required for bringing in any animals, plants, fish, or processed items made with those items.
As of November 2019, there are no regulations for bringing it in the country.
Not required when departing from Japan.
For bringing and possession of tax-free cigarettes
Visitors may bring up to 2 regular-sized bottles of liquor (1L), up to either 400 cigarettes, 50 cigars, or 250g of loose tobacco, and up to US$200 worth of non-expendable items (such as duty-free items purchased at the airport in Japan) duty-free. Foreign currency amounts of US$10,000 or more must be declared. In addition, bringing in and taking out firearms, drugs, obscene materials, and counterfeit brand-name goods is prohibited.
Time difference and Daylight Saving Time
The Philippines is 1 hour behind Japan. When it is 12:00 in Japan, it is 11:00 in the Philippines. Daylight saving time is not observed in the Philippines.
The Philippines has a tropical climate that is warm throughout the year with an average yearly temperature of 26°C to 27°C. The seasons are divided into the rainy season from June to November, and the dry season from December to May, but there is a significant difference depending on region. Clothing worn in summer in Japan is suitable for wearing in the Philippines throughout the year. However, some places have the air conditioning turned up in airplanes, overnight buses, hotels, department stores, etc., so it is best to have a jacket to cover up with. The sunlight is strong, so bringing sunglasses and a hat is convenient.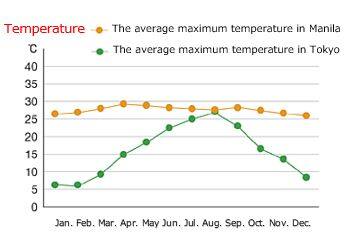 The average temperature in Manila and Tokyo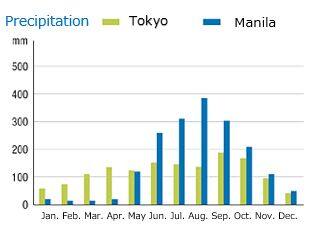 Precipitation in Manila and Tokyo
The average temperature in Tokyo and Manila

| month | The average temperature in Tokyo | The average temperature in Manila |
| --- | --- | --- |
| Jan. | 6℃ | 26℃ |
| Feb. | 6℃ | 27℃ |
| Mar. | 9℃ | 28℃ |
| Apr. | 15℃ | 30℃ |
| May | 18℃ | 29℃ |
| Jun. | 22℃ | 28℃ |
| Jul. | 25℃ | 28℃ |
| Aug. | 27℃ | 27℃ |
| Sep. | 23℃ | 28℃ |
| Oct. | 17℃ | 27℃ |
| Nov. | 14℃ | 26℃ |
| Dec. | 8℃ | 25℃ |
The average precipitation in Tokyo and Manila

| month | The average precipitation in Tokyo | The average precipitation in Manila |
| --- | --- | --- |
| Jan. | 60mm | 20mm |
| Feb. | 80mm | 10mm |
| Mar. | 110mm | 10mm |
| Apr. | 130mm | 20mm |
| May | 120mm | 110mm |
| Jun. | 140mm | 260mm |
| Jul. | 130mm | 310mm |
| Aug. | 120mm | 390mm |
| Sep. | 190mm | 300mm |
| Oct. | 170mm | 200mm |
| Nov. | 90mm | 100mm |
| Dec. | 40mm | 50mm |
Currency and Exchange Rate, Tax, Currency exchange, Tip
Currency and Exchange Rate

New coins are in circulation as of the end of 2017. The validity end date of the old coins has not been decided, and so they are currently still in use.
The unit of currency is the Philippine peso (P), which is subdivided into centavos (¢). P1 is 100¢. As of March 10 2020, P1 is approx. JPY2.07.
There are eight denominations of banknotes: P1000, P500, P200, P100, P50, P20, P10, and P5 (P200, P10, and P5 are not often seen). There are eight types of coins: P10, P5, P1, 50¢, 25¢, 10¢, 5¢, and 1¢ (the 50¢, 10¢, 5¢, and 1¢ are not often seen).
US dollars and Japanese yen can be changed into Philippine peso at hotels, city banks, moneychangers, and banks in airports. Moneychangers offer the best exchange rates, and hotels the worst. Sometimes, banks will not accept Japanese yen in exchange. Keep the receipt for currency exchange until the last day of your trip as sometimes it must be shown when re-changing money. In addition, often change is not available in Japanese yen at banks and moneychangers, so bringing plenty of 1000-yen bills from Japan cuts down on excessive currency exchange. Furthermore, when traveling to rural areas, it is safer to exchange Japanese yen for pesos in Manila, Cebu City, etc.
Porters at the airport and hotels should be tipped P10 to P20 per piece of luggage, and when restaurant bills do not include a service charge or taxi, usually a tip of approx. 10% of the meal charge is left.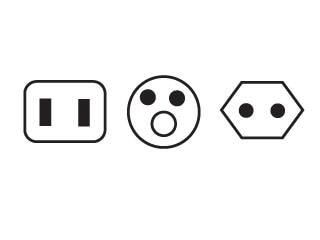 220V, 60Hz. The shape of the plug is mostly the same as that in Japan (type A), but type B3, C, or O is used in some parts of the country. A transformer is needed for using electrical devices that are not compatible with 100 to 240V.
The Philippines uses the same NTSC video system as Japan, so normal video players used in Japan can play DVD and other media from the Philippines. The DVD region code for the Philippines is 3, while it is 2 for Japan. However, if a DVD displays region code 2, it can be played on a computer equipped with a DVD player.
Airmail to Japan costs P45 for a sealed letter up to 20g and P15 for a postcard. Mail is delivered to Japan in 5 to 10 days.
Telephoning Japan from Philippines
When calling Tokyo (03) 1234-5678
dial 00 (International telephone identification number)
3 (Remove the first 0 for area codes and mobile telephone numbers)
1234-5678(Other parties telephone number)
Telephoning Philippines from Japan
When calling Philippine Manila (02) 2345-6789
International Telephone Company No.
001 (KDDI)*1
0033 (NTT Communications) *1
0061 (SoftBank) *1
005345 (au Mobile) *2
009130 (NTT DoCoMo Mobile) *3
0046 (SoftBank Mobile)*4
010 (International Identification No.)
63 (Country Code, Philippines)
2 (Remove the first 0 for area codes)
2345-56789 (Other parties telephone number)
*1.

Not required if you have an international registration with "My Line". See URL My Line(www.myline.org) for details.

*2.

au does not require 005345.

*3.

Pre-registration to World Wing is required for NTT DoCoMo. Does not require 009130.

*4.

Call are possible without dialing 0046 from SoftBank.
For the three cell phone carriers, hold down 0 until + appears, then add the country code and the phone number your wish to dial.
Holiday / National holiday
Holiday / National holiday
There are many holidays related to Christianity. Note that holidays fall on different dates, depending on the year. On national holidays, shops, banks, post offices, etc. are closed. There are also special holidays.
January 1: New Year's Day
Late January to Mid February: Chinese New Year*1
February 25: EDSA People Power Revolution
Late March to Mid April: Easter holiday*1
April 9: Day of Brave
May 1: May Day
June 12: Independence Day
August 21: Ninoy Aquino Day
Last Monday in August: National Heroes Day*1
November 1: All Saints Day
November 30: Bonifacio Day
December 8: Immaculate Conception
December 25: Christmas
December 30: Rizal Day
December 31: New Year's Eve
*1.

holidays fall on different dates, depending on the year.
The official language is Tagalog. However, depending on the region, languages other than Tagalog is used, such as Visayan in the Visayan Islands. In parts of the Cavite province outside of Manila and parts of the Mindanao Island, the Chavacano language is also spoken, which includes a lot of Spanish. English is the common language and is the most understood language in Asia. There are around 80 other languages in the Philippines, including Llocano and Waray.
Generally open from Mon. to Fri. 9:00 to 15:00, closed on Sat., Sun., holidays.
Supermarkets, shopping centers, etc. are open every day around 10:00 to 21:00; some small stores are open until around 21:00. Many shopping centers are open longer than usual on weekends.
Open early morning to around 24:00, depending on the establishment. In large cities such as Manila, Cebu City, and Davao, many are open 24 hours.
Most stores are closed and transportation services do not operate during the Easter Holiday (End of March to late April. Varies by year).
Age restrictions on rental cars differs depending on the rental company, but in the Philippines, driving is so rough as to be incomparable to driving in Japan, so it is better not to drive even if you have a driver's license.
Copyright (C) Globe-Trotter Media Partners Inc. All Rights Reserved.
Copyright (C) Diamond-Big Co., Ltd. All Rights Reserved.