on February 18th, 2020 (JST) current information.
Furthermore, the details under "Visa" and "Passport" are for Japanese nationals.
This information is likely to change suddenly, so please contact the relevant official authority (e.g., embassy) for the latest information.
Japanese citizens require either a visa or ETAS registration to enter Australia.
Your passport must be valid for at least the number of days of your stay.
The $55 departure tax for flying out of Australia and various airport taxes for each airport are generally paid at the time of purchasing your flight ticket.
When visiting from Japan, it is prohibited to bring the following items into Australia.
Australia is far from the other continents and has many unique species of plants and animals. For this reason, quarantine is extremely strict and there are very detailed regulations for bringing in foods, plants, and animals. The following is a list of typical items that are not permitted to bring into the country for details, see Australian Quarantine and Inspection Service website (https://japan.embassy.gov.au/tkyojapanese/quarantine_jp.html).
Some items may be brought in if declared.
a. Eggs (raw, boiled)
Some processed products are allowed.
b. All fruit and vegetables
c. Live animals
However, cats and dogs are permitted if they complete a certain length of animal quarantine after arrival. Check about guide dogs.
d. Meat
Processed meat that can be stored for 6 months or longer are permitted.
e. Salmonidae fish (canned is permitted)
f. Seeds or crafts or souvenirs made with seeds
g. Raw nuts (some types are permitted)
h. Plants with reproductive ability
i. Soil or sand
If it is difficult to judge if an item can be brought in, always declare it. Violations will result in not only confiscation and fines, but also, in the worst case, denied entry and refusal to perform new ETAS registration or issue new visas for three years after the incident.
Visitors will not be taxed for bringing in commodities for non-commercial use carried on hand or in hand luggage, sports goods for personal use, up to 25 grams of tobacco and one opened box (over 18 years old adults only), up to 2.25 liters of alcohol (adults only), or $900 worth of general goods (e.g. gifts, leather products, electronic devices, cameras, or jewelry).
E-cigarettes are not the norm in Australia and are prohibited to possess and use in certain states. Up to 25 g of e-cigarettes can be brought in duty free, but it is better not to bring it in.
Time difference and Daylight Saving Time
Australia generally has three time zones. The time difference is +1 hour between the states on the east coast (add 1 hour to Japan time). Central Australia has a -30 min. time difference with the east (add 30 min. to Japan time). The west (Western Australia) has a -2 hour time difference with the east (subtract 1 hour from Japan time). In addition, Daylight Saving time is in effect generally from the last Sunday of October to the first Sunday of April in New South Wales, Victoria, the Australian Capital Territory (Canberra), Tasmania (from the first Sunday of October), and South Australia. Add an extra hour to the time for these states and territories during this period. Note that the adoption and period of Daylight Savings time is determined by each state/territory each year, and you should check in advance the terms for that year.
Australia is very large and has a range of climates. In general, the north coast is a tropical zone and is divided into a rainy season and a dry season, central and south coast is a temperate to cold temperate zone with four season, and the central part of the continent has a dry desert climate. The sun is very strong throughout the year, so sunglasses and sunscreen are essential.
Currency and Exchange Rate, Tax, Currency exchange, Tip
Currency and Exchange Rate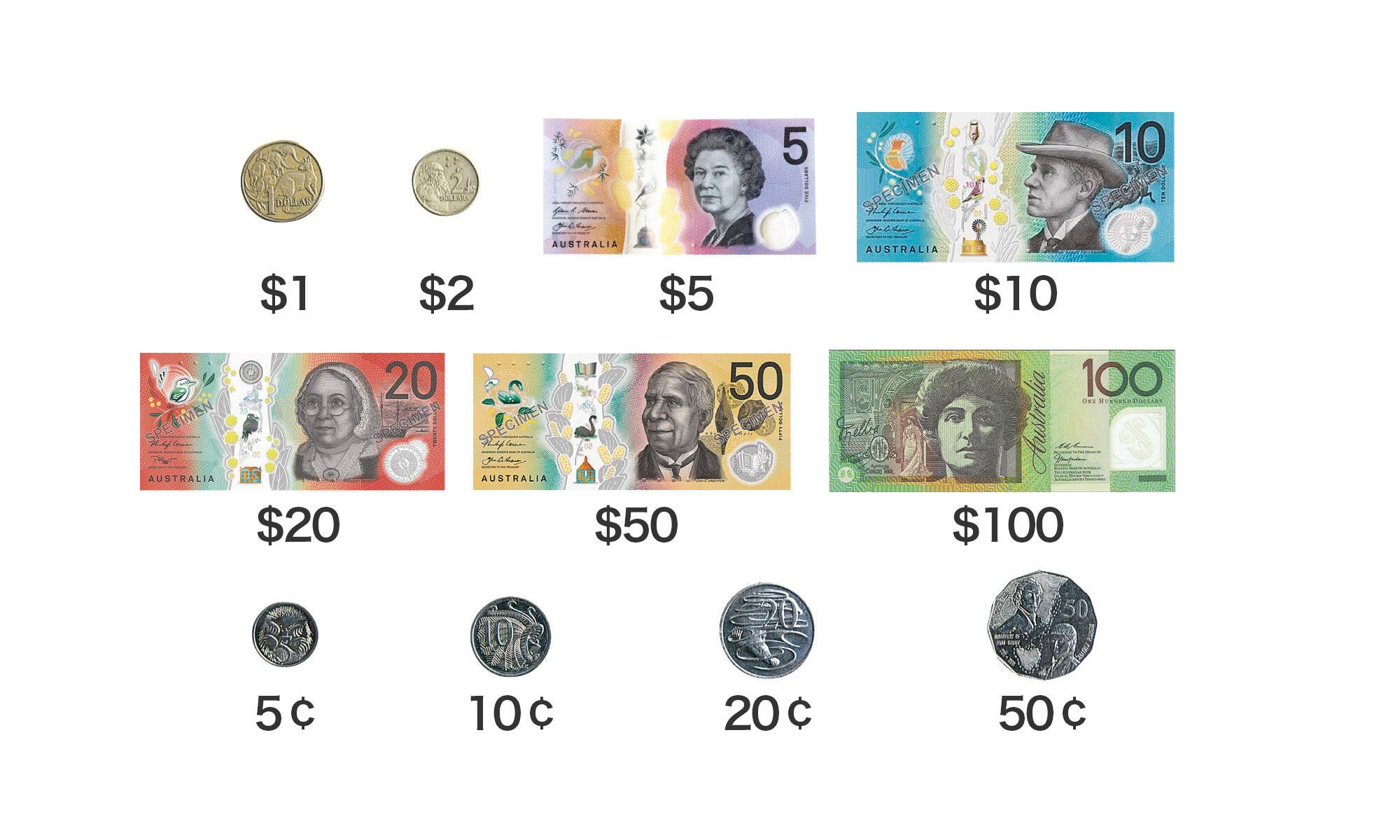 Since 2016, banknotes have successively been updated with new designs that include a watermark in the center. (In 2020, the $100 bill is scheduled to be updated.)
The units of currency are the Australian dollar (denoted A$) and Australian cents (denoted A¢). (This website uses only $ and ¢ for notation.) Banknotes are available in $5, $10, $20, $50, and $100 (all are made of polymer) and there are six types of coins: 5¢, 10¢, 20¢, 50¢, $1, and $2. $1 is 100¢. As of January 2020, $1 was equivalent to about 73.7yen.
A consumption tax of 10% called GST is added to almost all products in Australia. Visitors can have this tax refunded by completing a procedure at the TRS booth at the airport upon their return if they leave Australia within 30 days, the products are taken from the country unused as hand luggage, and purchases are at least $300 in total at each store.
Although there is no set custom for tipping in Australia, it is common to provide a tip when receiving special assistance at a high class hotel or restaurant in cities such as Sydney and Melbourne.
Taxis: Round up the fraction of the fare. Tip a little more when receiving assistance carrying your bags or putting them in the trunk.
Restaurants: Tip about 10 to 15% at high class restaurants if there is no service charge included in the price. Pay a tip by adding the amount to the total on the pay slip yourself.
Hotels: Tip about $2 to 5 when receiving room service or another special service.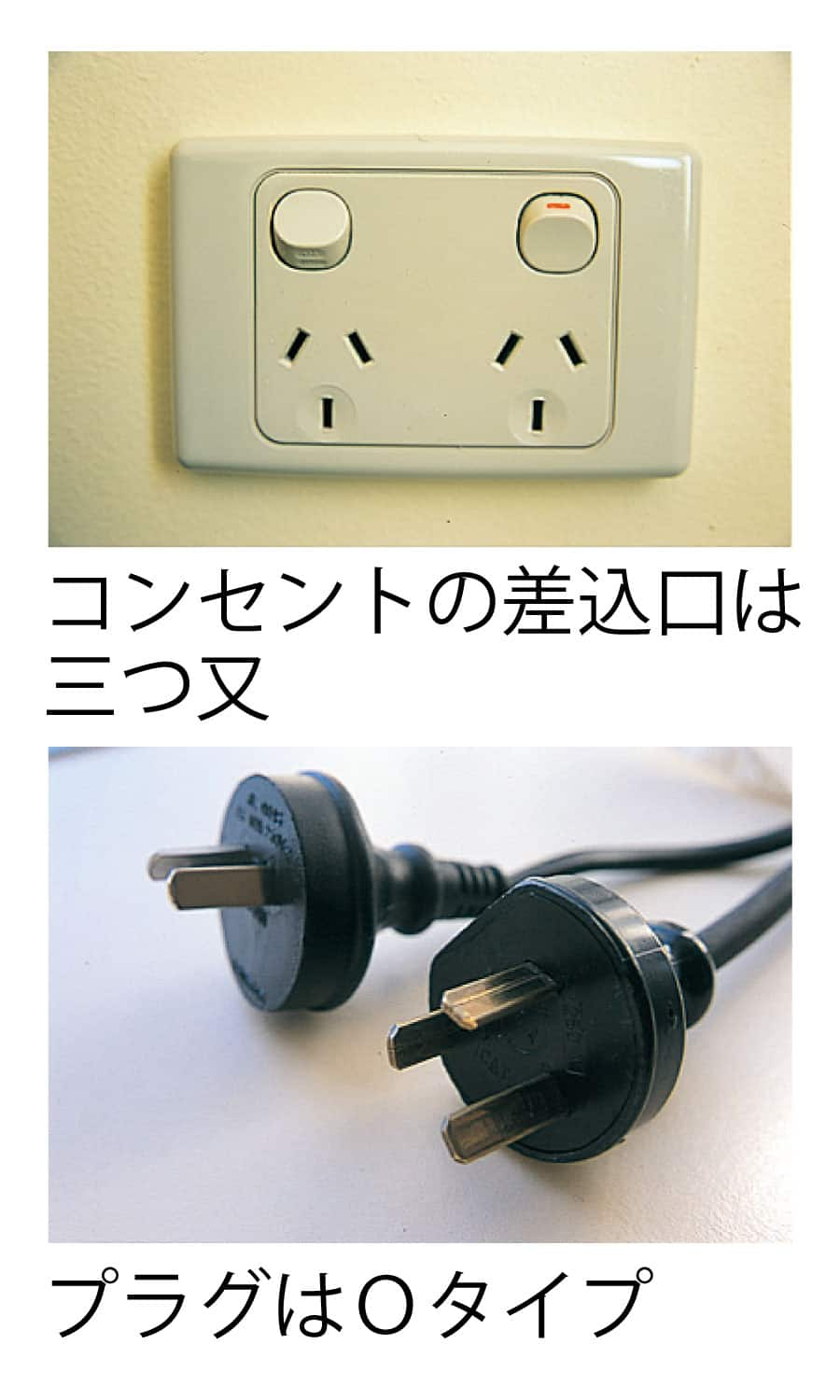 Outlets are three-pronged
The voltage is 220/240 V and the frequency is 50 Hz. Use type O plugs. As it uses a high voltage, you must press a switch on the outlet for electricity to turn on. When using Japanese electrical products, check the voltage range of the product. If it is not compatible with voltages up to 240 V, use a converter. You will always need to use a converter plug.
In Australia, the DVD region code is 4, Blu-ray region code is B, and TV and video system is PAL. The DVD and Blu-ray region codes and TV and video system all differ from those of Japan. Most media purchased in Australia cannot be played on regular Japanese devices.
The post office, Australia Post, is identified with a "P" mark in red. The counter is open from 9:00 to 17:00 on weekdays and is closed on weekends and holidays (although some post offices in major areas are also open on Sat. morning). In addition to the counter, stamps can also be purchased at special vending machines at post offices or at the hotel reception desk. Air mail arrives in Japan within 5 to 7 days. Small packages can be up to 20 kg.
$2.30 for sealed letters (including postcards) up to 50 grams, $6.00,up to 125 to 250 grams, $8.00 for sealed letters from 50 to 250 grams, and $12.00 for sealed letters from 250 to 500 grams.
Telephoning Japan from Australia
Ex. When calling (03)1234-5678
0011 (International telephone identification number)
3 (Remove the first 0 for area codes and mobile telephone numbers)
1234-5678 (Other parties telephone No.)
Telephoning Australia from Japan
When calling Cairns (07)1234-5678
Call the number of an international phone company
001 (KDDI)*1
0033 (NTT Communications)*1
0061 (Softbank Telecom)*1
005345 (au mobile)*2
009130 (NTT Docomo mobile)*3
0046 (Softbank mobile)*4
010 (International phone code)
61 (Australia phone code)
7 (remove the first "0" from the area code)
1234-5678 (Other parties telephone No.)
*1.

Not required if you have an international registration with "My Line" or "My Line Plus". See URL My Line/My Line Plus(www.myline.org) for details.

*2.

au does not require 005345.

*3.

Pre-registration to World Wing is required for NTT DoCoMo. Does not require 009130.

*4.

Call are possible without dialing 0046 from SoftBank.
Holiday / National holiday
Holiday / National holiday
The dates of holidays vary by year. If holidays with predetermined dates fall on a weekend, Monday is generally a public holiday for a three-day weekend. Check the website of the Australian embassy for details.
January 1: New Year's
January 26: Australia Day (national day of Australia)
April 10: Good Friday*1
April 11: Easter Saturday*1
April 13: Easter Monday*1
April 25: Anzac Day
June 8: Queen's Birthday.The second Monday in June every year (First Monday of October in Queensland and last Sunday of September in Western Australia)*1
December 25: Christmas Day
December 26: Boxing Day
*1.

Dates of holidays vary by year.
The official language is English.
Below are guidelines for general business hours.
General business and government offices
Mon. to Thu. 9:30 to 16:00, Fri. 9:30 to 17:00.
In the city center, some post offices are open on Sat. mornings.
Generally 9:00 to 17:30 on weekdays. In Cairns, the Gold Coast, and other prime tourism locations, many shops are open 365 days a year, and some souvenir shops stay open until past 21:00. In major cities, there is a late night shopping day once a week during which most shops stay open until 21:00.
Lunch is from 12:00 to 14:30 and dinner from 18:00 to 22:00.
In Australia, those 18 years old or younger cannot purchase alcohol or tobacco. Younger adults who wish to purchase these products sometimes require you to show ID, so do not forget your ID if you plan on purchasing them. There are age limitations when renting vehicles as well (some companies only rent to those between 25 and 60) and a credit card is required instead of ID. If you do not have a credit card, you will need to leave a large deposit.
On escalators, stand on the left and leave the right open. When standing in line, stand single file and move ahead in turn. To hail a taxi, put your arm out to the side.
Copyright (C) Globe-Trotter Media Partners Inc. All Rights Reserved.
Copyright (C) Diamond-Big Co., Ltd. All Rights Reserved.