on April 14th, 2020 (JST) current information.
Furthermore, the details under "Visa" and "Passport" are for Japanese nationals.
This information is likely to change suddenly, so please contact the relevant official authority (e.g., embassy) for the latest information.
Japanese citizens with a passport that is valid for at least six months from the date of entry and a ticket for leaving Vietnam can stay for up to 15 days without a visa. A visa is required for stays of 16 days or longer, if you do not have an air ticket for leaving Vietnam (for example, you plan on departing by land), or if you will re-enter Vietnam within 30 days of leaving the country.Visas can be obtained at the embassy or consulate of the Socialist Republic of Vietnam. You can stay for one month with a regular tourist visa (single visa).
Your passport must be valid for at least six months from the time of obtaining a visa (or upon entry if you do not have a visa).
Visa, passport, and other information is subject to change without notice. Be sure to check with the Embassy, Consulate, or travel agency.
Note for travel to Vietnam
During the immigration inspection, you must present your ticket for return or onward travel. When traveling with an e-ticket, you must present an e-ticket itinerary receipt.
Note that it is not acceptable to simply present an e-ticket on a computer or mobile device.
When visiting from Japan, it is prohibited to bring the following items into Vietnam.
a. Plants (including seeds), plant products, fruit
b. Mushrooms (excluding pickled, canned, frozen, or fermented)
c. Silkworms, cocoons
d. Insects, fungi, bacteria, viruses
e. Animal processed products (raw foods)
As of December 2019, there are no regulations for bringing it in the country.
For bringing and possession of tax-free cigarettes
The following are goods that must be declared upon entry (as of June 2019)
Foreign currency equivalent to more than US$5000. There is no restriction on the amount of foreign currency that can be brought in.
VND15 million or more.
300 g or more of precious metals and jewelry.
Precious metals and jewelry worth more than VND300 million.
2L or more of liquor containing less than 20% alcohol.
1.5L or more of liquor containing 20% or more alcohol.
3L or more of beer and other alcoholic beverages.
200 or more cigarettes.
20 or more cigars.
250 g or more of rolled tobacco.
CD players, video cameras, radio-cassette players, TVs, mobile devices, and other devices worth more than VND10 million.
Videotapes, DVDs, and CDs (must have a certificate of having been checked in advance).
Prohibited from bringing in: Narcotics, poison, fireworks, antiques, and ironware as well as printed materials or videos criticizing socialism, pornographic magazines, and adult videos and DVDs.
Time difference and Daylight Saving Time
Vietnam is 2 hours behind Japan. When it is noon in Japan, it is 10:00 in Vietnam. Daylight saving time is not observed.
Overall, Vietnam has high temperatures and a lot of rain. It has a tropical monsoon climate. However, since the country is narrow and runs a long distance from north to south, even in the same periods the climate can be quite different depending on the region. In particular, in winter (November to March) the north is cool enough to require a jacket, but in the south days with temperatures over 30°C continue. It is best to research the climate of the destination before leaving Japan to bring the proper clothing.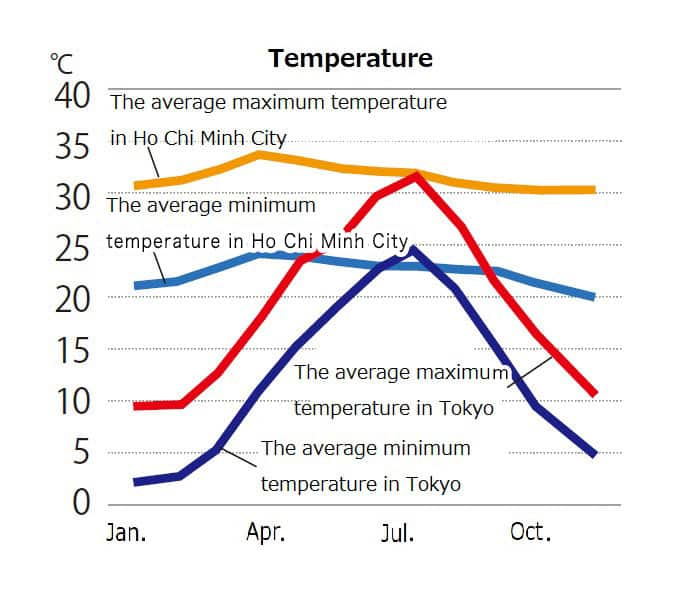 A temperature graph of Ho Chi Minh City and Tokyo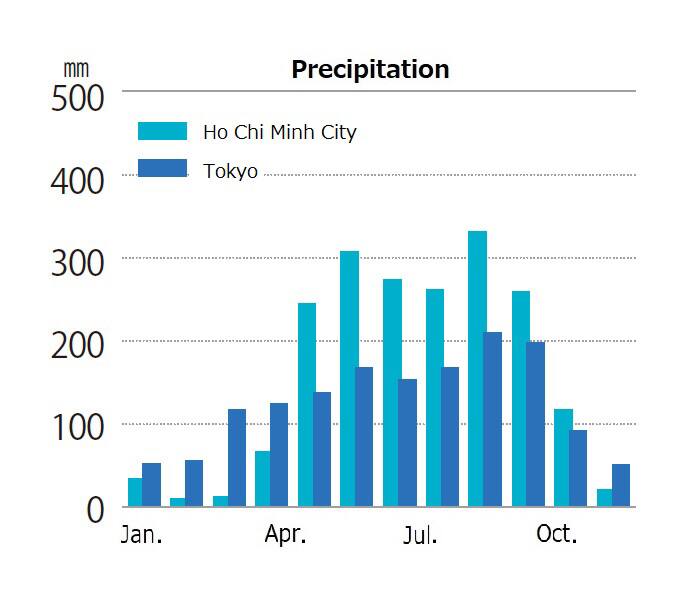 A precipitation graph of Ho Chi Minh City and Tokyo
The average maximum temperature in Tokyo and Ho Chi Minh, The average minimum temperature in Tokyo and Ho Chi Minh

| month | The average maximum temperature in Tokyo | The average minimum temperature in Tokyo | The average maximum temperature in Ho Chi Minh | The average minimum temperature in Ho Chi Minh |
| --- | --- | --- | --- | --- |
| Jan. | 10℃ | 2℃ | 31℃ | 21℃ |
| Feb. | 10℃ | 2℃ | 32℃ | 22℃ |
| Mar. | 13℃ | 5℃ | 33℃ | 23℃ |
| Apr. | 18℃ | 10℃ | 34℃ | 24℃ |
| May | 23℃ | 15℃ | 33℃ | 24℃ |
| Jun. | 25℃ | 18℃ | 33℃ | 23℃ |
| Jul. | 28℃ | 23℃ | 32℃ | 23℃ |
| Aug. | 31℃ | 24℃ | 32℃ | 23℃ |
| Sep. | 27℃ | 21℃ | 31℃ | 23℃ |
| Oct. | 23℃ | 15℃ | 30℃ | 22℃ |
| Nov. | 17℃ | 10℃ | 30℃ | 21℃ |
| Dec. | 13℃ | 5℃ | 30℃ | 20℃ |
The average precipitation in Tokyo and Ho Chi Minh

| month | The average precipitation in Tokyo | The average precipitation in Ho Chi Minh |
| --- | --- | --- |
| Jan. | 50mm | 30mm |
| Feb. | 50mm | 10mm |
| Mar. | 110mm | 10mm |
| Apr. | 120mm | 60mm |
| May | 130mm | 250mm |
| Jun. | 170mm | 310mm |
| Jul. | 150mm | 280mm |
| Aug. | 160mm | 260mm |
| Sep. | 210mm | 330mm |
| Oct. | 200mm | 260mm |
| Nov. | 90mm | 110mm |
| Dec. | 50mm | 20mm |
Currency and Exchange Rate, Tax, Currency exchange, Tip
Currency and Exchange Rate

The banknotes have many digits and similar pictures, so be careful not to mix them up. Coins are hardly ever in use.
Banknotes come in 12 denominations: 100, 200, 500, 1000, 2000, 5000, 10,000, 20,000, 50,000, 100,000, 200,000, and 500,000. The 100 and 200 dong notes are not widely circulated. Coins come in five denominations: 200, 500, 1000, 2000, and 5000 dong. These are no longer in circulation. In addition, though the US dollar is also circulated, price displays and payment/acceptance of foreign currency has been restricted since early 2012, and gradually its circulation is declining.
VND1000 is approx. JPY4.61 (As of April 2020)
Basically, a 10% to 20% value added tax (VAT) is imposed, but in reality it is usually not imposed on shopping and payments at the tourist level. Travelers pay VAT at mid/high class hotels and upscale restaurants. In July 2014, a value-added tax (VAT) refund system was put into place. There are VAT refund counters at the airports and terminals that serve international flights where it is possible to receive refund if procedures are followed, so we recommend that you acquire an understanding of the system before using it.
Vietnam does not have a custom of tipping, so basically it is not necessary.
Restaurants: Not required in restaurants other than upscale restaurants. Even in upscale restaurants, it is unnecessary when a service charge is added.
Hotels: Tip bellhops and room service approx. VND10000 to VND20000.
Tour guide and driver: For a private tour, the tip is about 50,000 to 100,000 dong per day. You don't need to give a tip on a cheap tour.
Massage and spa: If you do give a tip, 50,000 to 100,000 dong is about right. In some cases the tip and/or service fee is included in the tour charge, so check beforehand.
Taxies: Not necessary.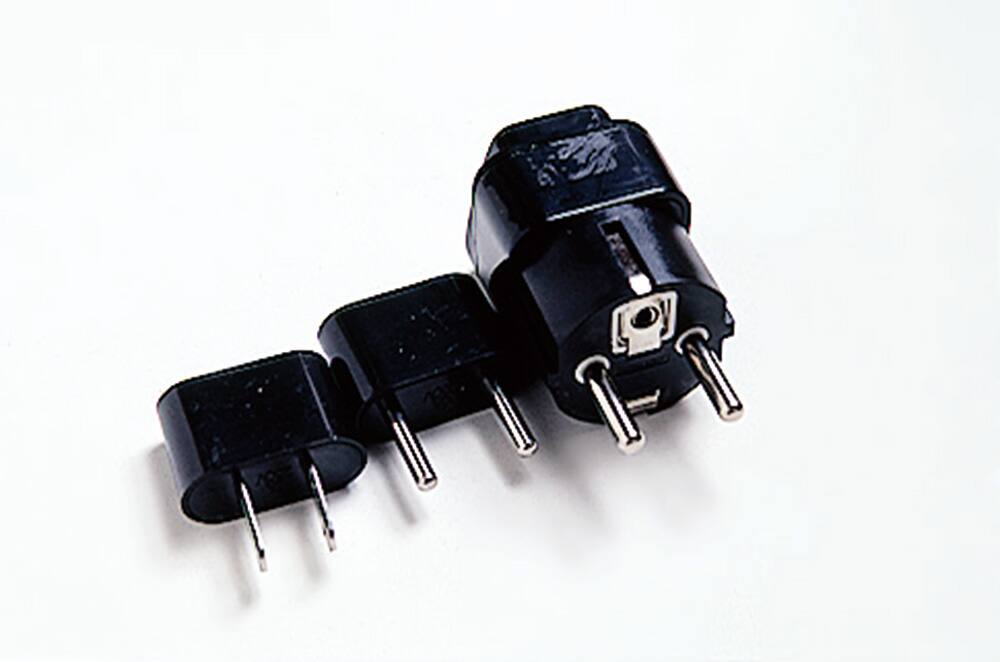 A conversion adapter for Type A, Type C, and Type SE
Voltage is almost always 220V, but in rare cases it is 110V. The cycle is 50Hz. Many plugs are a combination of Type A and Type C. There are Type A, Type C, and in rare instances, Type SE and Type BF plugs. Using 100V electric products from Japan requires a transformer. Hotels of mid-level and above lend guests transformers. Even Japanese electric products that handle 100V to 240V can be used without a transformer, so read the instruction manual for electronic products you plan to use. However, be aware that even products that can handle 100V to 240V require a conversion adapter for the plug.
The DVD region code for Vietnam is 3, while it is 2 for Japan. DVDs cannot be viewed in Japan unless they are clearly marked "All code." Be aware that bringing copied DVDs of animes and movies, etc. into Japan is not permitted.
Post Office Business Hours
Though it differs slightly for each post office, usually they are open from 7:00 to 21:00. Post offices are normally open on Sundays, too.
Airmail to Japan costs VND16000 for a postcard, and VND15000 for sealed letters up to 20g. Parcel of parcels up to 1kg cost VND514000. An extra VND60500 is added for every 1kg thereafter.
Telephoning Japan from Vietnam
Ex. When calling Tokyo (03) 1234-5678
dial 00 (International telephone identification number)
81 (Country Code, Japan )
3 (Remove the first 0 for area codes)
1234-5678(Other parties telephone number)
Telephoning Vietnam from Japan
Ex. When calling Ho Chi Minh(08) 1234-5678
International Telephone Company No.
001 (KDDI)*1
0033 (NTT Communications) *1
0061 (SoftBank) *1
005345 (au Mobile) *2
009130 (NTT DoCoMo Mobile) *3
0046 (SoftBank Mobile)*4
010 (International Identification No.)
84 (Country Code, Vietnam)
8 (Area code, remove first 0)
1234-5678 (Other parties telephone number)
*1.

Not required if you have an international registration with "My Line". See URL My Line(www.myline.org) for details.

*2.

au does not require 005345.

*3.

Pre-registration to World Wing is required for NTT DoCoMo. Does not require 009130.

*4.

Call are possible without dialing 0046 from SoftBank.
Holiday / National holiday
Holiday / National holiday
January 1: New Year's Day
January 25 : Tet (Vietnamese New Year)
April 2: Anniversary of the Death of Hung Vuong
April 30: Reunification Day
May 1: May Day
September 2: National Day (Independence Day)
The official language is Vietnamese, which is written using characters called Quoc Ngu. English is often understood in places that cater to foreigners and travelers. Some stores also understand Japanese. In addition, some senior citizens understand French and Russian.
Below are guidelines for general business hours, which differ by shop, restaurant, etc.
Mon. to Fri. 8:00 to 11:30, 13:00 to 16:00, closed on Sun., holidays. Some places are open on Sat. Currency can be exchanged during business hours.
10:00 to 22:00, but some places open at 6:00 and close at 24:00. In addition, many upscale restaurants close for 2 to 3 hours between lunchtime and dinnertime.
Neither tobacco nor alcohol is regulated by law. Their consumption is socially acceptable around the age of 18.A license is required for driving motorcycles that are over 50 cc, and this rule applies to foreign nationals as well. Vietnam does not participate in international licensing and international drivers licenses are not valid in Vietnam.
Copyright (C) Globe-Trotter Media Partners Inc. All Rights Reserved.
Copyright (C) Diamond-Big Co., Ltd. All Rights Reserved.