on March 31th, 2020 (JST) current information.
Furthermore, the details under "Visa" and "Passport" are for Japanese nationals.
This information is likely to change suddenly, so please contact the relevant official authority (e.g., embassy) for the latest information.
Japanese citizens do not need a visa for entering Hong Kong to stay for up to ninety days. No visa is required to enter or leave the Chinese mainland either, for stays up to 15 days.
For stays of up to one month in Hong Kong, your passport must be valid for at least one month from the date of entry plus the number of days of your stay.
Visa, passport, and other information is subject to change without notice. Be sure to check with the Embassy, Consulate, or travel agency.
When visiting from Japan, it is prohibited to bring the following items into Hong Kong. These may be brought in to the country if you have an import license issued by a relevant organization.
a. All living animals (including poultry and insects)
b. Plant or plant pests or soil produced in any place other than China
c. Endangered plant or animal species (including some carcasses, specimens, or body parts)
d. Animal carcasses or products made from animal carcasses (e.g. furs, semen, blood)
e. Live meat (including wild animals and poultry) or eggs
f. Chilled or frozen meat or poultry
However, up to 15 kg may be brought in with a certificate from an official organization in the place of departure.
E-cigarettes that contain nicotine in the ingredients are classified as pharmaceuticals in Hong Kong, and a pharmaceutical import permit is therefore needed to bring it in the country. When it is necessary to bring it into the country to treat a chronic illness, it can be brought in as long as you have a medical certificate from a doctor (in English). The medical certificate must state the name of the illness and the brand and required amount of e-cigarettes (e.g. dose schedule during your trip). As of November 2019, e-cigarettes that do not contain nicotine in the ingredients do not require an import permit or doctor's medical certificate.
For bringing and possession of tax-free cigarettes
Tobacco: one type of tobacco among the following: 19 cigarettes, 1 cigar under 25g, and other tobacco up to 25g.
Liquor: 1 bottle (1L) containing over 30% alcohol. *An application is required in order to bring HK$ 120,000 or more in cash or other equivalent forms such as unsigned travelers checks or checks. Please note that omitting to report tax is a crime that could result in up to two years imprisonment and a fine of HK$ 2,000 to 10,000.
Time difference and Daylight Saving Time
There is a 1-hour time difference between Japan and Hong Kong. 8:00 in Japan is 7:00 in Hong Kong. Daylight saving time is not observed.
Hong Kong has a subtropical climate. Summer is long with high temperature and humidity, but it does have a winter season. Typhoons have been growing stronger in recent years, and travelers are advised to be particularly careful during typhoon season from July to September.
The best tourist season is from autumn to early winter (October to December) when there are many mild, sunny days.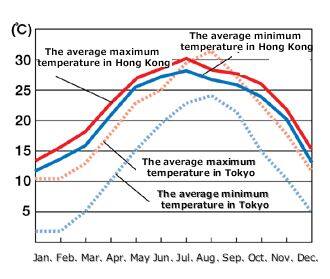 Temperatures in Hong Kong and Tokyo
Precipitation in Hong Kong and Tokyo.
The average maximum temperature in Tokyo and Hong Kong, The average minimum temperature in Tokyo and Hong Kong

| Month | The average maximum temperature in Tokyo | The average mimimum temperature in Tokyo | The average maximum temperature in Hong Kong | The average mimimum temperature in Hong Kong |
| --- | --- | --- | --- | --- |
| Jan. | 10℃ | 2℃ | 14℃ | 12℃ |
| Feb. | 10℃ | 2℃ | 15℃ | 14℃ |
| Mar. | 13℃ | 5℃ | 18℃ | 16℃ |
| Apr. | 18℃ | 10℃ | 23℃ | 21℃ |
| May | 23℃ | 15℃ | 27℃ | 25℃ |
| Jun. | 25℃ | 18℃ | 28℃ | 27℃ |
| Jul. | 28℃ | 23℃ | 30℃ | 28℃ |
| Aug. | 31℃ | 24℃ | 28℃ | 27℃ |
| Sep. | 27℃ | 21℃ | 27℃ | 26℃ |
| Oct. | 23℃ | 15℃ | 26℃ | 24℃ |
| Nov. | 17℃ | 10℃ | 22℃ | 20℃ |
| Dec. | 13℃ | 5℃ | 15℃ | 14℃ |
The average precipitation in Tokyo and Hong Kong

| Month | The average precipitation in Tokyo | The average precipitation in Hong Kong |
| --- | --- | --- |
| Jan. | 50mm | 30mm |
| Feb. | 60mm | 50mm |
| Mar. | 110mm | 70mm |
| Apr. | 130mm | 160mm |
| May | 130mm | 310mm |
| Jun. | 160mm | 390mm |
| Jul. | 160mm | 320mm |
| Aug. | 150mm | 390mm |
| Sep. | 210mm | 300mm |
| Oct. | 160mm | 160mm |
| Nov. | 90mm | 40mm |
| Dec. | 40mm | 30mm |
Currency and Exchange Rate, Tax, Currency exchange, Tip
Currency and Exchange Rate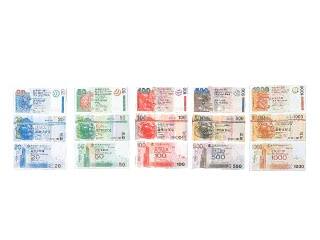 Each type of banknote issued from 2010 to 2012.
The unit of currency is the Hong Kong dollar (HK$) and cent (¢). HK$1 is 100¢, approx. JPY13 (as of March 10, 2020). There are six denominations of banknotes: HK$1000, HK$500, HK$100, HK$50, HK$20, and HK$10. There are seven types of coins: HK$10, HK$5, HK$2, HK$1, 50¢, 20¢, and 10¢.
Note that there are numerous banknote designs since there are three issuing banks.
There is no consumption tax. A 10% service charge is added at restaurants other than local diners and fast food restaurants, and at hotels other than guesthouses and cheap hotels. The departure tax is HK$120, and the airport security tax is HK$ 45. Both are included in the ticket price. If a traveler departs Hong Kong within 24 hours, or departs via SkyPier, he or she can be refunded the departure tax. Although there is no customs duty for bringing items into Hong Kong, commodity tax is charged for bringing in alcohol or tobacco over a certain amount.
Hong Kong has a deep-rooted custom of tipping that is a holdover from the British culture.
Taxis: Tipping is not required.
Restaurants: At restaurants, a service charge of 10% over and above the meal charge is billed, so leaving the change as a tip is fine. Tipping is not required at cheap restaurants and fast food restaurants.
Hotels: Tip approx. HK$2 to HK$5 at restrooms and HK$10 to bellhops or for room service.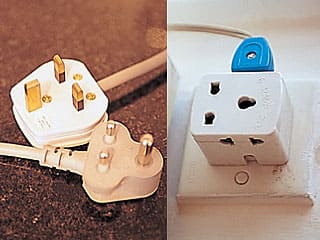 Most plugs are Type BF
Plugs come in several shapes. Sometimes hotels have this kind of adapter available
Voltage is 220V with a cycle of 50Hz. Currently, plugs are all Type BF (3-prong type used in the UK), but there are still some old hotels, etc. that have Type B. Electric products made for use in Japan cannot be used as is. A transformer is necessary.
The TV and video system (PAL) in Hong Kong differs from Japan and the United States (NTSC), so DVD or other media from Hong Kong cannot be played on ordinary video players in Japan.
Do not forget to check the region code, which is 2 in Japan and 3 in Hong Kong. Unless a DVD is clearly marked with "All code," it cannot be viewed in Japan. The region code for Blue Ray is the same in Hong Kong and Japan (A), so Blue Ray discs purchased in Hong Kong can be viewed in Japan.
Post Office Business Hours: Though it differs slightly by location, usually post offices are open from Mon. to Fri. 9:30 to 17:00 and until 13:00 on Sat., closed on Sun., holidays. Post offices in Central are open from Mon. to Sat. 8:00 to 18:00 and Sun., holidays. 12:00 to 17:00.
Airmail to Japan costs HK$4.90 for a postcard or sealed letter up to 20g, and HK$7.40 for a sealed letter up to 30g and HK$9.40 for a sealed letter up to 40g and HK$11.30 for a sealed letter up to 50g. Parcels are HK$242 up to 1kg by surface mail, and HK$243 up to 0.5kg by air. Check the website of the Hongkong Post for more details.
Telephoning Japan from Hong Kong
Dial 001 (International telephone identification number)
X X(Remove the first 0 for area codes)
1234-5678 (Other parties telephone no.)
Telephoning Hong Kong from Japan
International Telephone Company No.
001 (KDDI)*1
0033 (NTT Communications) *1
0061 (SoftBank) *1
005345 (au Mobile) *2
009130 (NTT DoCoMo Mobile) *3
0046 (SoftBank Mobile)*4
010 (International Identification No.)
852 (Country Code, Hong Kong)
12345678 (Other parties telephone No.)
*1.

Not required if you have an international registration with "My Line" or "My Line Plus". See URL My Line/My Line Plus(www.myline.org) for details.

*2.

au does not require 005345.

*3.

Pre-registration to World Wing is required for NTT DoCoMo. Does not require 009130.

*4.

Call are possible without dialing 0046 from SoftBank.
Holiday / National holiday
Holiday / National holiday
Dates of holidays change depending on the year. These are the dates for 2020.
January 1: First day of January
January 25 to 27: Lunar New Year
April 5: Ching Ming Festival
April 19: Good Friday (Easter)
April 20: The Day following Good Friday
April 22: Easter Monday
May 1: May day
May 13: Buddha's Birthday
June 7: Tuen Ng Festival (Dragon Boat)
July 1: Hong Kong Special Administration Region Establishment Day
September 14: The Mid-Autumn Festival
October 1: The National Day
October 7: The Chung Yeung Festival
December 25: Christmas Day
December 26: Boxing day
The official language is English and Chinese (Cantonese and Mandarin Chinese).
Below are guidelines for general business hours, which differ by shop, department store, restaurant, etc.
Mon.–Fri. 9:00–16:30, Saturday hours vary by bank, but are usually until 1:00 p.m. (some banks are closed on Saturdays), closed on Sun. and holidays. Currency can be exchanged during business hours.
11:00 to 22:00. Convenience stores and some fast food restaurants are open 24 hours. Large shopping malls are open from around 10:00 to 22:00, and department stores are normally open until 22:00.
Open from around 11:00 to 23:00, but dim sum restaurants, rice porridge/noodle shops, and Cha Chaan Teng cafés are open from around 7:00. Many establishments are open all year round, excluding the lunar New Year. Note that many upscale restaurants close for around an hour between lunch and dinner.
In Hong Kong, the minimum age for purchasing tobacco and alcohol is 18. Also, persons under 18 are prohibited from being admitted to category 3 films (containing excessive violence, sexual depictions, etc.). Entrance to racetracks and the purchase of betting tickets, soccer pools, and the Mark Six lottery are only permitted for persons 18 and older.
A uniform fine of HK$1500 is imposed for littering, spitting, and hawking phlegm in public places.
From January 2007, the scope of non-smoking areas was extended to all offices, public places, restaurants, bars, and karaoke rooms, and further extended to bus terminals. In addition, basically public markets (including eateries within markets), public restrooms, pools, gymnasiums, sports grounds, amphitheaters, museums, libraries, and the majority of parks are non-smoking (some parks and promenades have smoking areas). Some restaurants and bars have outdoor smoking areas, so be sure to check with staff. Smoking in non-smoking areas is subject to a uniform fine of HK$1500.
Copyright (C) Globe-Trotter Media Partners Inc. All Rights Reserved.
Copyright (C) Diamond-Big Co., Ltd. All Rights Reserved.