Exclusive
USA/Canada WINTER Bonus Mileage Campaign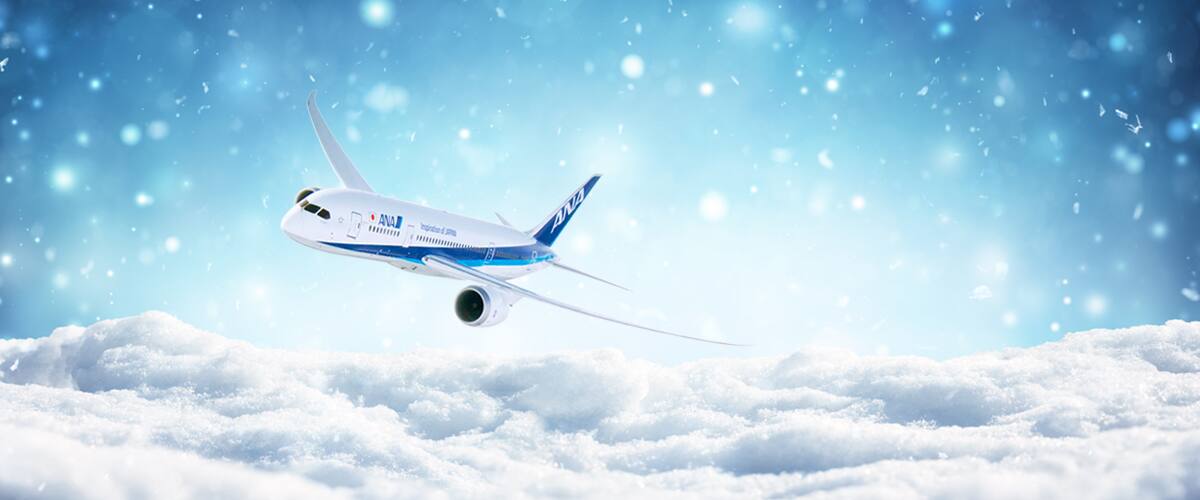 Registration Period : November 18, 2019 (Mon) 11:00 AM to February 09, 2020 (Sun) 11:59 PM (PST)
Boarding Period : November 23, 2019 (Sat) to February 09, 2020 (Sun)
For ANA Mileage Club members who received this ANA Mail Magazine (ANA Express the Americas) and addressed in this campaign e-mail offer.
All Transpacific Flights Operated by ANA
NH5/NH6, NH105/NH106, NH175/NH176, NH7/NH8, NH171/NH172, NH173/NH174, NH177/NH178, NH1/NH2
NH9/NH10/NH109/NH110, NH11/NH12/NH111/NH112, NH183/NH184, NH181/NH182, NH185/NH186, NH115/NH116
Mexico City to Narita route, as well as ANA codeshare flights operated by partner airlines are not eligible.
All accruable mileage booking class ( O, I, R, X are not eligible)
First Class: F, A
Business Class: J, C, D, Z, P
Premium Economy: G, E, N
Economy Class: Y, B, M, U, H, Q, V, W, S, L, K
Complete boarding on any eligible US or Canada flight and earn bonus miles as below.
Bonus mileage for this campaign will reflect on your ANA Mileage Club account approximately 1 week after boarding.
(Bonus miles can be earned as many times during the campaign period)
First Class: 3,000 miles per segment
Business Class: 2,500 miles per segment
Premium Economy: 2,000 miles per segment
Economy Class: 1,500 miles per segment
Eligible participants will receive bonus ANA Mileage Club (AMC) miles for eligible flights within the campaign period.
In order to be eligible for the campaign, participants must be AMC members who have received an invitation from ANA to participate in this campaign. Invitations are personal and non- transferable.
Eligible participants must login to their AMC account and register for the campaign period between November 18, 2019 to February 09, 2020.
Retroactive registration will be accepted until February 17, 2020 at 23:59 Pacific Standard Time. Flights not registered by this deadline will not be eligible for this campaign.
For a flight(s) to be eligible for the campaign, it must be on an eligible transpacific flight operated by ANA (Mexico flights and Codeshare flights operated by partner airlines are excluded) between November 23, 2019 to February 09, 2020, which was flown by the eligible member.
Mileage for eligible flights taken by eligible members will be posted to the AMC account within approximately one week after boarding is completed.
All flight miles must be accrued to AMC account.
Accrued promotional bonus miles under this campaign do not qualify for additional premium points or premium bonus miles.
Members are not permitted to participate in more than one campaign during the specified campaign period.
Mileage of any type cannot be sold, are non-transferable, and have no cash value. Please see ANA Mileage Club Terms and Conditions for more details.
ANA will collect, use and disclose members' personal information as described in ANA Privacy Policy. Please see ANA Privacy Policy for more details.
The campaign is subject to change at ANA's sole discretion without prior notice.
Please register from Campaign Registration button.
Please note that you will be ineligible for this campaign if you do not complete the campaign registration.
ANA Mileage Club Service Center
Phone Number 1-800-235-9262 (Toll-free)
Business Hours Open Daily 5:00AM - 6:00PM (Pacific Time)
Reference number for Promotional Offer: MKT20191019006