Geisha women, who we often see portrayed in jidaigeki period dramas set in the Edo period, are part of a traditional culture that is unique to Japan. Now you can experience being entertained by geishas here in Nihonbashi, Tokyo. Sign up at the Omotenashi Nihonbashi counter located in the Nihonbashi-Muromachi district in Tokyo's Chuo City. You can take commemorative photos with geishas, see them perform traditional songs and dances, and play games with them. Cards with English explanations are also available.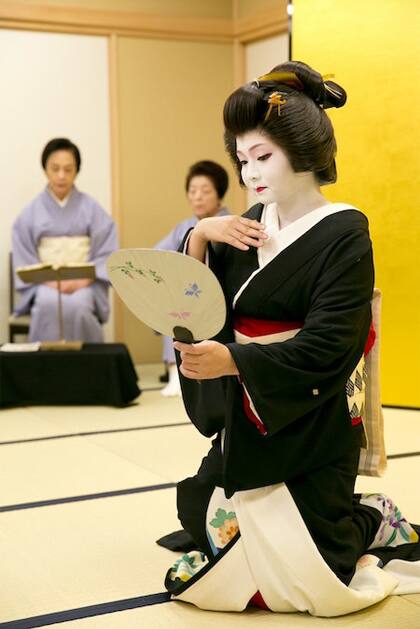 A Unique Opportunity Open to All
It's an experience that welcomes people of all ages and nationalities to experience something quintessentially Japanese. Guests taking part in the program are welcome to take photos or videos (however, please don't use a flash or a tripod). They can also have their picture taken with the geisha in front of a traditional gold folding screen.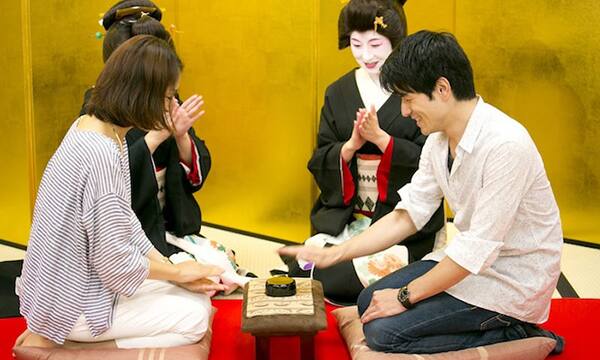 Make a Reservation for an Unforgettable Opportunity
The "Time to Geisha" program is offered every Saturday 18:00 to 19:00. Class size is limited to 39 people; however, for private groups, it is possible to arrange the program at different times. Please contact the company directly for more information and fees.
Face to Face with Japan's Most Iconic Performers
Unlike many other kinds of geisha shows, the "Time to Geisha" program allows participants to take part in the activities, which makes for an experience that is lively, participatory, and most importantly, fun. Thanks to a handy set of explanation cards, Japanese and English guests can understand all of the activities. And, the geisha who take part in the "Time to Geisha" program come from Yoshicho, Tokyo's most storied geisha community.
Location
Name
Omotenashi Nihonbashi
Web Site
http://www.nihonbashi-info.jp/omotenashi/

Address
3F, COREDO Muromachi 3, 1-5-5 Nihonbashi Muromachi, Chuo-ku, Tokyo
Business Hours
"Time to Geisha" program: Every Saturday 18:00 to 19:00 (Reservations must be made by 17:00 on the day before you wish to visit.)
Inquiries
TEL: 03-3242-2334 (English 10:00 to 19:00)
E-mail: guide@nihonbashi-info.jp
Others Information
The OMOTENASHI Selection is a collection of products that have been made with that same kind of thought and consideration - whether it is a piece of clothing made with extraordinary attention to detail, food or drink made in a traditional, time-honored method, or just a small household item that brings a smile to your face every time you see it.
http://omotenashinippon.jp/selection/en/