Japan's Eight Must-Visit Hot Springs: Exceptional Healing Experiences
Hot springs are a must when visiting Japan.
Discover the many different hot springs across Japan with varying colors, scents and health benefits. While each hot spring is unique, they all offer amazing relaxation effects for your mind and body. Moreover, hot spring (onsen) resorts are known for great food, abundant nature and historic architecture for a truly satisfying trip.
Here are some unique hot springs we recommend. See the famous sight of monkeys soaking in the hot waters of Yunokawa Onsen. The historic Dogo Onsen is said to be the oldest hot spring in Japan. In the secluded Nyuto Onsen, enjoy different water qualities for each of the baths scattered throughout the beech forest. Some of Amagase Onsen, you can bathe in swimsuits in the mixed bathing open-air bath by the river. For a one-of-a-kind experience, try the natural sand bath in Ibusuki.
Enjoying the onsen experience is not limited to baths. Onsen towns portray nostalgic sights of the olden days of Japan. You can immerse yourself in the unique atmosphere as you walk around and snack on tasty onsen treats or explore the nostalgic ambience in the night of a traditional onsen resort dressed in a traditional yukata (cotton kimono).
Yunokawa Hot Spring (Hokkaido)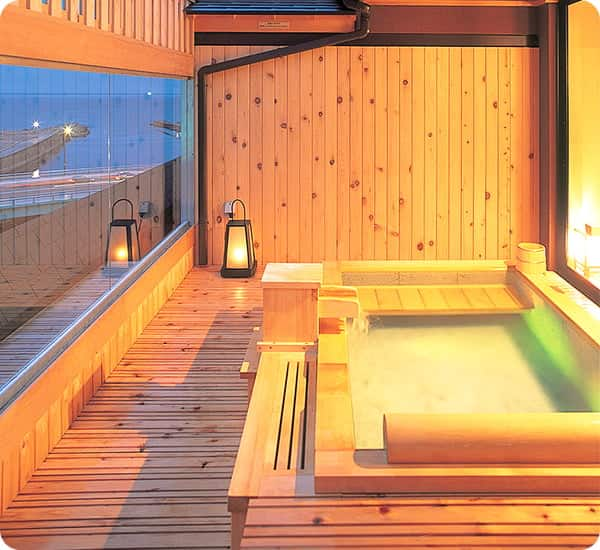 Yunokawa Onsen is considered to be one of Hokkaido's top 3 hot spring areas. It is situated next to the ocean and offers cuisine that reflects its great location. It is also just a 5-minute drive from Hakodate Airport. About half of the people who visit the Hakodate area each year, or 1.3 million people, choose to stay at this popular area, From December to May, visitors can even watch monkeys enjoying the hot springs at the Hakodate Tropical Botanical Garden. Many hot spring facilities at Yunokawa Onsen welcome day-trip visitors, so even those who do not stay the night can feel free to visit.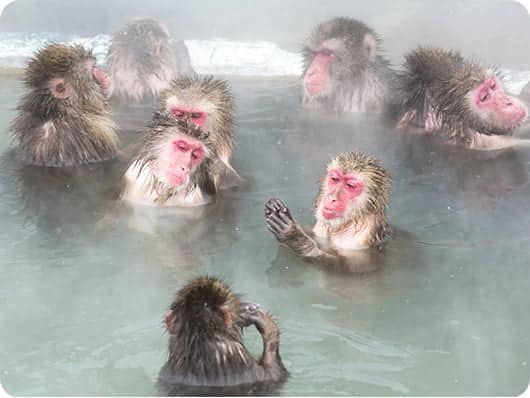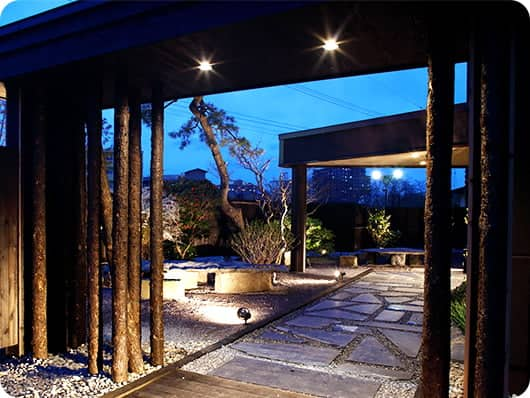 Details
| | |
| --- | --- |
| Address | Yunokawacho 2-7-6 Hakodate-shi, Hokkaido |
| Access | Approximately 5 minutes by bus from Hakodate Airport |

ticket
Approximately 1 hour 20 minutes

Approximately 1 hour 35 minutes
Nyuto Onsen Village (Akita)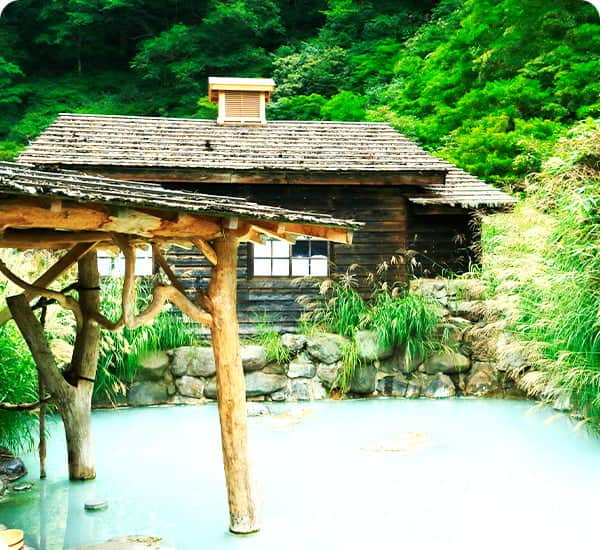 Nyuto Onsen Village is accessible from the Lake Tazawa area in Senboku City, Akita Prefecture. This hot spring village, tucked away in a secluded location, is one of the most famous hot springs in Japan, and offers baths of differing spring water quality depending on the accommodation. Here, we offer helpful information on trying the different hot spring baths.The key to the area's popularity is the open-air baths in this natural beautiful location, and the local cuisine that utilizes the blessings of nature, including a Japanese yam hotpot, and fresh grilled fish.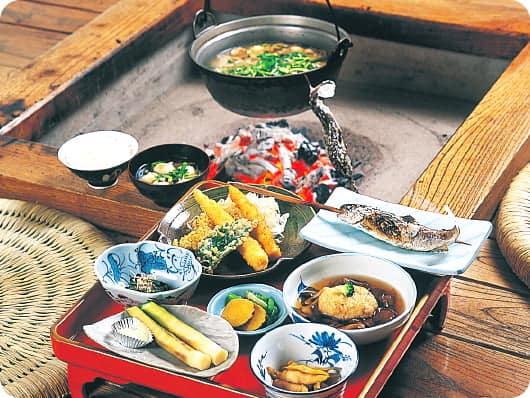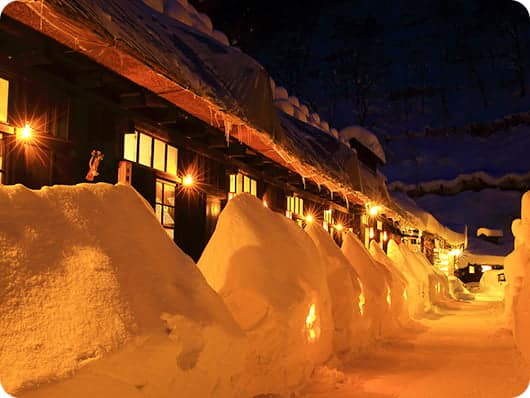 Details
| | |
| --- | --- |
| Address | Lake Tazawa, Senboku-shi, Akita |
| Access | Approximately 2 hours 10 minutes by shared taxi (Akita Airportliner) from Akita Airport |

ticket
Approximately 1 hour 5 minutes

Approximately 1 hour 30 minutes
Unazuki Onsen (Toyama)
One of the prefecture's largest hot spring resorts, Unazuki Onsen opened along with the development of hydropower facilities on the Kurobe River, where Unazuki's hot spring has its source at the Kuronagi spring. The various inns in the resort town offer wonderful views of the mountains and the gorge in their seasonal splendor, as well as fresh seafood from the Sea of Japan. The resort is located at the entryway to Kurobe Gorge, one of the deepest V-shaped valleys in Japan, and is also the starting point of the torokko train with a fantastic view of the gorge along its route.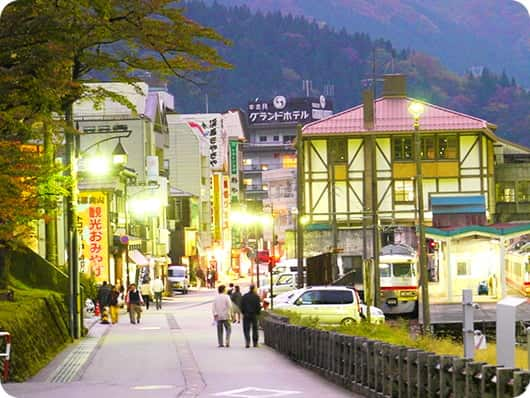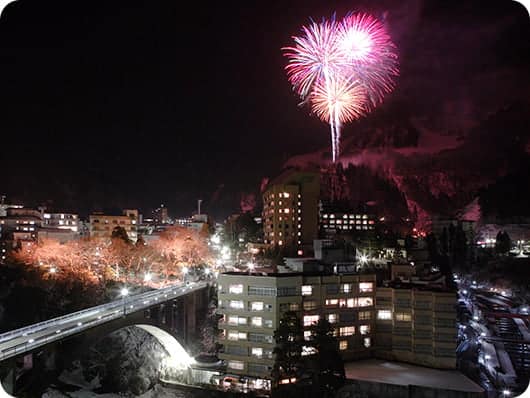 Details
| | |
| --- | --- |
| Address | 383-6 Unazuki Onsen, Kurobe-shi, Toyama |
| Access | Approximately 50 minutes by car from Toyama Airport |

ticket
Tsukioka Onsen (Niigata)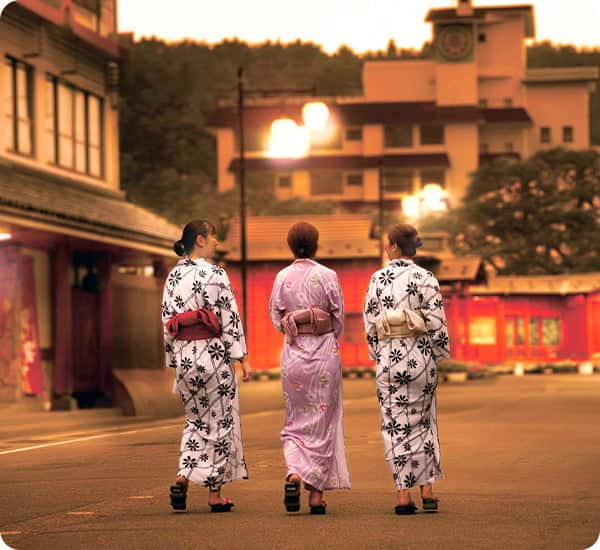 Opened in 1915, Tsukioka Onsen in Shibata City, Niigata Prefecture, boasts a hot spring with one of the highest sulfur concentrations in Japan. Dusk is the best time for exploring the sulfur-scented streets of Tsukioka Onsen. Amid the dreamy lantern lights, you may even spot geisha performers dressed in elegant kimono walking about.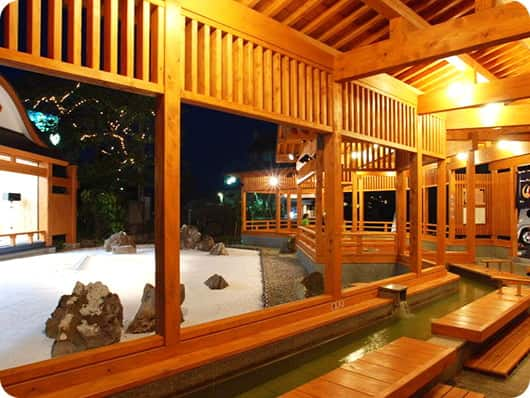 Details
| | |
| --- | --- |
| Address | Tsukioka Onsen, Shibata-shi, Niigata |
| Access | Approximately 1 hour 10 minutes by train and bus from Niigata Airport |

ticket
Dorogawa Onsen Townscape (Nara)
Located in the village of Tenkawa in Nara Prefecture, Dorogawa Onsen has long flourished as a hot spring retreat for Shugendo practitioners who were visiting Mount Omine for ascetic training. The entire hot spring town is cloaked in a quaint atmosphere, but in particular, the "engawa" boarded floor running along the outside of traditional Japanese inns lets you feel the remnant of the Showa Period (1926-1989). It is perfect to sit and take a short rest. At night, the streets are lit up with beautiful strings of lanterns hanging outside the inns, which is perfect for a stroll on a cool summer night.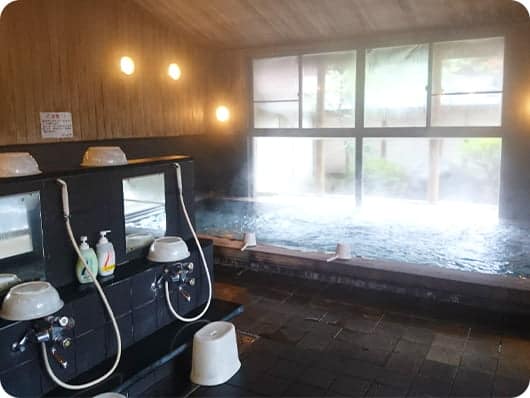 Details
| | |
| --- | --- |
| Address | Dorogawa, Tenkawa-mura, Yoshino-gun, Nara |
| Access | Approximately 2 hours by car from Kansai International Airport |

ticket
Tokyo
(Haneda) Osaka
(Kansai)

Approximately 1 hour 20 minutes
Dogo Onsen (Ehime)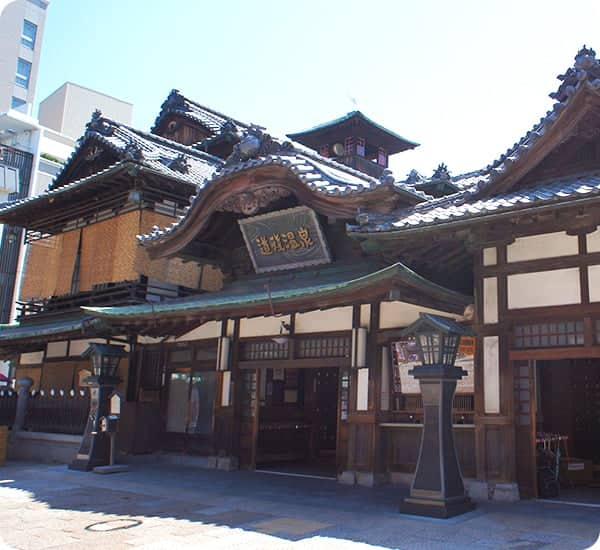 Dogo Onsen in Matsuyama, Ehime is an extremely popular tourist spot. Dogo Onsen Honkan marks the center of the onsen town, surrounded by hot-spring hotels full of character, with a vibrant shopping district nearby.Another recommendation is healing yourself at the nearby Asuka no Yu hot springs and Isaniwa Shrine, and going on an eating tour in the shopping district.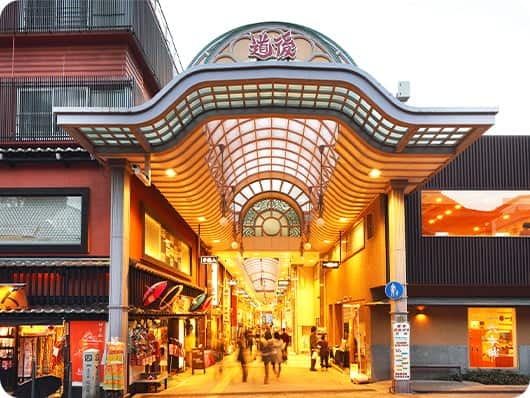 Details
| | |
| --- | --- |
| Address | 5-6 Dogo Yunomachi, Matsuyama-shi, Ehime |
| Access | Approximately 45 minutes by bus from Matsuyama Airport |

ticket
Approximately 1 hour 30 minutes
Amagase Onsen (Oita)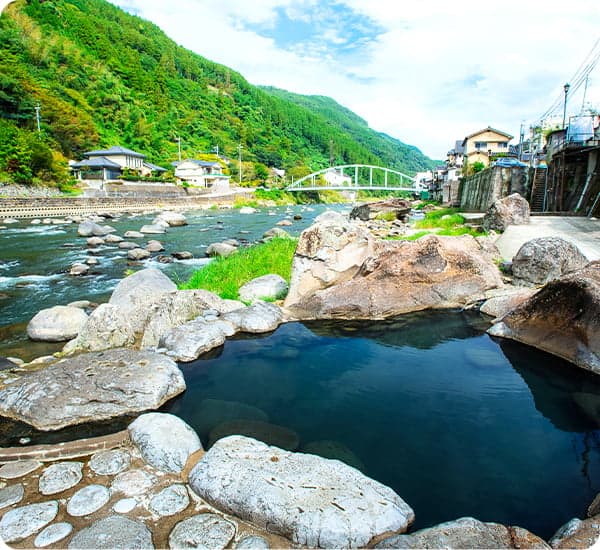 The Amagase Onsen in Amagase-machi, Hita-shi, Oita, is a famous hot spring known for the Kawayu mixed bathing open-air bath. There are five mixed bathing open-air baths along the river, where the rising hot spring steam enhances the experience. There are many accommodations in place so that many people can enjoy hot springs, such as day-trip bathing and amenities in mixed bathing open-air baths so that women can use them with confidence. A variety of quality, abundant hot spring water. In the past, the hot spring water was so abundant that it was said, "If it's along the river there are hot springs everywhere." Even now, most of hot springs currently registered in the Amagase Onsen Ryokan Association are ones that can be enjoyed from the source.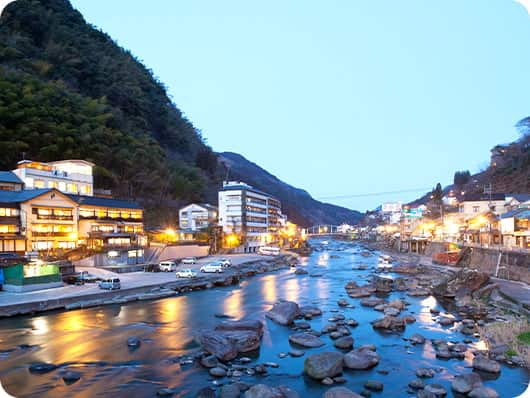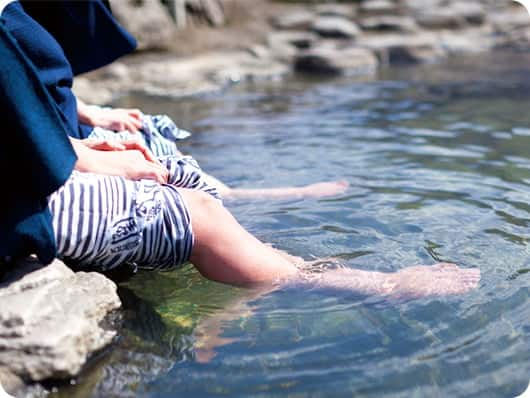 Details
| | |
| --- | --- |
| Address | 540-1 sakuradake, Amagase-machi, Hita-shi, Oita (Hita City Tourism Association, Amagase Branch) |
| Access | Approximately 1 hour 20 minutes by car from Oita Airport |

ticket
Approximately 1 hour 35 minutes
Ibusuki Natural Sand Bath Center Saraku (Kagoshima)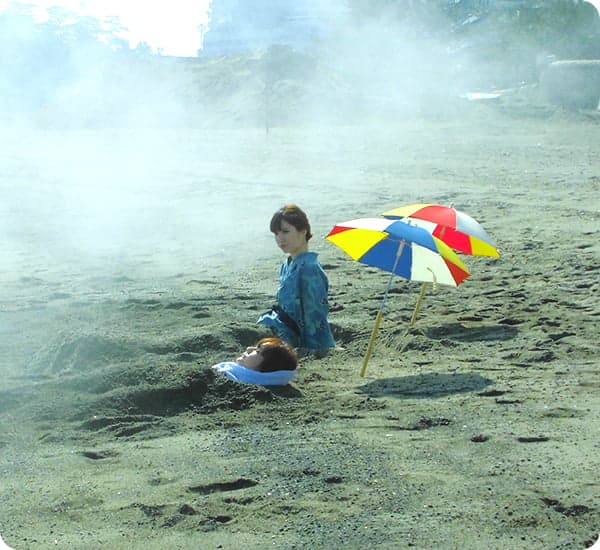 Ibusuki Sunamushi Onsen sand bath is the world's one and only natural sand bath. The health benefits of the sand bath are said to be three to four times greater than that of a regular hot spring. After taking a sand bath, your body and mind will feel completely detoxified and refreshed. This unique bathing experience involves putting on a yukata robe, lying down, and being buried in the hot beach sand, which is heated by the hot spring water bubbling beneath the coastline. After about 10 minutes in the sand, your whole body will be soaked with sweat. Nothing is more relaxing than listening to the sounds of waves as you lay by the sea with your whole body wrapped in the warming sand.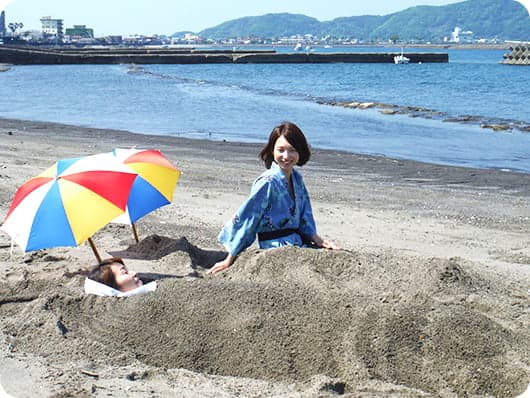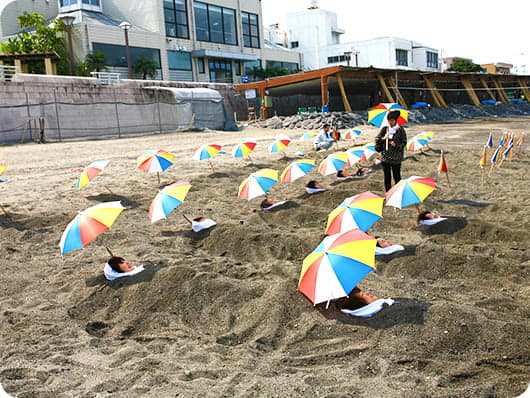 Details
| | |
| --- | --- |
| Address | 5-25-18 Yunohama, Ibusuki-shi, Kagoshima |
| Access | Approximately 2 hours by bus and train from Kagoshima Airport |

ticket
Approximately 1 hour 45 minutes

Approximately 1 hour 10 minutes
Search for a
nearby airport with ANA flights
Check the special fares
for Domestic Flights
ANA Super Value
Reservation available from 355 daysprior to departure!
Search for a
nearby airport with ANA flights
ANA Exclusive
Discounted Fares
Book early and enjoy special fares
for domestic flights within Japan!
Hokkaido

Mount Hakodate Ropeway

Akita

Dakigaeri Valley

Toyama

Shogawa Gorge

Niigata

Hoshitoge Rice Terraces

Nara

Kasuga-taisha Shrine

Ehime

Mount Ishizuchi

Oita

Lake Kinrin

Kagoshima

Kagomma Furusato Yataimura