on September 27th, 2019 (JST) current information.
Furthermore, the details under "Visa", "Passport" and "Note When you travel to the United States" are for Japanese nationals.
This information is likely to change suddenly, so please contact the relevant official authority (e.g., embassy) for the latest information.
No visa is required for entering the US for tourism or business trips within ninety days, as long as you have a return ticket.
Although it is acceptable to have a passport that is valid until the date of departure, it is preferable to have one that is valid for at least 90 days from the date of entry.
Note When you travel to the United States
The Electronic System for Travel Authorization (ESTA) was introduced in 2009 for those wishing to travel to the United States without a visa. To use this system, you must apply for travel authorization in advance. Applications must be submitted at least 72 hours before departure on the official ESTA website(https://esta.cbp.dhs.gov/). Follow the procedure in Japanese, and enter the applicant information, passport information, travel information, address during your stay in the United States (e.g. your hotel), and other details in the roman alphabet. The application fee is $14. You can pay by American Express, MasterCard, VISA, or other credit card. Valid for two years from the completion of registration (except if your passport is lost)
Starting April 1, 2016, everyone traveling to the US without a visa must have an e-Passport (IC passport). This rule also applies to visitors with a valid Electronic System for Travel Authorization (ESTA). If you are traveling to the US with a visa waiver, you must confirm that your passport is an e-Passport (IC passport). Visa Waiver Program
Revision of the visa waiver program
The Visa Waiver Program Improvement and Terrorist Travel Prevention Act was enacted on January 21, 2016. According to this act, the following individuals cannot travel to the US on the visa waiver program (VMP).
Nationals of VWP countries who have traveled to or been present in Iran, Iraq, North Korea, Sudan, Syria, Libya, Somalia, or Yemen on or after March 1, 2011 (Libya, Somalia, and Yemen were added to the list on February 18, 2016. North Korea were added to the list on August 6, 2016).
Nationals of VWP countries who are also nationals of Iran, Iraq, North Korea, Sudan, or Syria.

These individuals must apply for a visa. Travelers may be eligible for a visa waiver with case-by-case screening if the purpose of travel was official business for an international organization, news reporting by a journalist, or legitimate business activities. Please check with the US Embassy or Consulate for details. Visas , Visa Waiver Program .

Visa, passport, and other information is subject to change without notice. Be sure to check with the Embassy, Consulate, or travel agency.
When visiting from Japan, it is prohibited to bring the following items into Hawaii.
a. Fruit, vegetables, plants, seeds, food products, insects
b. Meat, animals, animal or wild animal products
c. Disease agents, cell cultures, snails
d. Soil
Meat refers to not only raw meat, but also includes cooked or processed meats such as ham and salami, curry, bouillon, soup mixes, and other products that contain meat extracts.
The scope for tax exemption is 200 cigarettes, same as for regular cigarettes.
If you want to enter in less than 18 years of age
The US Department of Homeland Security Customs and Border Protection (CBP) strongly recommends that those under 18 entering the US unaccompanied or accompanied by one parent or another individual who is not a parent or legal guardian have an English document signed by both parents or the parent who is not accompanying the minor.
For bringing and possession of tax-free cigarettes
For travelers who are 21 or older, tax is exempt for 1 L of alcohol for personal consumption or gifts up to $100 in value. Tax is exempt for up to 200 cigarettes (or 50 cigars or 2 kg of cut tobacco).
Time difference and Daylight Saving Time
There is a 19-hour time difference between Japan and Hawaii. Midnight in Japan is 5:00 in the early morning the day before in Hawaii. There is no daylight saving time.
The idea that Hawaii is the land of perpetual summer is not correct; although the temperature does not vary as widely as it does in Japan, Hawaii still has four distinct seasons. From November to March, it is relatively more rainy, and it is cooler in the early mornings and evenings, requiring a jacket. In summer, there is a period of extremely hot days like summer in Japan. That said, Hawaii certainly has a comfortable climate throughout the year. During the daytime hours, the water temperature is pleasant for swimming almost every day, and the northeast trade winds keep the humidity down even at the height of summer. You can sleep soundly and comfortably at night without an air conditioner.
Currency and Exchange Rate, Tax, Currency exchange, Tip
Currency and Exchange Rate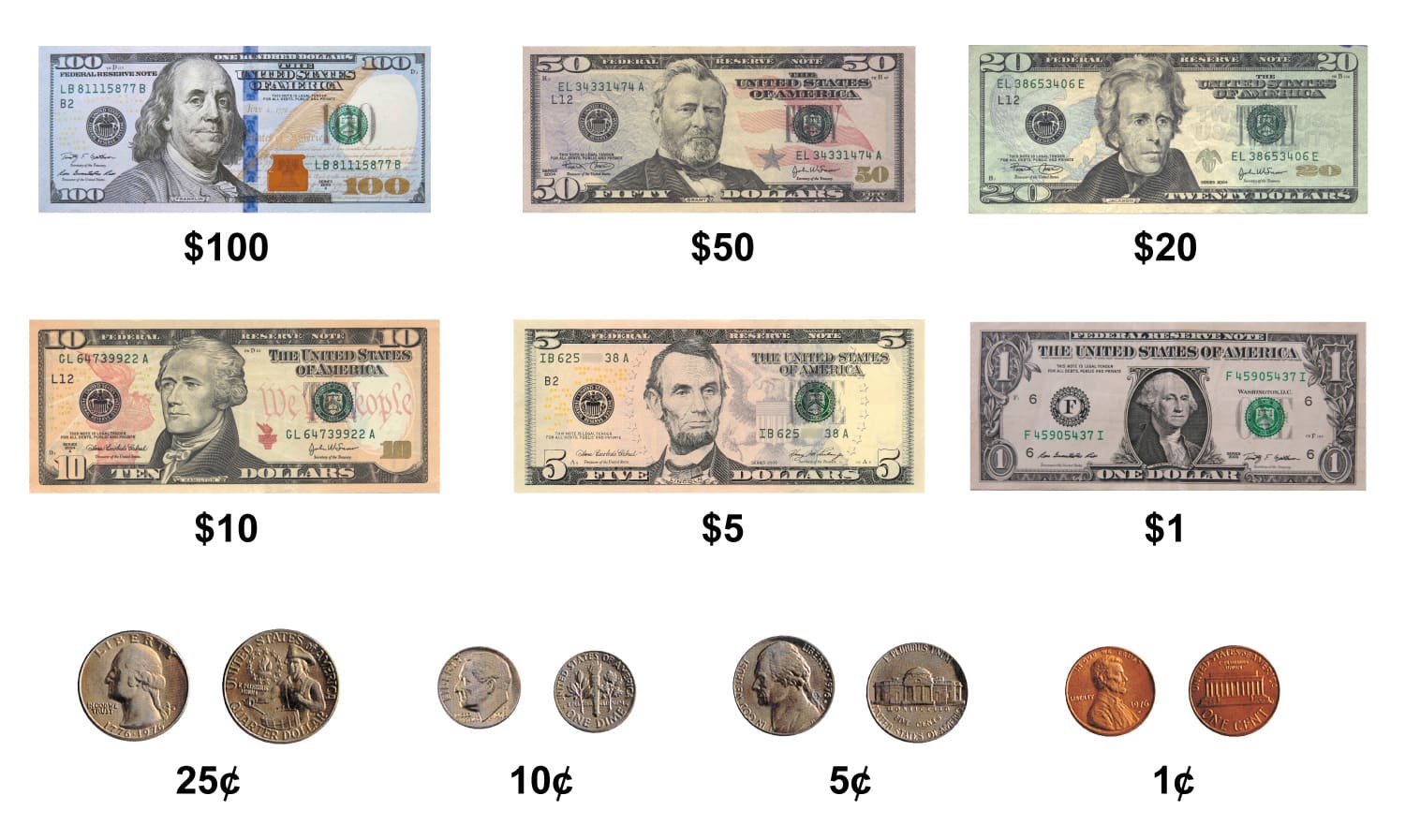 The unit of currency is dollars ($) and cents (¢). $1 is 100¢, approx. JPY106 (as of September 3, 2019). There are mainly six denominations of banknotes, $1, $5, $10, $20, $50, and $100, and four types of coins, 1¢, 5¢, 10¢, and 25¢. Also, since February 2007, new $1 coins with portraits of former U.S. presidents are being issued.
Similar to the consumption tax in Japan, a state tax of roughly 4.166% (4.712% in Oahu) is added to food and other purchases (tax is included in bus fares and other fares). In addition to the state tax, there is also a 10.25% hotel tax added to hotel room rates.
Refer to the following when providing a tip. Note that many restaurants give bills with the service charge already included. Be careful not to pay the tip twice.
Taxis: About 15% of the meter fare.
Restaurants: About 15% of the bill.
Hotels: $1 for every piece of luggage carried by the bellhop. $1 for each bed for the housekeeper. When ordering room service, about 15% of the meal charge.
The voltage in Hawaii is 110/120 V, with a frequency of 60 Hz. Hawaii uses the same Type A plugs as Japan. Rechargeable electric shavers and hair dryers can be used for brief durations of time. However, damage may result with extended use or use of irons or other electric appliances that become very hot. For other electrical devices, check the voltage.
Hawaii uses the NTSC TV and video system. As this is the same system that is used in Japan and the US mainland, videos can be played on video players in Japan. However, DVDs cannot be played on DVD players in Japan, as the region code differs (2 in Japan, 1 in Hawaii).
When sending airmail to Japan, the address can be written in Japanese. However, do not forget to write "Japan" and "Airmail" on the package.
Post office hours vary by place, so it is best to request your post to be mailed for you at the hotel front desk.
Airmail to Japan is $1.15 for regular-sized postcards and letters up to 28 g (the weight of about one envelope and three A4-sized sheets of paper).
Telephoning Japan from Hawaii
Ex. When calling (03) 1234-5678
Dial 011 (International telephone identification number)
Other parties telephone No. (Remove the first 0 from area codes)
Telephoning Hawaii from Japan
Ex. When calling Waikiki 922-XXXX
International Telephone Company No.
001 (KDDI)*1
0033 (NTT Communications) *1
0061 (SoftBank Telecom) *1
005345 (au Mobile) *2
009130 (NTT DoCoMo Mobile) *3
0046 (SoftBank Mobile)*4
010 (International Identification No.)
1 (Country Code, The United States of America)
808 (Area Code, State of Hawaii)
922-XXXX (Other parties telephone No.)
*1.

Not required if you have an international registration with "My Line" or "My Line Plus". See URL My Line/My Line Plus(www.myline.org)for details.

*2.

For the three cell phone carriers, hold down 0 until + appears, then add the country code and the phone number your wish to dial.
Holiday / National holiday
Holiday / National holiday
Almost the same as the US mainland, but there are some holidays observed only in Hawaii (Prince Jonah Kuhio Kalanianaole Day, King Kamehameha Day, and Statehood Day).The dates in the brackets for holidays that fall on different days each year are for 2020.
January 1: New Year's Day
3rd Monday of January (January 20): Birthday of Martin Luther King Jr.
3rd Monday of February(February 17): Presidents' Day
March 26: Prince Jonah Kuhio Kalanianaole Day
April 19: Good Friday
April 21: Easter (varies by year)
Last Monday of May (Nay 25): Memorial Day
June 11: King Kamehameha Day
July 3: Independence Day
3rd Friday in August (August 21): Statehood Day
1st Monday in September (September 7): Labor Day
2nd Monday in October (October12): Columbus Day
November 11: Veterans Day
4th Thursday in November(November 26): Thanksgiving Day
December 25: Christmas Day
The official language is English. Hawaiian is also widely used. Japanese is used in certain places like Waikiki.
Below are guidelines for general business hours. Business hours vary with the shop or restaurant, but boutiques and other places in the Waikiki area stay open until 22:00 or 23:00. Many shops and restaurants in tourist areas stay open on public holidays, but almost all places close on New Year's Day, Easter, Thanksgiving, and Christmas Day.
Mon. to Thu. 8:30 to 16:00, Fri. 8:30 to 18:00, closed on Sat., Sun., Holidays.
Mon. to Sat. 10:00 to 21:00, Sun. 10:00 to 17:00.
Breakfast is from 7:00 to 11:00, lunch from 11:30 to 14:30, dinner from around 17:00 to 22:00, and bars are open until late at night.
Drinking alcohol is strictly prohibited in Hawaii for those under 21. You must therefore show ID with your photo and date of birth on it when drinking at bars, buying alcohol at liquor stores, or entering discos, clubs, or other places that serve alcohol. Regardless of age, alcohol cannot be purchased at supermarkets or other stores from late at night (around midnight) until early morning (6:00). Although you can get a driver's license in Hawaii at the age of 21, there are age restrictions when renting vehicles, and some car rental companies charge extra fees for those under 25.
The new Smoke-Free Law that went into effect in November 2006 prohibits smoking in all public places, including restaurants, bars, shopping malls, and hotels.
Copyright (C) Globe-Trotter Media Partners Inc. All Rights Reserved.
Copyright (C) Diamond-Big Co., Ltd. All Rights Reserved.