on September 27th, 2019 (JST) current information.
Furthermore, the details under "Visa" and "Passport" are for Japanese nationals.
This information is likely to change suddenly, so please contact the relevant official authority (e.g., embassy) for the latest information.
There are various types of visas for visiting India, such as tourist, business, or studying, and a tourist visa is required if you want to enter the country for the purpose of travel. As of March 2017, there are three patterns for obtaining a tourist visa.
Regular visa: This is a regular visa obtained in advance in another country outside of India. The type of visa obtained in Japan is a multiple-entry tourist visa with unlimited re-entry in the six months from the date issued.
In Japan, you can apply for such a visa at the Indian Embassy. Click the Indian Embassy website for details about how to apply for a visa.
e-tourist visa: This is a visa that is issued at the airport upon arrival. You must enter the required information on the Internet at least 4 days prior to your departure and bring a printout of your application. You can only enter the country twice, and it is valid for 60 days from the day of arrival. Use the application form on the website Government of India.
Arrival visa: There is no need for application in advance, and it is issued at the airport in India. It is a double entry visa that allows entry into the country twice over a 60-day period.
.
Your passport must be valid for at least six months from the date of visa application, and must have at least two unused visa pages.
For the latest information, be sure to check the website of the Embassy of Japan in India .
Visa, passport, and other information is subject to change without notice. Be sure to check with the Embassy, Consulate, or travel agency.
When visiting from Japan, it is prohibited to bring the following items into India.
a. Meat and all meat products
b. Marine product and processed marine products
c. Egg products
d. Milk products
e. Pet food
f. Products made with bird feathers or pig fur
g. Processed bone or horn products
h. Plants, seeds, fruit, fresh flowers
i. Live birds, animals (including pets)
j. Plants or animals that are at risk of extinction (alive or dead)
k. Products made from wild animals
As a rule, small amounts of food or other items for personal use may be confiscated unless officially approved.
Prohibited from bringing in. In September 2019, the Indian government prohibited all production, sale, and import of e-cigarettes. Foreign nationals may also be penalized.
For bringing and possession of tax-free cigarettes
Tobacco: 100 cigarettes, 25 cigars, or 125g of cut tobacco
Liquor: up to 2L regardless of the type of liquor
Gifts equal to less than Rs8000
Time difference and Daylight Saving Time
India has a single time zone. Time difference: Japan is 3.5 hours ahead of India. (It is 8:30AM in India when it is noon in Japan.) There is no daylight saving in India.
The climate is hot and humid all year round. The temperature from April to June is close to 40°C with constant high humidity. The temperature drops slightly from July to September. During the monsoon season from October to December, the heat is more bearable, with temperatures at or lower than 30°C.
Currency and Exchange Rate, Tax, Currency exchange, Tip
Currency and Exchange Rate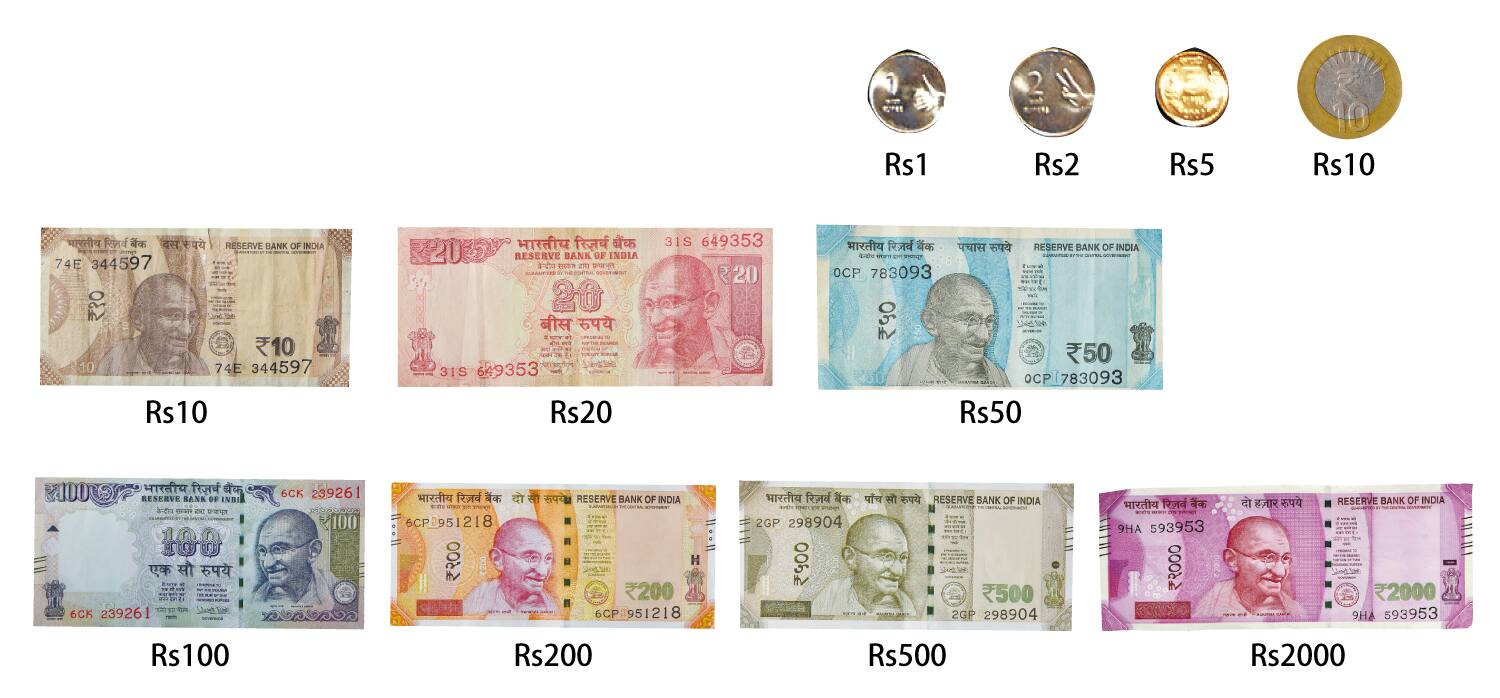 The unit of currency is the rupee (Rs) and paisa (P). In Hindi, they are called rupaya (the plural is rupaye) and paisa (the plural is paise). Rs1 = P. As of September 4, 2019, Rs1 equaled approx. JPY1.5.
There are ten denominations of banknotes: Rs1, Rs2, Rs5, Rs10, Rs20, Rs50, Rs100, Rs200, Rs500, and Rs2000. There are nine types of coins: P5, P10, P20, P25, P50, Rs1, Rs2, Rs5, and Rs10. However, of those, the Rs1 and Rs2 banknotes and P5–P50 coins are almost never used.
Goods and services tax (GST) was implemented in July 2017. The tax rate varies by the type of article. Also, depending on the article(s) purchased, taxes other than GST may also apply. For hotels, taxes apply for accommodation expenses amounting to Rs1,000 or more.
Hotels: It is good manners to tip when having luggage carried or asking for room service. A rule of thumb is Rs30 for mid-level hotels and approx. Rs40 to Rs50 per piece of luggage at luxury hotels.
Restaurants: Tipping is not required when included in the service charge, but in other cases a tip of approx. 5 to 7% of the meal charge should be left. However, at restaurants serving locals it is okay to leave change from the bill as a tip, and even that is optional.
Other: A tip of approx. Rs100 or more per tourist should be given to a guide who provides individual guidance or when arrangements are made for a car.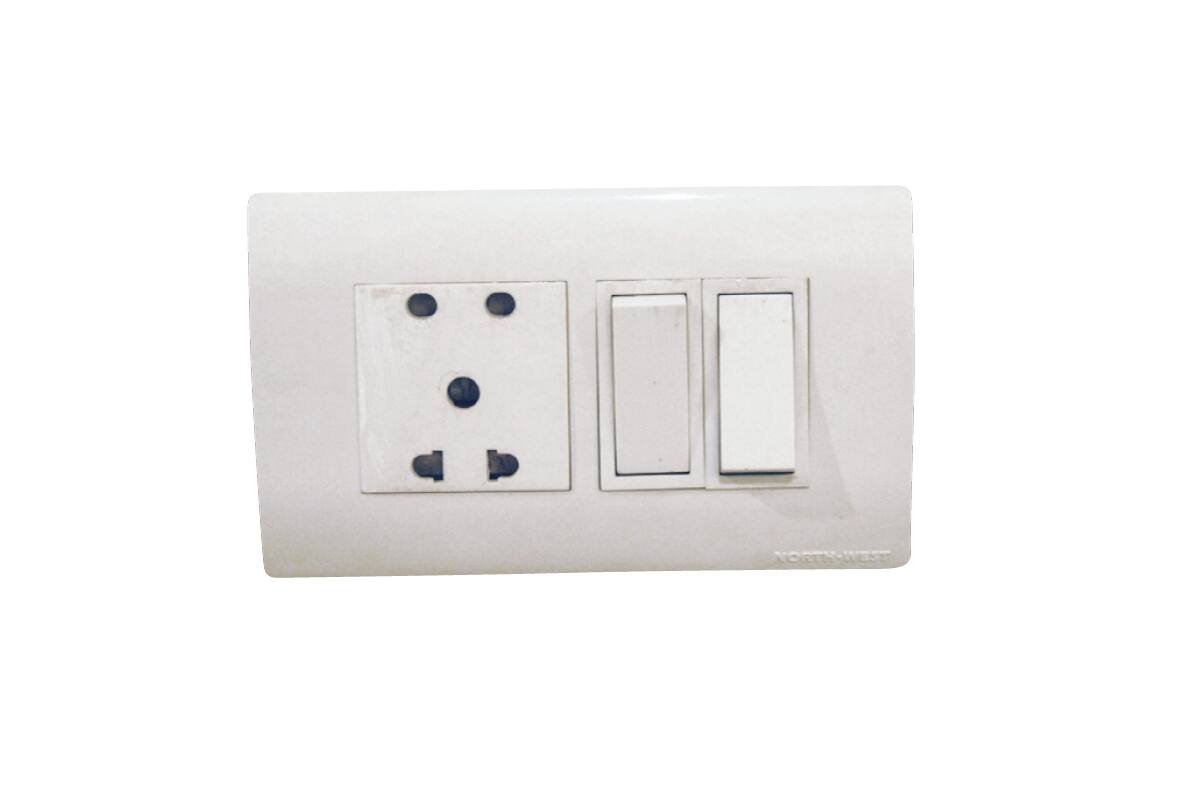 Voltage is 220V to 240V with a cycle of 50Hz. Plugs are most commonly Type B3, BF, B, and C.
When purchasing VHS, VCD, DVD, and BD, take note of the broadcasting system (Japan is NTSC; India is PAL) and region code (DVD is 2, BD is A in Japan; DVD is 5, BD is C in India). To play PAL, a device is needed that can switch to NTSC. The code must be the same for video and player, or one of them must be compatible with all regions for it to be played.
Airmail to Japan costs Rs15 for a picture postcard, Rs25 for a sealed letter. Airmail takes 4 days to 10 days to be delivered.
Post Office Business Hours
Generally, it is open from 9:00 to 17:00 on weekdays.
Telephoning Japan from India
Ex. When calling (03) 1234-5678 or 090-1234-5678
00 (International telephone identification number)
3 or 90 (Remove the first 0 for area codes and mobile telephone numbers)
1234-5678 (Other parties telephone number)
Telephoning India from Japan
International Telephone Company No.
001 (KDDI)*1
0033 (NTT Communications) *1
0061 (SoftBank Telecom) *1
005345 (au Mobile) *2
009130 (NTT DoCoMo Mobile) *3
0046 (SoftBank Mobile)*4
010 (International Identification No.)
11 (Remove the first 0 for area codes)
87654321 (Other parties telephone number)
*1.

Not required if you have an international registration with "My Line". See URL My Line(www.myline.org) for details.

*2.

au does not require 005345.

*3.

Pre-registration to World Wing is required for NTT DoCoMo. Does not require 009130.

*4.

Call are possible without dialing 0046 from SoftBank.
For the three cell phone carriers, hold down 0 until + appears, then add the country code and the phone number your wish to dial.
Holiday / National holiday
Holiday / National holiday
Of the national holidays, Only the following three days are official holidays according to the law. In addition to those days, there are other holidays that vary by religion and state.
January 26: Republic Day
August 15: Independence Day
October 2: Mahatma Gandhi's Birthday
Note that many tourist highlights are closed on January 26 and August 15.
The official language is Hindi, and English is the second official language. In addition, there are 21 different state government-approved languages and 844 dialects.The literacy rate is 74.04% (according to a 2011 national census).
General business hours noted below, but they are only guidelines. Actual business hours differ by establishment.
10:00 to 16:30 (until 14:00 on Sat.), closed on Sun., holidays.
10:00 to 19:00, closed on different days depending on the store.
11:00 to 23:00 (some places close from around 15:00 to 18:00).
The Muslim faith prohibits alcohol consumption. Hindus also are not very fond of alcohol. However, there are drinking establishments in every town, and patrons can drink in licensed restaurants and bars. However, in the states of Gujarat and Bihar, Kerala, Manipur, Nagaland there is a prohibition law, and even in states without such a law there are "dry days" when consuming alcohol is prohibited. On these days, alcohol is not sold. Drinking is prohibited throughout the country on specified holidays, such as on Mahatma Gandhi's Birthday and Independence Day. Also, the sale of alcohol is restricted in sacred Hindu places.The provision of alcohol is prohibited within 500 meters from highways or railway stations throughout the country. There are also restrictions on alcohol sales at holy Hindu locations.
There is an anti-smoking law enforced in public facilities in India. Places subject to the law include airport lounges, hotels, restaurants, cafés, bars, train stations, bus stops, shopping malls, movie theaters, hospitals, and schools. Violators will be fined Rs200. However, smoking is permitted in places that have smoking areas even if it is a public place.
Copyright (C) Globe-Trotter Media Partners Inc. All Rights Reserved.
Copyright (C) Diamond-Big Co., Ltd. All Rights Reserved.