ANA's
Premium Wine Selection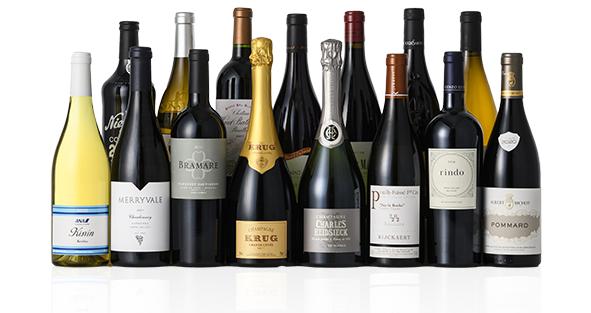 In ANA First Class, you can choose from a carefully selected lineup of reds and whites from top caliber wineries from around the world.
Sample images. Service periods will differ depending on the route, aircraft type, etc.
ANA's Premium Wine Selection
ANA's current wine selection was put together by staff involved with on-board services and external advisor sommeliers.
ANA brings you this exclusive selection with confidence. Savor the delicious marriage between these wines and cuisine.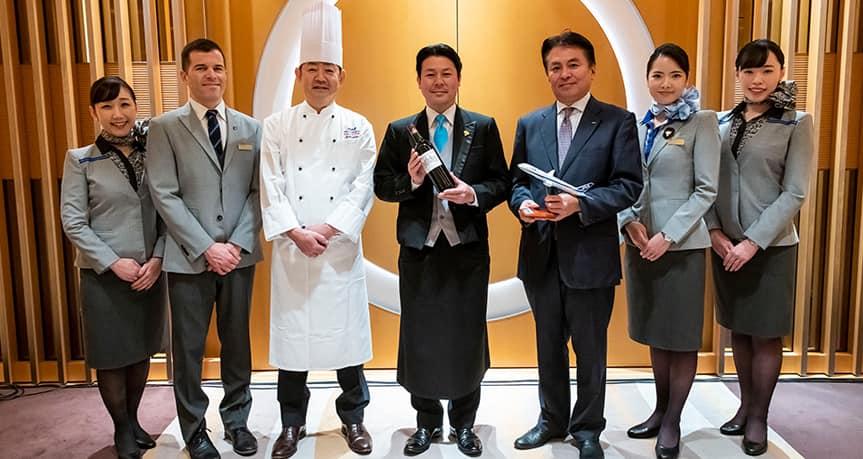 Around 2,000 brands of wine from 15 countries were entered into the first round of selections for this lineup. Wines that passed an initial screening then went on to be marked at blind tastings in the final selection, and the entire selection process took around half a year. Wines that scored highly at the blind tastings by members of "THE CONNOISSEURS" such as ultimate wine masters Olivier Poussier (Best Sommelier in the World 2000) and Satoru Mori (Executive Sommelier, Conrad Tokyo) are served on board. This lineup strikes an exquisite balance between the bold individuality of each wine, and features brands from a variety of wine-producing several regions including Japan in addition to European classics.
Olivier Poussier was selected as the Best Sommelier in the World in 2000. He now works as the chef sommelier at the House Lenôtre of France while running a wine consulting firm.

Satoru Mori is an Executive Sommelier at Conrad Tokyo. He handles activities to raise awareness of wines and to train younger sommelieras a managing director of Japan Sommelier Association (JSA). In 2017, he was recognized as a "Modern Master Craftsman" by a Minister of Health, Labour and Welfare Ministry. He leads the Japanese wine industry through his outstanding performance and winning at various sommelier competitions around the world and in Japan multiple times.
Other wine recommendations by ANA
First Class offers a selection of wines from around the world suitable for the finest names.
Enjoy the finest wines that accompany your meal and enjoy the first-class, first-class air travel provided by ANA.
The brand may change without prior notice for convenience, or may not meet your request.
Champagne Krug Grande Cuvée

Since 1843, Krug Grande Cuvée has embodied the vision of its founder, Joseph Krug. Every year, a new Édition is created: an extraordinary blend of over 120 wines from more than 10 different years, resting at least 7 years in the cellar of Krug. Blending so many wines from different years provides this myriad of flavours and aromas, something impossible to express with the wines of just one year. ANA First Class has been serving the supreme Champagne since its first international flight, in 1986.
Pinot Noir / Meunier / Chardonnay

Gevrey-Chambertin La Justice Domaines Albert Bichot 2015

The vineyards of Gevrey-Chambertin were already farmed by the monks of the Abbey of Cluny during the 11th century. The lord of Gevrey-Chambertin and Abbeyof Cluny who had the right to dispense justice on this part of the village, gave its name to this parcel "La Justice". A perfumed Burgundy with boasting aromas of tart fruits, red cherry, cinnamon, cloves and toast. Mouthwatering yet seamlessly integrated acidity, fine-grained subtle tannins and sweet spices finish.
Pinot Noir

SOLARIS Shinshu Chikumagawa Merlot 2016

A very attractive Merlot from the Nagano region displaying flavors of plum, strawberry and vanilla. Broad mouthfeel, with velvety polished tannins, juicy acidity, chocolatey and cedar wood notes.
Merlot

Au Bon Climat Nuits Blanches Au Bouge 2014

First released in 1996 to show the exceptional potential of the Bien Nacido vineyard, Nuits Blanches Au Bouge is one of the most complex Chardonnay produced by the acclaimed Au Bon Climat winery, in the cool region of Santa Barbara in California. The 2014 version is a broad, rich wine, developing flavors of guava, hazelnut and sweet melon. The multilayered palate is rich and refined, with intense, seamlessly integrated toasty notes, along with ripe orchard fruit aromas and a honeyed, very long finish.
Chardonnay

Terre à Terre 2015

Located just North of Coonawarra in South Australia, Wrattonbully has similar geology – limestone covered by terra rossa soils – ideal for vinegrowing. This is a vibrant Sauvignon Blanc, both fresh and textured, with bright acidity, passion fruit and citrus notes and an elegant toasty lift from judiciously handled old oak.
Sauvignon Blanc
Check "Meal/Drink Menu" for the serving period and routes of the above labels.

Beverage brand is subject to change without prior notice. Please accept our apology if your choice is not available.