Explore the Japan Heritage site of Okayama, the birthplace of the legend of Momotaro
Every Japanese grew up hearing the folklore of Momotaro, a boy hero who sets off to fight a band of ogres. The tale is said to have been modeled after the ogre-fighting mythology of Ohkibitsuhiko-no-Mikoto enshrined in Kibitsu Shrine, called the "Tale of Ohkibitsuhiko-no-Mikoto and Ura." Kibitsu Shrine itself is known for the beautiful Kibitsu-zukuri architectural style that appears as if a bird is spreading its wings, and the main building and worship hall are designated as national treasures.
Narukama Shinji (Pot sounding divination)
Legend has it that the ogre Ura lost the battle against Ohkibitsuhiko-no-Mikoto and had his head chopped off, which was buried deep beneath a steel pot in the shrine. From underneath the pot, booming sounds like the moaning of the ogre can be heard during rituals. Visitors can even take part in these divination rituals in which the sound is used to assess good or bad fortune.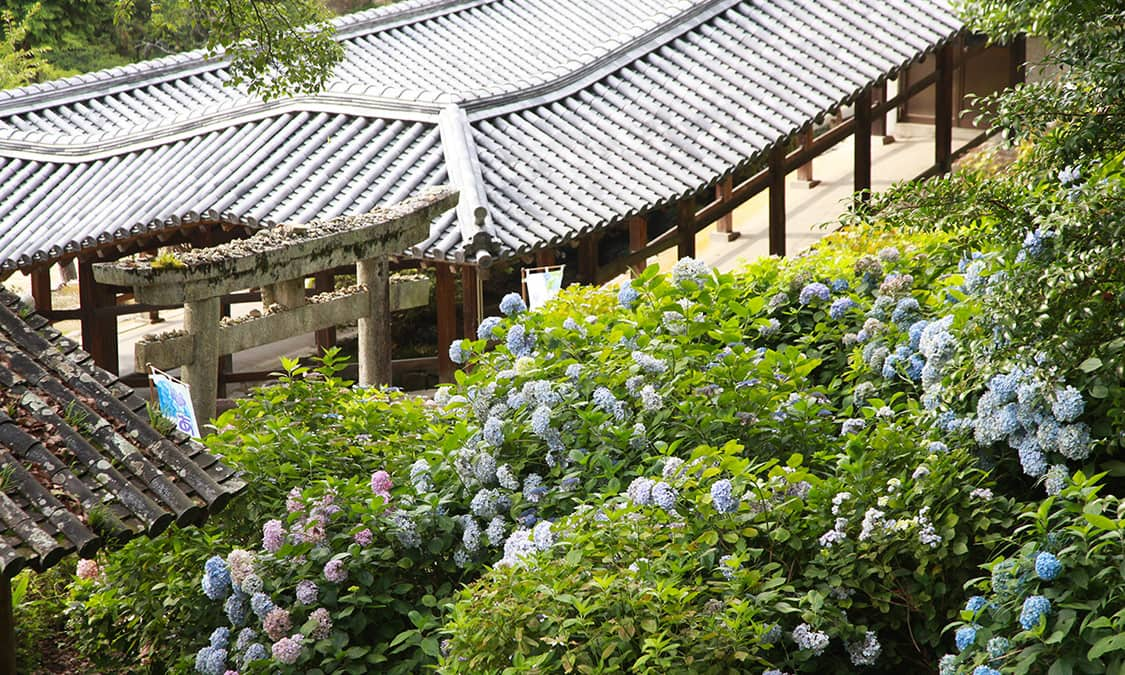 On the shrine premises are plum blossoms, camellias, cherry blossoms, tree peonies, tsutsuji azaleas, satsuki azaleas, Japanese irises, and hydrangeas, adding gorgeous seasonal colors to the shrine, corridors, and the sacred pond. The hydrangeas in full bloom in June are especially not to be missed!
Location
| | |
| --- | --- |
| Name | Kibitsu Shrine |
| Web Sites | (In Japanese) http://www.kibitujinja.com/ |
| Address | 931 Kibitsu, Kita-ku, Okayama-shi, Okayama |
| Access | 10 minutes' walk from JR Kibitsu Station |
| Business Hours | 8:30 to 16:00 (Narukama Shinji registration: 9:00 to 14:00) |
| Closed | Narukama Shinji: every Friday, second Sunday of May and October, December 28 |
| Inquiries | TEL: 086-287-4111 |