Ishigaki Island's top scenic spot with a white sandy beach and emerald green sea
Kabira Bay is in the northwestern part of Ishigaki Island, the largest outlying island in Okinawa. The beautiful emerald green ocean, considered one of the most transparent in the world, and the lush green island landscape have received three stars in the Michelin Green Guide Japan. In Kabira Park near Kabira Bay, enjoy a panoramic view of the bay from the observatory and take a leisurely walk while gazing at the sea.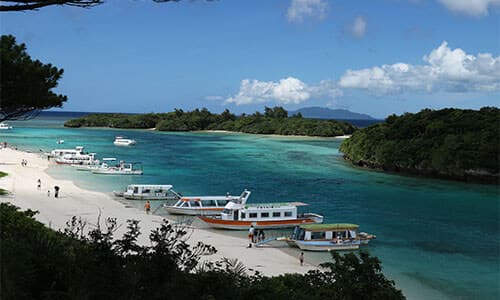 See the undersea world from a glass-bottom boat
Since swimming is prohibited in Kabira Bay, glass-bottom boats are the best way to see corals, tropical fish and the beautiful sea. From the glass floor of the boat, you can get a close look into the sea where around 250 species of coral as well as tropical fish and sea turtles live. The sea shows its various facets in accordance with the time of day and natural conditions such as the weather and the rise and fall of the tide, and the boat crew will guide you to the recommended point at the time and explain the names of colorful tropical fish and coral.
World's first successful cultivation of black butterfly pearls in Kabira Bay
Natural black butterfly pearls are said to be extremely rare, found in just one out of 400,000 shells. Kabira Bay on Ishigaki Island was the first in the world to successfully cultivate this very precious pearl. Compared to other pearls, black butterfly pearls are mixed with various colors, and the colors even change depending on the angle. It is truly a work of art created by Kabira Bay.
Location
Name
Kabira Bay
Website
(In Japanese) https://www.ishigaki-navi.net/si_kabirawan.html
Address
1054 Kabira, Ishigaki-shi, Okinawa
Access
Approximately 35 minutes' drive from Ishigaki Airport
Approximately 30 minutes' drive from Ishigaki Ferry Terminal
Inquiries
TEL: 0980-82-2809 (Ishigaki City Tourism Exchange Association)