Cape Manzamo, one of the best scenic spots in Okinawa
The 20-meter-high Ryukyu limestone cliff is a park with an expanse of lawn spreading on top. It is said that Ryukyu Kingdom's King Sho Kei once praised the site as a "field worthy for all people to sit on" and the cliff was named for this. On a clear day, the ocean shines brightly stretching to the distant horizon, and the vista at sunset is a sight to behold.
© Onna Village Tourism Association
Watch the sunset relaxing on the wooden deck
At Manzamo Tourist Facility, enjoy shopping and dining while exploring the magnificent nature of Cape Manzamo. Shops on the first floor offer various local specialties, and the second floor is a food court with multiple restaurants. There are eat-in spaces indoors and also outdoors where you can relax on the wooden deck. Enjoying the sunset on the wooden deck is especially recommended. From the free observation deck on the third floor, you can see the mountains of Motobu Peninsula, Mount Gusuku (Iejima Tacchu) and on the east the magnificent Mount Onnadake, the symbol of Onna Village. The center has free parking spaces for about 300 cars and a parking lot for 13 large buses.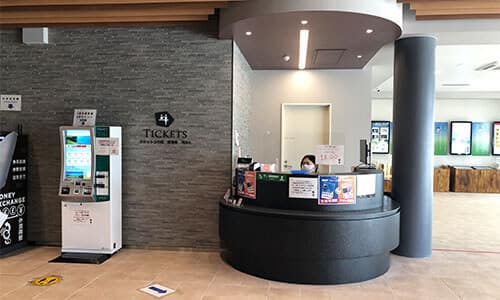 Promenade to see Cape Manzamo
To go see Cape Manzamo, buy a ticket at the ticket vending machine on the first floor; a viewing fee of 100 yen per person is taken for environmental conservation. Walk along the promenade, and the stunning Cape Manzamo comes to view. The iconic rock that looks like an elephant's nose, the blue ocean, expanding horizon and the vast grass field all create a dynamic scenery. The beauty of sunset time is especially breathtaking. The promenade is constructed to be accessible so that even strollers and wheelchairs can explore the area in about 10 minutes. Free rental strollers and wheelchairs are also available (three of each).
Location
Name
Cape Manzamo
Website
(In Japanese) https://www.manzamo.jp/
Address
2767 Onna, Onna-son, Okinawa
Access
Approximately 75 minutes' drive from Naha Airport
From Naha Airport, take the National Route 331 north, then turn left into National Route 58 north. Once in Onna Village, turn left at the Manzamo sign and drive for approximately 1 minute.
Business Hours
From 8:00 to sunset
Closed
None
Inquiries
TEL: 098-966‐8080
Admission
100 yen per person (same price for adults and children)
Free for preschool children and under