Ancient memories of the Earth found in the Yanbaru Forest created over 250 million years
A candidate for the World Natural Heritage, Yanbaru is an area of lush nature at the northern tip of the main island of Okinawa. Daisekirinzan is a scenic spot located in the Yanbaru National Park, adorned withsteep rocky mountains, strange shaped rocks and subtropical natural forests. Since ancient times, the area has been known as Ashimui and was the setting of many sacred myths, as people offer prayers here even today.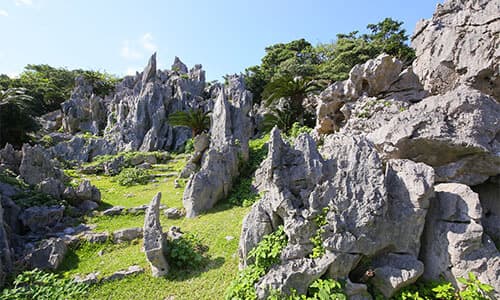 Daisekirinzan was created by limestone formed in the sea in the Paleozoic era around 250 million years ago, which appeared on the surface due to crustal movement. Over another several million years, the limestone was further eroded by winds and rain, and a unique landscape of sharp, strangely shaped rocks was created. This rocky mountain has been here since the main island of Okinawa first began to form. Even today, rainwater and bacteria are melting the limestone and continuously changing the landscape of the mountain.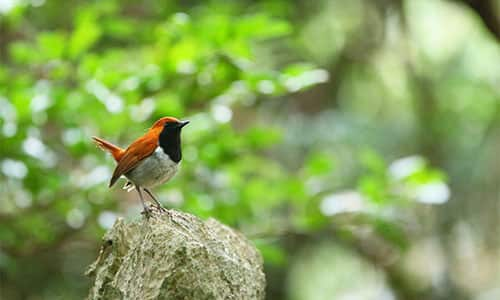 Yanbaru, a treasure trove of endemic species
A vast subtropical forest of untouched wilderness, Yanbaru is full of indigenous animal and plant species, making it a rare natural treasure trove in the world. Because the Ryukyu Islands repeatedly separated from and rejoined the continent throughout their formation, the left-behind flora and fauna have evolved into endemic species over tens of thousands of years. You can also spot these rare flora and fauna at Daisekirinzan located within the special protection area of Yanbaru National Park.
Daisekirinzan in the sacred Ashimui land
Daisekirinzan is situated within the four rocky peaks of the Ashimui, a land deemed sacred since ancient times. From the peak, you can view the distant islands of Yoron and Okinoerabu beyond the horizon. The magnificent rocky mountain has also served as a beacon for travelers who sought new lands from overseas. The forest in the area holds the remains of many stone structures thought to have housed livestock, suggesting that there were people who reached and made their living on this land. Today, Ashimui maintains around 60 uganjo, where people still come to offer prayers.
Location
Name
Daisekirinzan
Website
https://www.sekirinzan.com/en/
Address
1241 Ginama, Kunigami-son, Okinawa
Access
From the Kyoda IC on the Okinawa Expressway, take the National Route 58 north for approximately 1 hour.
Business Hours
9:30 to 17:30 (Final admission: 16:30)
Closed
Open all year round
Inquiries
TEL: 0980-41-8117
Admission
Mountain entrance fee
Adults (age 15 and over): 1,200 yen, Children (age 4-14): 550 yen, Senior citizens (age 65 and over): 900 yen
Others
Daisekirinzan Guided Tour: Adults: 3,000 yen; Children: 2,000 yen *1 *2 *3
Guided Spiritual Tour: Adults: 4,000 yen; Children: 2,500 yen *1 *2 *3


*1 Reservation required by the day before.
*2 Includes mountain entrance fee.
*3 In Japanese only


Okinawa Stone Museum: A geology and folklore museum centered on Okinawan stones (Free admission)
Restaurant Fureai Shokudo Nantoya: Offers various menu items using local Okinawan produce (Lunchtime starts at 11:00 (Last order: 15:30))