Feel the culture of prayer in Okinawa's famous sacred land hidden in the primitive forest
Sefa Utaki is the most sacred place of the former Ryukyu Kingdom located in Nanjo City, Okinawa Prefecture. Utaki is a collective term for the sacred grounds where rituals are performed in the Nansei Islands of Okinawa. Among them, Sefa Utaki was the venue of the Oaraori, which was the most important ritual of the Ryukyu Kingdom, and still emanates a special atmosphere. The site is registered as a World Cultural Heritage, acclaimed for the Ryukyu Kingdom's distinctive belief system based on its unique natural view.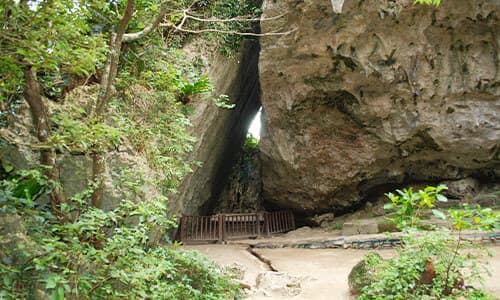 One of the six Ibi (sacred sites) within Sefa Utaki, Sangui can be found after passing through a mysterious triangular space created by two large boulders leaning on each other. From the cobbled stone area toward the back, gold magatama beads have been excavated, which were designated as national important cultural properties. Sefa Utaki is said to have been created by Amamikiyo, the creation deity of the Ryukyu Islands, and the atmosphere of sunlight filtering through the trees is worthy of the legend that gods have created this place.
Nanjo City Local Products Center
Look for local specialties made from the rich natural environment of Nanjo in addition to fun goods featuring Nanjo City mascot character Nanji and craft products great for souvenirs. The adjacent Ganju Station Nanjo offers various tourist information about the city. The exhibit on Sefa Utaki will help you gain a deeper understanding of the site before visiting, and tickets for Sefa Utaki can be purchased here.
This amazing view spot is located near the No. 2 parking lot of Sefa Utaki. Enjoy a sweeping sight of Kudaka Island, a sacred land related to Ryukyu's creation deity Amamikiyo, as well as Komaka Island, Tsuken Island and the Katsuren Peninsula. Surrounded on three sides by the Pacific Ocean, Cape Chinen Park is fun to explore along the walkway and gazebos with Okinawan red tile roofs. The beautiful sunrise that can be seen from the park is especially breathtaking.
Location
| | |
| --- | --- |
| Name | Sefa Utaki |
| Website | https://okinawa-nanjo.jp/sefa/en/ |
| Address | 455 Chinenkudeken, Nanjo-shi, Okinawa |
| Access | From Naha Bus Terminal, take the Toyo Bus Shikiya Line No. 38 for approximately 60 minutes to Sefa Utaki-iriguchi bus stop, then walk for approximately 10 minutes. |
| Inquiries | TEL: 098-948-4611 (Nanjo-city Tourism Association) |