Fukugi tree lined pathway of Bise
Feel the air of ancient Okinawa on the pathway lined with healing Fukugi trees in the historic community of Bise near Churaumi Aquarium
Located in Motobu town in the northern part of Okinawa Main Island, Bise is a community which has treasured its culture and customs passed down for 400 years. Rows of around 20,000 Fukugi (Garcinia) trees line the street like a tunnel to protect the village from strong winds. A part of the primitive Okinawan scenery, the soothing green tunnel embodies the wisdom of the people who have coexisted with nature over centuries.
Look over the East China Sea and Iejima-Tacchu from the Fukugi-lined path
A hidden spot on the left of Bise village's entrance, past the Fukugi-lined street, reveals a stunning panoramic view of the ocean, Iejima Island and the mountain called Iejima-Tacchu. "Tacchu" is an Okinawan dialect that means "pointed head." The shimmering waves of the East China Sea appear like a path leading to Iejima Island, which is about a 30-minute ferry ride from Motobu Port.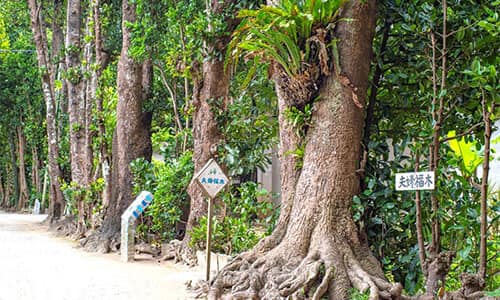 "Husband and wife" Fukugi trees bring happiness to couples
Nearby the entrance of the Fukugi-lined pathway is the Meoto Fukugi, meaning husband and wife Fukugi trees. Out of the 20,000 trees, this rare pair of large trees appears as if embraced like a married couple. Created over many years from the trees' lively energy, the Meoto Fukugi is now a popular attraction as a power spot that grants harmonious marriage and happiness.
East China Sea beyond the Fukugi tunnel
Just near the Bise Administrative Office lies the beautiful green tunnel created from naturally growing branches and leaves. Walk along the sun dappled pathway for about two minutes, and you will be met with a breathtaking scene of the East China Sea. The village of Bise is said to have been planned based on feng shui, and some of the giant trees on the pathway are aged over 300 years, remaining an important part of the community's history.
Location
Name
Fukugi tree lined pathway of Bise
Website
(In Japanese) https://www.motobu-ka.com/tourist_info/tourist_info-post-687/
Address
389 Bise, Motobu-cho, Kunigami-gun, Okinawa
Access
Approximately 2 hours' drive from Naha Airport
Approximately 50 minutes' drive from the Kyoda IC on the Okinawa Expressway
Approximately 5 minutes' walk from route bus Bise entrance bus stop
Bus 65 Motobu Peninsula Line (Toguchi route), Bus 66 Motobu Peninsula Line (Nakijin route), Bus 70 Bise Line
From Naha Airport, take the Yanbaru Express Bus for approximately 2 hours, get off at Hotel Orion Motobu Resort & Spa, then walk for approximately 5 minutes.
Approximately 2 hours' bus ride on the Okinawa Airport Shuttle (Limited Express) to Bise Fukugi Tree Street
Business Hours
None (Be mindful of the time of day as this is a residential area.)
Closed
None
Inquiries
TEL: 0980-48-2371
Admission
Free (Both free and paid parking lots available.)