Beautiful stalactite cave created from coral reefs
Located 400 kilometers southeast of the Okinawan capital city of Naha, Ishigaki Island is the center of the Yaeyama Islands and one of Japan's top beach resorts. The Ishigaki Island Stalactite Cave is the largest tourist cave on the island and the southernmost in Japan, a natural wonder created over 200,000 years. Marvel at the beauty of the glittering stalactites and the fantastic illuminations inside the cave and enjoy the pleasant sounds of water dripping in the Suikinkutsu water harp. The adjoined Ishigaki Island Restaurant and souvenir shop offer plenty of options for delicious local dishes and specialty goods.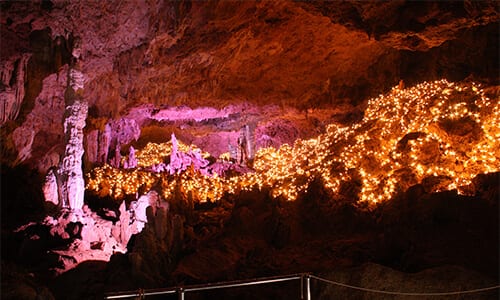 Cave filled with natural splendors that were once undersea
The Ishigaki Island Stalactite Cave is approximately 3.2 kilometers long, of which 660 meters are open to the public. While it only takes around 30 minutes to explore, the beehive-like interior expands in various directions and gives a spacious feel. Look around for fossils of sea creatures such as corals and giant clams, evidence that these were all undersea in ancient periods. The Senkyo Area is lit in fantastic cave illuminations and is famous as a power spot. There are also many unique-shaped stalactites and crystal-clear ponds to explore, and with the cave temperature at a comfortable 22 degrees Celsius throughout the year, the whole family can enjoy exploring its many natural splendors.
Location
Name
Ishigaki Stalactite Cave
Website
https://www.ishigaki-cave.com/en/
Address
1666 Ishigaki, Ishigaki-shi, Okinawa
Access
Approximately 30 minutes' drive from Ishigaki Airport
Approximately 10 minutes' drive from Ishigaki Port Remote Island Terminal
Business Hours
9:00 to 18:30 (Final admission: 18:00)
Closed
None
Inquiries
TEL: 0980-83-1550
Admission
Adults: 1,200 yen; Children (age 4 to junior high school students): 600 yen