Feel the Old Town of Tsuwano in Japan Heritage Center
In Japan Heritage Center, you can feel "history" and "tradition" that has been cultivated in the old town of Tsuwano.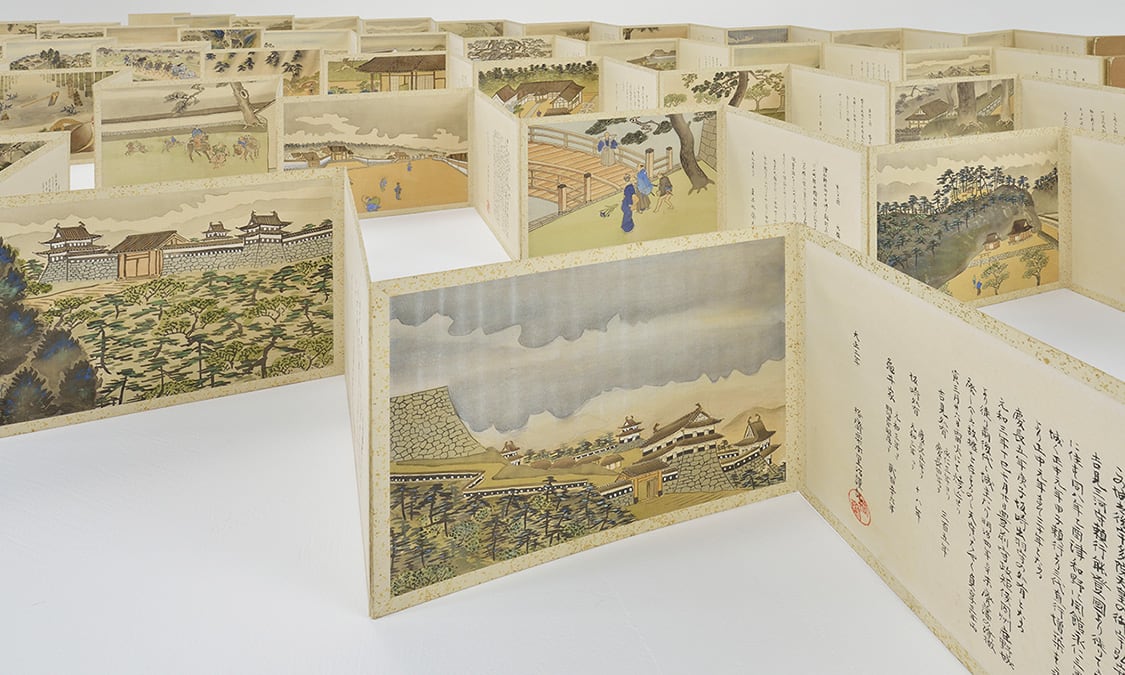 "The One Hundred Landscapes of Tsuwano" is an art book that depicts the famous places and the lives of the local people around 150 years ago towards the end of the Tokugawa shogunate. Most of the things depicted are still in prime condition today in the 21st century. However, there's more to Tsuwano than just comparing the pictures to the scenery of today. You can go to festivals, enjoy the timeless nature, and taste traditional dishes. Tsuwano was registered as a Japan Heritage for being a place where visitors can use the One Hundred Landscapes book to really feel the history and tradition built and nurtured by this town.
Movies, paintings, and photographs portray the story of Tsuwano's Japan Heritage. A concierge is always present at the center who can guide you through the highlights of Tsuwano using the One Hundred Landscapes. Upon request, the concierge can even give a detailed explanation of the 100 paintings. There are also activities such as a washi (Japanese paper) doll making lesson, making it a great day out for the whole family. Many choose to stop by the center at both the beginning and end of their Tsuwano trip. You sure get a lot for free admission!
Sagimai heron dance is a national Important Intangible Cultural Property. You can see for yourself how Sagimai is performed in almost the exact same way as the paintings from 150 years ago. Sagimai is a rite with a history of over 400 years, and was first held in Tsuwano in 1542.
Yasaka Shrine is the shrine that offers Sagimai rituals. This Shinto shrine is a branch of Kyoto's Yasaka Shrine and has been Tsuwano's village shrine for 600 years. The front gate depicted in the One Hundred Landscapes still remains today, and you also can see a huge sacred zelkova tree. You can also take a look at a stone wall called the "Turtle Shell" used to protect against the river.
Location
Name
Japan Heritage Center
Web Sites
(In Japanese) https://tsuwano100.net/
Address
253 Ushirodaro, Tsuwano-cho, Kanoashi-gun, Shimane
Inquiries
TEL:0856-72-1901 (Tsuwano Japan Heritage center)
Opening Hours
9:00–17:00 (Closed Mondays)
Closed the next day if Monday is a public holiday
Fee
Free entrance