*Please note that these lounges are not ANA Lounges.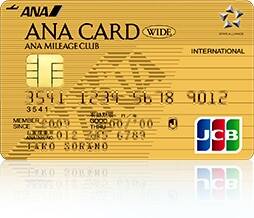 With an ANA Card, you can earn more than enough miles to redeem a roundtrip journey between Tokyo and Ishigaki within a year!
Not only can miles be earned from flights and in-flight purchases, they can also be earned through everyday transactions such as shopping, dining, and public utility payments.
Please apply if you wish to take advantage of fantastic mileage accrual rates and earn miles to your heart's content.
Choose a card that matches your lifestyle.
ANA JCB Wide Gold Card
Image of Card
Brand
Features
Enroll

Text is available in Japanese only.

Annual Fee

Upon Enrollment/Renewal
JPY 15,120

Enrollment Bonus Miles

Upon Enrollment/Renewal
2,000 miles

Bonus Miles from Flights
Basic Sector Mileage x Class/Fare Bonus Accrual Rate x 25%
Mileage Redemption Handling Fee
None
ANA VISA Wide Gold Card
Image of Card
Brand
Features
Enroll

Text is available in Japanese only.

Annual Fee

Upon Enrollment/Renewal
JPY 15,120

Enrollment Bonus Miles

Upon Enrollment/Renewal
2,000 miles

Bonus Miles from Flights
Basic Sector Mileage x Class/Fare Bonus Accrual Rate x 25%
Mileage Redemption Handling Fee
None
ANA Master Wide Gold Card
Image of Card
Brand
Features
Enroll

Text is available in Japanese only.

Annual Fee

Upon Enrollment/Renewal
JPY 15,120

Enrollment Bonus Miles

Upon Enrollment/Renewal
2,000 miles

Bonus Miles from Flights
Basic Sector Mileage x Class/Fare Bonus Accrual Rate x 25%
Mileage Redemption Handling Fee
None
ANA Diners Card
Image of Card
Brand
Features
Enroll

Text is available in Japanese only.

Online enrollment for the ANA Diners Card will be unavailable from February 18 (Sun.) to March 6 (Tue.), 2018.
Please see the Diners Club homepage (Text is available in Japanese only.) for further details.
*Postal applications will still be accepted during the above period.

Annual Fee

Upon Enrollment/Renewal
JPY 29,160

Enrollment Bonus Miles

Upon Enrollment/Renewal
2,000 miles

Bonus Miles from Flights
Basic Sector Mileage x Class/Fare Bonus Accrual Rate x 25%
Mileage Redemption Handling Fee
None
ANA American Express® Gold Card
Image of Card
Brand
Features
Enroll

Text is available in Japanese only.

Annual Fee

Upon Enrollment/Renewal
JPY 33,480

Enrollment Bonus Miles

Upon Enrollment/Renewal
2,000 miles

Bonus Miles from Flights
Basic Sector Mileage x Class/Fare Bonus Accrual Rate x 25%
Mileage Redemption Handling Fee
None