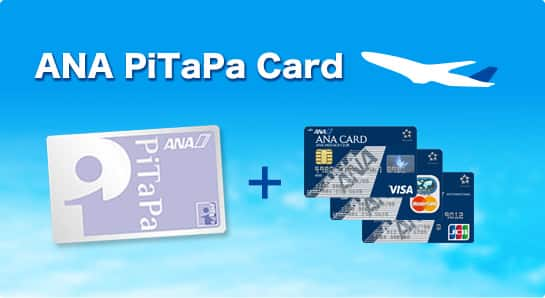 What is an ANA PiTaPa Card?

Use PiTaPa to earn "Shop de Points," which can be used to redeem miles. So simply using PiTaPa to pay for purchases can earn miles.

Miles can be used to redeem "Shop de Points." This service is only available with the ANA PiTaPa Card.
What is PiTaPa?

PiTaPa is a smart card-based payment system that can be used for train and bus fares, as well as shopping and dining experiences. It uses a post-pay system and customers can also receive discounts based on how much they use the card for public transportation.
ANA VISA Card, ANA MasterCard, and ANA JCB Card cardholders may apply.
Customers Who Are ANA VISA Card or ANA MasterCard Cardholders
Mitsui Sumitomo VISA Card and Mitsui Sumitomo MasterCard members need to log in to their Vpass accounts to apply. Clicking the link will lead to a non-ANA website, at which point the privacy policy of that website will apply to personal information protection.
Customers Who Are ANA JCB Card Cardholders
Request the application form via the ANA JCB Card Materials Request page or by telephone, fill it out with the required information, and submit it by post.
JCB 24-hour Materials Request Service (Request Code: 0002063)
Annual Fee and Maintenance Fee
There is no enrollment or annual fee. However, PiTaPa cards which have not been used for any transactions during a 1-year period will be subject to a maintenance fee of JPY 1,050 (including tax) per card.
After the enrollment and enrollment verification procedures have been completed, 2-3 weeks will be required for the card to be delivered.
Payment for PiTaPa Transactions
PiTaPa transaction amounts are paid together with the credit card transaction amounts for ANA VISA Card, ANA MasterCard, or ANA JCB Card. However, because the PiTaPa billing period begins on the first day of the month and ends on the last day of the month, this may differ from the billing cycle of the credit card.
Points to Note When Using ANA PiTaPa Card
Accrual of Credit Card Points: ANA PiTaPa transactions cannot earn World Present Points for ANA VISA Cards or ANA MasterCards. They also cannot earn Oki Doki Points for ANA JCB Cards.
Accrual of "Shop de Points": When using PiTaPa for purchases such as dining and shopping, "Shop de Points" can be earned. However, "Shop de Points" cannot be earned from train or bus fare transactions.