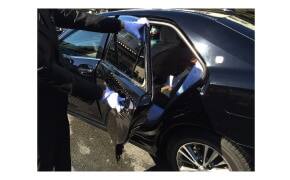 Eastern Airport Motors is the only vehicle for hire company that has a dispatch office located at Haneda Airport.
With "Safety, Comfort, and Assurance" as its key principles, the company educates its drivers on a daily basis in order to ensure customer confidence.
Operators are standing by at the Haneda Airport dispatch office 24 hours a day. This enables the company to respond flexibly to flight delays and be constantly aware of traffic conditions so that vehicles are always ready to deliver customers to their destinations.
* Service is available in Japanese only.
In addition to miles that can be redeemed with credit card points, customers can earn 1 mile for every JPY 200 (including tax) spent when paying with an ANA Card.
*Certain procedures are required when redeeming credit card points for miles and an annual redemption handling fee will apply, with some exceptions. (Some cards, such as ANA Wide Gold Cards, do not require redemption handling fees.) The number of accruable miles may differ depending on the credit card company, transaction details, etc.
Mileage Accrual Eligibility
Customers who use ANA Cards to pay for fares (vehicles for hire).
*Fares which are paid with fare tickets are not eligible for mileage accrual.
Use an ANA Card to pay for fares when using vehicles for hire operated by Eastern Airport Motors.
Mileage Accrual When Paying with Apple Pay/iD/QUICPay™
Apple Pay, iD, and QUICPay™ payments are unavailable and are therefore all ineligible for ANA Card Miles Plus.
Approximately 1-2 months will be required for the miles to be credited to the mileage balance.
Service is available in Japanese only.
Eastern Airport Motors Co. Ltd. Reservation Center


03-3742-3100
Monday to Friday: 10:00-16:00 (JST; Not available on weekends and national holidays.)