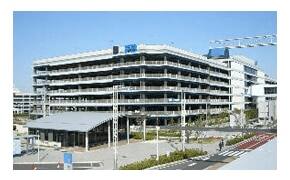 Customers can make parking reservations online. Please register via the website in order to do so. Refer to the dedicated reservation website for details.
Customers with disabilities who present their Identification Booklet for Persons with Disabilities or other relevant documentation to the staff at the payment booth will receive a 50% discount.
* Service is available in Japanese only.
In addition to miles that can be redeemed with credit card points, customers can earn 1 mile for every JPY 100 (including tax) spent when paying with an ANA Card.
*Certain procedures are required when redeeming credit card points for miles and an annual redemption handling fee will apply, with some exceptions. (Some cards, such as ANA Wide Gold Cards, do not require redemption handling fees.) The number of accruable miles may differ depending on the credit card company, transaction details, etc.
Mileage Accrual Eligibility
Customers who use an ANA Card to pay parking and reservation fees in advance.
Please use an ANA Card when paying for parking and reservation fees.
Mileage Accrual When Paying with Apple Pay/iD/QUICPay™
Apple Pay, iD, and QUICPay™ payments are unavailable and are therefore all ineligible for ANA Card Miles Plus.
Approximately 1-2 months will be required for the miles to be credited to the mileage balance.
Service is available in Japanese only.
To reserve a parking spot, you must register for the Haneda Airport Parking Garages 2 and 3 reservation service (domestic flights).
(You must newly register if you wish to use the service from March 1, 2018 onward, even if you have used the service before.)
Reservations are not accepted by phone.
The number of reservations that can be accepted is limited, and you may be unable to reserve a space if the garages are full.
Airport Environment Improvement Foundation - Tokyo Office

Parking Garage 2

03-5757-9498(Available 24 hours a day, year round.)
Parking Garage 3

03-6428-9498(Available 24 hours a day, year round.)