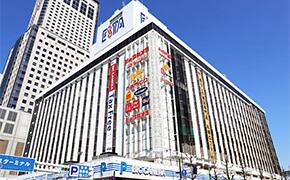 The BicCamera Sapporo Store can be found inside Sapporo Esta, which is right in front of Hokkaido's Sapporo Station. It not only has cameras, computers, televisions and home electrical goods, but also a whole range of other products from alcohol, medication, and daily necessities to toys and bedding!
The store's staff also boast a wealth of knowledge on these products and will gladly provide you with all the information you need.
Get one mile for every 4 Bic Points.
(Mileage redemption is only available for payments for which a Bic Point Card was presented on the purchase date.)
*For information on the point redemption rates available with Bic Point Service, please contact BicCamera directly.
*Points cannot be redeemed for miles on days other than the relevant purchase date.
(Example) When purchasing a product costing JPY 1,250 (incl. tax) (and paying in cash and earning 10% back in Bic Points on your purchase with the "10% Bic Point Service")
Get 31 miles for 125 Bic Points.
*Mileage redemption is not available when earning under 4 points.
*Miles and Bic Points cannot be accrued simultaneously.
Mileage Accrual Eligibility
ANA Mileage Club members who are also a Bic Point Member, and purchase products eligible for Bic Point accrual and then take their receipt to the general information counter on the 1st floor on the same day
Stores
1) Purchase a product at an eligible store.
2) Upon making your purchase, inform the member of staff that you would like to accrue ANA miles and present your Bic Point Card.
3) Obtain your purchase receipt.
4) Take the following three items to the general information counter on the 1st floor.

・Your ANA Mileage Club card / ANA Card
・Your purchase receipt (You must have presented your Bic Point Card for the relevant purchase on the purchase date.)
・Your Bic Point Card

5) You will receive a mileage redemption receipt after presenting these items to the staff at the general information counter; please keep this receipt in a safe place until you can see that the miles have been credited to your mileage account.
Timing of Mileage Accrual
Approximately 1-2 months will be required for the miles to be credited to the mileage balance.
Product purchases for which Bic Points are not accrued are ineligible for mileage accrual.
If you use Bic Points toward paying for a purchase, miles will be accrued for the amount not paid with points.
You must be a Bic Point member to be able to accrue mileage.
The name on the ANA Mileage Club card and the Bic Point Card must match.
Bic Points accrued before the relevant purchase date cannot be redeemed for miles.
Miles cannot be converted back into Bic Points once redeemed. If you return a product after completing the mileage accrual procedures for it, you will be asked to pay a sum in cash to cover the number of Bic Points you originally earned on the product, regardless of circumstances behind the return.
Even if you make several purchases on the same day and present all the corresponding receipts in one go, each purchase will be treated as a separate points-to-mileage redemption request. This is because points cannot be combined.
The point redemption rate will vary by product and payment method.
Bic Point Service Center
*When dialing from certain IP phones or outside Japan: 050-3786-4011
Operator hours: 10:00-21:00