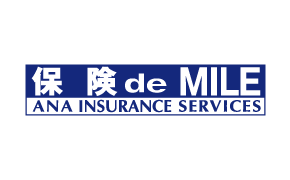 ANA Insurance Services is a website that enables customers who enroll in insurance policies to earn ANA miles. For example, a customer who enrolls in an automobile insurance policy can earn a maximum of 500 miles each year when renewing it! In addition to international travel insurance, customers can earn miles when signing up for motorcycle insurance, medical insurance, life insurance, golfer'e insurance, and pet insurance policies. A variety of attractive insurance products which offer value and peace of mind are available.
[Medical/Cancer/Life Insurance] MetLife insurance is no longer available for mileage accrual as of March 31, 2017.
[Pet Insurance] Anicom pet insurance is no longer available for mileage accrual as of February 28, 2017.
[Bicycle Insurance] Handling of Mitsui Sumitomo Insurance's bicycle insurance, @cycle, started on November 1, 2016.
List of Available Insurance Types
International Travel Accident Insurance

Domestic Travel Accident Insurance

Automobile Insurance

Motorcycle Insurance

Medical Insurance

Cancer Insurance

Life Insurance

Fire Insurance

Bicycle Insurance

Golfer's Insurance

Pet Insurance
Please apply through the ANA Insurance Services website (www.anahoken.com) (Text is available in Japanese only.)
★Make sure to enter your ANA Mileage Club membership number in the designated field.
Note
Clicking the link will lead to a non-ANA website, at which point the privacy policy of that website will apply to personal information protection.
After the start of the insurance coverage period, a certain amount of time will be required for the miles to be credited.
Retroactive Mileage Registration
Retroactive mileage registration is not permitted.
Limited to policy enrollments through ANA Facilities Co., Ltd.
Mileage accrual is limited to insurance policies which names the ANA Mileage Club member as the person insured.
Mileage accrual is limited to policies for individual customers.
Acceptance may not be possible depending on the terms and conditions of the policy, etc.
Miles will not be accrued if an insurance policy is canceled prior to the coverage start date.
Reservations and Inquiries
ANA Insurance Services (Handling Agency: Insurance Department, ANA Facilities Co., Ltd.)


0120-029-019
Monday to Friday: 09:00-17:30
(JST; Not available on weekends, national holidays, and the year-end/New Year period.)