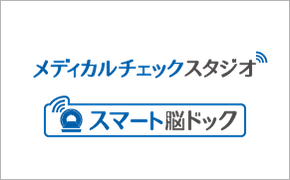 Do you know what your risk of having a stroke is? More than 40,000 people have had a "smart" brain exam in the last 3 years.
At JPY 17,500 (excluding tax) (JPY 19,250 including tax), the "smart" brain exam makes brain exams all the more accessible.
Visits to the clinic last 30 minutes from arrival to leaving, and exam results can be checked on your smartphone! Reservations are accepted on the clinic's website, with weekend exams also available. You can even access the following when going for your "smart" brain exam: double check system, stress-free support system, and lung CT/cardiovascular exam option (JPY 9,500 excluding tax; JPY 10,450 including tax).
* Service is available in Japanese only.
This partnership will end on May 31, 2022, and will no longer applicable for mileage accrual.
| | |
| --- | --- |
| In-studio Payments | Earn 1 mile for every JPY 200 (incl. tax) spent by presenting an ANA Card or ANA Mileage Club Card when making a payment at the eligible studio. |
Medical Check Studio Tokyo Ginza Clinic
2F Success Ginza First Building, 1-2-4, Ginza, Chuo-ku, Tokyo, 104-0061
Medical Check Studio Shinjuku Clinic
2F Cueplaza Shinjuku 3-Chome Building, 3-5-6, Shinjuku, Shinjuku-ku, Tokyo, 160-0022
Medical Check Studio Osaka Umeda Clinic
1F E-ma, 1-12-6 Umeda, Kita-ku, Osaka, Osaka Prefecture, 530-0001
It takes about 2 weeks for the mileage accrual to be confirmed after use.
Mileage accrual is not available in the following cases.
Appointments that are not for "smart" brain exams, lung CT/cardiovascular exams, or body fat exams.
Appointments covered by health insurance.
When using coupons.
Appointments made and paid for online.
Since partner company-affiliated medical corporations are responsible for the medical checkups, tests, and other ancillary services that they provide, Wellness Medical Information Center Co., Ltd. will not bear any responsibility for trouble encountered or damage incurred while using an affiliated medical corporation's services (including any disadvantages suffered such as emotional distress and financial loss).
Medical Check Studio Tokyo Ginza Clinic
2F Success Ginza First Building, 1-2-4, Ginza, Chuo-ku, Tokyo, 104-0061
Medical Check Studio Shinjuku Clinic
2F Cueplaza Shinjuku 3-Chome Building, 3-5-6, Shinjuku, Shinjuku-ku, Tokyo, 160-0022
Medical Check Studio Osaka Umeda Clinic
1F E-ma, 1-12-6 Umeda, Kita-ku, Osaka, Osaka Prefecture, 530-0001