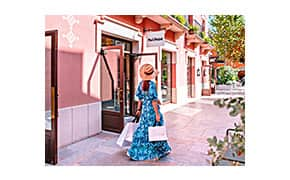 The Bicester Collection, operated by Value Retail, is a family of 11 unique open-air shopping destinations across Europe and China, all an hour or less from some of the world's most popular cities and tourist attractions – including London, Dublin, Paris, Madrid, Barcelona, Milan, Brussels, Frankfurt, Munich, Shanghai and Suzhou. With more than 1,300 boutiques across the Collection, customers can discover previous seasons' collections with savings of up to 60% on the recommended retail price all-year round.
Each Village is known for its unparalleled selection of boutiques from world-leading brands, superior service and hospitality, famous restaurants and remarkable savings. With a new Virtual Shopping service (Check here for more information)

, you can now also shop the Village collections from the comfort of your home and have your purchases delivered to your door.
Mileage Accrual Eligibility
The total receipt amount for purchases made at a Village will be eligible for mileage accrual.
Present your purchase receipts and your ANA Mileage Club Card at the Village's Tourist Information Centre at the end of your shopping day. Mileage will be accrued based on the total amount of all purchase receipts presented.
* Mileage will not be accrued if the receipt or ANA Mileage Club Card is not presented.
* Mileage can only be accrued for purchases once per day.
London, Dublin, Paris, Madrid, Barcelona, Milan, Brussels, Frankfurt and Munich Villages
Check here for more information about The Villages
It will take around 1–2 months for the miles to be credited to the mileage balance.
The Bicester Collection Airmiles Enquiries
* Retroactive mileage registration can be requested within 6 months of the purchase (excluding weekends and national holidays).
Check here for more information