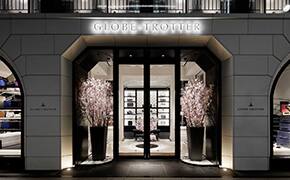 Established in 1897, GLOBE-TROTTER is a luggage and suitcase brand that has always been adored by the famous, including British royalty. Each and every item is lovingly crafted by a highly skilled artisan into an elegant piece of luggage that gains even greater character as you travel.
* Shipping is only available within Japan.
JPY 200 (incl. tax) = 1 mile
Mileage Accrual Eligibility
In-Store

When presenting your ANA Card or ANA Mileage Club Card at the eligible store, please also provide your 10-digit ANA Mileage Club membership number and inform the staff that you would like to accrue miles.
Online Store

Please enter your 10-digit ANA Mileage Club membership number in the customer information field before placing your order.
Timing of Mileage Accrual
It takes about 2 weeks for the mileage accrual to be confirmed after use.
Retroactive mileage registration is not permitted.
Sale items, repairs, shipping/handling fees, etc., are ineligible for mileage accrual.
GLOBE-TROTTER (Store and Online Store)