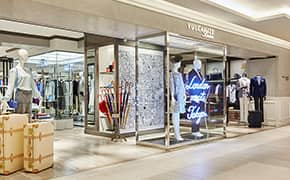 The boutique store VULCANIZE London presents items from a selection of British brands that are united in their vision to provide sophisticated living.
From stores boasting a long, rich history to fresh brands turning heads at fashion shows, customers can enjoy access to some 40 British brands. Among the long-established brands are Globe-Trotter, the luggage and suitcase brand that has captured the hearts of celebrities worldwide; Smythson, the stationery brand granted royal warrants by the British royal family; and Turnbull & Asser, known as the Rolls-Royce of shirts.
VULCANIZE London offers a real taste of London in Tokyo, with its broad selection of lifestyle products (including clothing, accessories, suitcases and stationery) and cafe experience. Visit one of their stores to experience modern Britain's exciting new art and culture and find something special for yourself.
* Shipping is only available within Japan.
JPY 200 (incl. tax) = 1 mile
Mileage Accrual Eligibility
In-Store

When presenting your ANA Card or ANA Mileage Club Card at the eligible store, please also provide your 10-digit ANA Mileage Club membership number and inform the staff that you would like to accrue miles.
Online Store

Please enter your 10-digit ANA Mileage Club membership number in the customer information field before placing your order.
Timing of Mileage Accrual
It takes about 2 weeks for the mileage accrual to be confirmed after use.
Retroactive mileage registration is not permitted.
Sale items, repairs, shipping/handling fees, etc., are ineligible for mileage accrual.
VULCANIZE London (Store and Online Store)