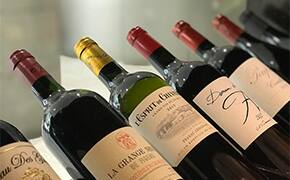 "Caves de la Madeleine" is a fine wine shop originally opened by Steven Spurrier, founder of Academie du Vin in Paris in 1971.
Our shop at Academie du Vin Aoyama offers wide range of well-selected wines not only from Europe but also from all over the world with reasonable prices.
Earn 1 mile for every JPY 200 (including tax) spent on a purchase.
Mileage Accrual Eligibility
Product purchases, including wines and wine-related items (Wine school course fees are ineligible.)
* Customers who are not members of Academie Du Vin may also use the wine school shop.
Customers who present their ANA Card or ANA Mileage Club Card when paying for wines or wine-related items at an Academie du Vin school.
(Text is available in Japanese only.)
Timing of Mileage Accrual
It takes about 2 weeks for the mileage accrual to be confirmed after use.
Academie Du Vin wine course fees and purchases made through the Caves de la Madeleine online store are not eligible for ANA mileage accrual.
Please present your ANA Card or ANA Mileage Club Card and state that you wish to accrue mileage when making a payment at a store.
Academie du Vin Aoyama


03-3486-7769
Weekdays: 10:00-20:00 (JST); Weekends and National Holidays: 11:00-18:00 (JST)