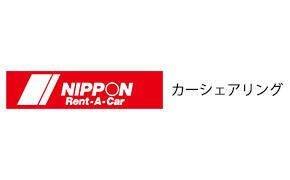 Drive a well-maintained, clean, hight quality vehicle at any time with this carsharing service from Nippon Rent-A-Car.
Advantage 1: Simple online reservations are available 24 hours a day, with the service available any time you need it.
Advantage 2: Use your time effectively with no additional procedures necessary upon picking up or dropping off your car.
Advantage 3: Pay only for the time you use the car with this great value service, available in 15-minute blocks from a minimum time of only 15 minutes.
Advantage 4: Drive one of Nippon Rent-A-Car's well-maintained vehicles and experience their renowned quality with their safe, trustworthy carsharing service.
* Service is available in Japanese only.
New registrations for Nippon Rent-A-Car's carsharing service have been temporarily suspended.
Members who have already registered will accrue mileage for using the service as usual.
1 mile for every JPY 100 (excluding tax) spent
Mileage Accrual Eligibility
Eligible Merchants

All Nippon Rent-a-Car locations in Japan where carsharing is available.
Eligible Charges

Monthly fees (time/distance charges plus excess fees) are eligible for mileage accrual.
* The following items are not eligible for mileage accrual.
Enrollment fees, monthly membership fees, and reservation cancellation fees
Coupons / gift certificate discount amounts
When you are involved in an accident
When using this service in conjunction with other mileage/point programs
When special rates such as region-exclusive, limited-time, and promotional rates are applied
After enrolling as a carsharing service member, please register your 10-digit ANA Mileage Club membership number on the entry page.
* Please refer to the carsharing website for more information.
(Text is available in Japanese only.)
Notes
* Clicking the link will lead to a non-ANA website, at which point the privacy policy of that website will apply to personal information protection.
Approximately 1 to 2 months will be required for the miles to be credited to the mileage balance.
Retroactive Mileage Registration
Retroactive mileage registration requests are not accepted.
Please ensure that you register your 10-digit ANA Mileage Club membership number on the entry page.
Reservations and Inquiries
Nippon Rent-A-Car Carsharing Customer Support Desk


0120-362-332
Operator hours: Available 24 hours a day, 365 days a year