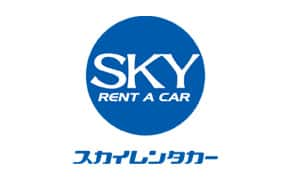 With new offices popping up all over Japan, SKY Rent-A-Car offers non-smoking passenger vehicles equipped with navigation systems and ETC.
From light ("Kei") vehicles to station wagons, an excellent range of vehicles are available at incredible prices.
Reservations can be made online immediately before usage. (Excludes some locations.)
Customers are responsible for providing their own ETC Cards.
Passenger vehicles are non-smoking. If you would prefer a smoking vehicle, please contact the relevant office beforehand. (Such vehicles are only available in limited numbers.)
Child seats and other options are also available separately.
Rental cars in Hokkaido come with studless tires free of charge during the winter.
* Service is available in Japanese only.
1 mile for every JPY 100 (excluding tax) spent
Mileage Accrual Eligibility
Eligible Merchants

All SKY Rent-A-Car rental offices
Eligible Charges

When ANA Mileage Club members reserve vehicles directly with SKY Rent-A-Car, payments for the following charges and fees are eligible for mileage accrual: basic rental fee, rental extension fee, insurance and compensation enrollment fee, and charges for optional items (snow chains, roof racks, etc.).
When multiple ANA Mileage Club members rent a vehicle, only 1 member (the person named in the rental contract) will be able to earn miles.
* However, the following situations are not eligible for mileage accrual.
When travel agency package tours or coupons products are used.
When special rental charges are involved (contract fees, special promotion rates, etc.)
When vehicles are rented through frequent flyer programs of other airlines.
When an accident occurs.
Enter your 10-digit ANA Mileage Club membership number and name on the SKY Rent-A-Car homepage when making your reservation. Alternatively, present your ANA Card or ANA Mileage Club Card at the SKY Rent-A-Car rental office on the date of rental, and state that you wish to accrue mileage.
Notes
* Clicking the link will lead to a non-ANA website, at which point the privacy policy of that website will apply to personal information protection.
Approximately 1 to 2 months will be required for the miles to be credited to the mileage balance.
* Please be sure to retain the receipt until you have confirmed that the miles have been credited to your mileage balance.
Retroactive Mileage Registration
Retroactive mileage registration requests are not accepted.
Be sure to provide your 10-digit ANA Mileage Club membership number on the day of rental.
Reservations and Inquiries
Reservation Center


0120-49-3711
Monday to Saturday: 09:00-18:00 (JST)