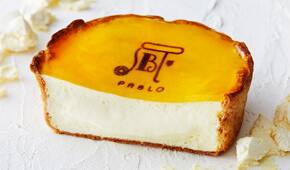 PABLO is a cheese tart atelier that surprises and amazes its customers.
Just in the way that Pablo Picasso revolutionized art, PABLO has transformed the world of cheesecakes with its amazing cheese tarts.
To achieve this, PABLO developed a unique recipe to create a cheese tart for which you can choose the baking condition: PABLO Nude (unbaked with an exquisite texture), PABLO Cheese Tart (medium with a superbly fluffy texture), and PABLO Rich (well done with a richly thick texture).
PABLO mini stores offer freshly baked cheese tarts small enough to fit in the palm of hand so you can enjoy them when and wherever you like.
These mini tarts are available in 4 regular flavors (Plain, Chocolate, Uji Matcha, and Strawberry) and two limited-edition seasonal flavors, allowing you to choose from a total of 6 different flavors at anytime.
1 mile for every JPY 100 (including tax) spent
Mileage Accrual Eligibility
Customers who present their ANA Cards or ANA Mileage Club Cards when making purchases at the stores below.
(Eligible Merchants)

PABLO
PABLO mini
When presenting your ANA Card or ANA Mileage Club Card, please also provide your 10-digit ANA Mileage Club membership number and inform the staff that you would like to accrue miles for ANA Mileage Club.
Approximately 1 to 2 months will be required for the miles to be credited to the mileage balance.
PABLO Contact Details


0120-398-033 (Orders are not accepted over the phone.)
Weekdays 10:00-17:00 (JST) (not available on weekends or national holidays)
* Telephone Number for Inquiries in Japanese.