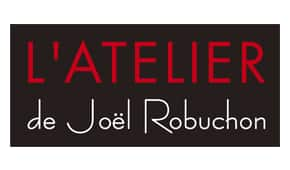 L'ATELIER de Joël Robuchon Dining Coupons
10,000 Mile Plan
Use 10,000 miles to redeem a dining coupon that can be used at the restaurant below (meal for 1, including taxes and service charges).
Information about the Reopening of L'ATELIER de Joël Robuchon
This restaurant closed its doors temporarily in response to the emergency state declared due to the novel coronavirus (COVID-19). However, it has now reopened for shorter hours and is serving dinner as of June 1, 2020 and lunch as of June 6.
For further details, please contact the restaurant directly.
*All photos used are for reference purposes only.
L'ATELIER de Joël Robuchon

(Roppongi/Full course lunch)
L'ATELIER de Joël Robuchon
The idea of "convivialité" advocated by Robuchon is embodied in this casual, enjoyable environment where you can freely speak with the chefs and service staff behind the long counter.
Enjoy the pleasures of dining at the counter, while you watch the chefs preparing your food, timed to perfection, in the open kitchen before you.
On the last day of the 6th month following the month of issue.
(Example: Coupons issued on April 2 will expire on October 31.)
*Coupons which have exceeded their expiration dates will no longer be valid.
*Blackout dates (Christmas, year-end and New Year holiday period, special event dates, etc.) apply. Please contact the restaurant for details.
The service guide is delivered to you.

Make a reservation by telephone at least 2 days prior to the intended day of use.

Present the service guide on the actual day.
How to Make a Reservation
After receiving the service guide, please use the contact details below to make a reservation in advance.
When making the reservation, please state that you wish to use the coupon redeemed with ANA Miles and provide both the coupon number and the coupon expiration date.
L'ATELIER de Joël Robuchon
Reservations & inquiries: 11:00-19:30
Lunch: 12:00-14:00
*Please make your reservation by phone at least 2 days prior to the intended day of use.


Reservations can be made up to two months in advance.
<Example>

Reservations for April 1 can be made from February 1.
Reservations for April 25 can be made from February 25.
*Please write your ANA Mileage Club membership number and name on the service guide and present it to the restaurant staff.
Notes
*The coupons and service guide will be delivered to the ANA Mileage Club member's address approximately 2-3 weeks after the submission of the request.
Delivery may require 3-4 weeks for requests placed during the year-end/New Year and Golden Week holidays or before national holiday periods in Japan.
Please allow sufficient time for delivery.
Terms and conditions apply to coupon usage. Please read and confirm the details written in the service guide before using the coupons.
The menu is subject to change for reasons such as ingredient availability.
Coupons may only be used by the ANA Mileage Club member who requested them and 1 accompanying guest.
Depending on table availability, you may not be able to make a reservation for your preferred date. (The restaurant is generally quite busy on weekends and national holidays. It is recommended to make reservations well in advance.)
Coupons can only be used at the restaurant that is indicated on the coupon.
Please present the service guide on the actual day. (Copies are not acceptable.)
If you do not bring the service guide with you, you will be asked to pay for the actual cost of the meal. In addition, cash or mileage refunds will not be given for coupons which are not used.
Please make sure to contact the restaurant when canceling a reservation.
After a coupon request has been submitted, it cannot be canceled and miles cannot be refunded.
(Text is available in Japanese only.)