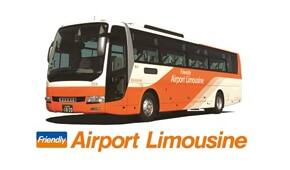 Airport Limousine Bus Vouchers
12,000 Mile Plan
Required Mileage and Eligible Product
Use 12,000 miles to redeem JPY 12,800 worth of bus vouchers (JPY 3,200 voucher x 4) that can be used to travel between Narita Airport and central Tokyo destinations.
On the last day of the month, 6 months from the month after the month of issue.
(For example: Vouchers issued on April 2 will expire on October 31.)
*Vouchers which have exceeded their expiration dates will no longer be valid.
The vouchers are delivered to you.

From Narita Airport :Exchange to a time specified boarding ticket at Narita Airport Ticket Counter.
To Narita Airport: Seat Reservations are essential if you are boarding from Hotels.

Present your boarding ticket or voucher to a member of staff when boarding.
How to Make a Reservation
For limousine buses going to Narita Airport, please make a reservation online through the Airport Transport Service Co., Ltd. website or call the Limousine Bus Reservation and Information Center.
Limousine Bus Reservation and Information Center
Weekdays: 09:00-19:00 (JST) Weekends and Public Holidays: 09:00-18:00 (JST; Available year round.)
Follow the voice guidance and select [2] for English, then select [1] for limousine bus reservations.
Notes
*The vouchers and service guide will be delivered to the ANA Mileage Club member's address approximately 2-3 weeks after the submission of the voucher request.
Delivery may require 3-4 weeks during the longer national holiday periods in Japan, including the year-end/New Year and Golden Week holidays.
Please allow sufficient time for delivery.
Passengers for limousine buses departing from Narita Airport are accepted on a first-come, first-served basis, so please have your voucher ready.
Present the voucher to the ticket counter staff and have your boarding ticket ready before boarding the bus.
1 voucher only allows 1 passenger to board.
Voucher usage is subject to certain terms and conditions. Please make sure to read the service guide that is delivered with the vouchers.
Change will not be given when vouchers are used for payment.
Vouchers cannot be purchased or sold. Vouchers which have been purchased or sold will be invalidated.
Vouchers which do not have expiration dates printed on them will be invalidated.
ANA is not responsible for any loss or theft of vouchers. Vouchers will not be reissued for any reason.
Cash or mileage refunds will not be given for vouchers which are not used.
(Text is available in Japanese only.)