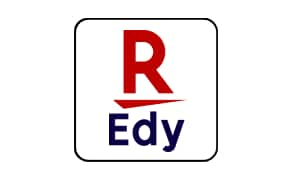 10,000 miles can be used to redeem Rakuten Edy e-money equivalent to JPY 10,000 in value.
Customers who have an ANA Mileage Club Edy Card, ANA Card with Edy functionality, or an OSAIFU-KEITAI® (digital wallet) device that has been registered to Keitai de Edy Miles.
For details regarding Rakuten Edy e-money, please refer to the information on the About Edy-related Services page.
Click the Redeem Rakuten Edy E-money button to proceed.
*Login is required for application.
(Text is available in Japanese only.)
3 or more Uints of redemptions for Rakuten Edy e-money have been completed in a single year (from April 1 until the following March 31), a redemption rate of 10,000 miles=JPY 5,000 will apply to all subsequent Edy redemptions during that year. For more information, please refer to [Partner Points] Redemption rate from 3 Units.
Redemption rates are subject to change.
Applications for charging Edy value to OSAIFU-KEITAI® (digital wallet) devices can be made from 3 days after Keitai de Edy Miles registration.
The maximum amount that can be charged to an Edy balance is JPY 50,000. It is not possible to collect an Edy amount if doing so will exceed the maximum allowable balance.
Please make sure to check your Edy balance before applying.
After applying, customers must complete procedures to collect the redeemed Rakuten Edy e-money amount.
Please remember to collect Edy amounts within 60 days after the application date.
Redeemed Edy amounts will become invalid after 60 days and invalidated amounts cannot be collected.
After an application is submitted, the redemption cannot be canceled and Edy cannot be refunded back into your mileage account as miles. Please redeem partner company points or benefits after confirming the relevant terms and conditions.
You can apply for this benefit from the Members-only Features on the ANA website.
Inquiries About ANA Mileage Club