Request a Super Flyers Card Application Form
The ANA Super Flyers Card is a credit card that is available to ANA Diamond and Platinum Service Members. Enrollment involves an annual fee.
*ANA Super Flyers Cards are delivered to the address (within Japan) that is provided when completing the application form.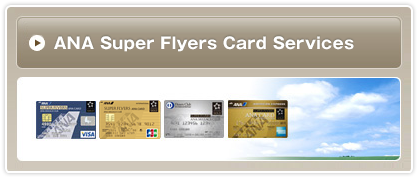 Please read this information before requesting an application form.
New enrollment application forms will be delivered in approximately 2-3 weeks.
Please note that it may require more than 3 weeks during periods when we receive many requests, for example at the end of a fiscal year.
We gradually send out application forms to all customers requesting one. However, please understand that the delivery may require some time.
Click here if you currently have an ANA Card and wish to apply for an ANA Super Flyers Card with the same credit card brand (e.g. upgrade from a standard JCB card to a JCB Super Flyers Card). (Text is available in Japanese only.)
Click here if the above does not apply to you. (Text is available in Japanese only.)
(Text is available in Japanese only.)