on March 31th, 2020 (JST) current information.
Furthermore, the details under "Visa" and "Passport" are for Japanese nationals.
This information is likely to change suddenly, so please contact the relevant official authority (e.g., embassy) for the latest information.
A visa is not required for countries participating in the Schengen Agreement if the purpose of your visit is sightseeing and your overall stay is 90 days or less within a 180 day-period. (for Japanese nationals)
Your passport must be valid for at least three months from the date of entry plus the number of days of your stay (you must have a return ticket with the return date written on it).
Schengen Agreement
As of May 2019, countries in the Schengen Area are Iceland, Italy, Estonia, Austria, Holland, Greece, Switzerland, Sweden, Spain, Slovakia, Slovenia, the Czech Republic, Denmark, Germany, Norway, Hungary, Finland, France, Belgium, Poland, Portugal, Malta, Latvia, Lithuania, Lichtenstein, and Luxembourg. When entering from Japan or another country outside of the Schengen Area, complete immigration and customs clearance upon arriving at the first country in the area during your visit.
Visa, passport, and other information is subject to change without notice. Be sure to check with the Embassy, Consulate, or travel agency.
When visiting from Japan, it is prohibited to bring the following items into Belgium.
a. Meat, meat products, milk, dairy products
b. Potatoes (all food, seeds, or plants), specified animal and plant species
c. Soil and culture medium
d. Endangered animals or plants and products made from them
Most fruits and vegetables (excluding potatoes and species that are prohibited for import) are permitted. Some foods are prohibited or restricted.
Marine products, eggs, honey, and other animal-derived products are allowed to bring into the country, with some exceptions, but there are restrictions on type, quantity, and processing, for example.
Most plants, animals, and foods have specified permissible amounts. If you exceed the permissible limit, the total amount will be confiscated.
There are specific regulations and conditions for animals in addition to by species.
There may be various other conditions or regulations, such as whether they contain pests.
There are no special restrictions for travelers bringing it in for personal use.
For bringing and possession of tax-free cigarettes
Tobacco*1 : Either 200 cigarettes, 50 cigars, 100 cigarillos, or 250 grams of loose tobacco. Only for personal use. A combination of the above is also allowed as long as they are within the limits for amount.
Alcohol*1 : 1 liter of spirits and other liquor with more than 22% alcohol or 2 liters of liquor or sparkling wine with 22% or less alcohol in addition to 4 liters of non-sparkling wine, and 16 liters of beer.
For souvenirs and similar goods, up to an equivalent of 430 Euros when entering the country by air or sea and 300 Euros when entering the country by land or private jet.*2
*1.

Tobacco and alcohol cannot be sold to those under 17.

*2.

For those under 15, up to an equivalent of 150 Euros for souvenirs and similar goods.
Animal-derived products (e.g. meat, eggs, milk, or cheese) cannot be brought in from outside the EU.
Cash equivalents of €10,000 or more being brought into or taken out of the EU must be declared at customs
Time difference and Daylight Saving Time
There is an 8-hour time difference between Japan and Belgium. Subtract 8 from the hour in Japan. In other words, 7:00 in Japan is 23:00 on the previous day in Belgium. The time difference is 7 hours during Daylight Saving time.
Daylight Saving time is from 2:00 AM (3:00 AM) on the last Sunday of March until 3:00 AM (2:00 AM) on the last Sunday of October.
The climate is relatively comfortable, but the weather is very changeable until late May, and it is probably best to keep a light cardigan with you. From June until August is dry and comfortable. From September and October it becomes increasingly cloudy and there is often drizzling rain. It is not too cold in winter, but the cold is more severe on the inland. It rains lightly throughout the year.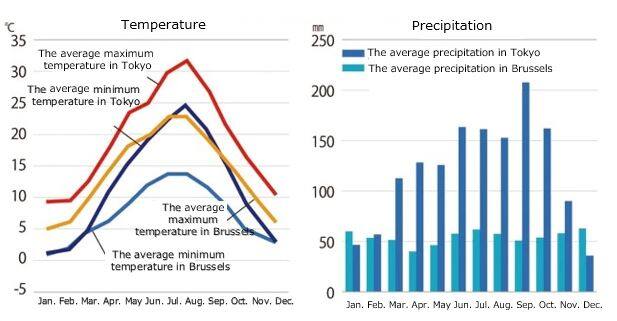 The average maximum temperature in Tokyo and Brussels, The average minimum temperature in Tokyo and Brussels

| month | The average maximum temperature in Tokyo | The average minimum temperature in Tokyo | The average maximum temperature in Brussels | The average minimum temperature in Brussels |
| --- | --- | --- | --- | --- |
| Jan. | 10℃ | 2℃ | 5℃ | 1℃ |
| Feb. | 10℃ | 2℃ | 6℃ | 2℃ |
| Mar. | 13℃ | 5℃ | 9℃ | 5℃ |
| Apr. | 18℃ | 10℃ | 14℃ | 6℃ |
| May | 23℃ | 15℃ | 18℃ | 8℃ |
| Jun. | 25℃ | 18℃ | 20℃ | 13℃ |
| Jul. | 28℃ | 23℃ | 23℃ | 14℃ |
| Aug. | 31℃ | 24℃ | 23℃ | 14℃ |
| Sep. | 27℃ | 21℃ | 18℃ | 10℃ |
| Oct. | 23℃ | 15℃ | 14℃ | 5℃ |
| Nov. | 17℃ | 10℃ | 10℃ | 4℃ |
| Dec. | 13℃ | 5℃ | 6℃ | 3℃ |
The average precipitation in Tokyo and Brussels

| month | The average precipitation in Tokyo | The average precipitation in Brussels |
| --- | --- | --- |
| Jan. | 50mm | 60mm |
| Feb. | 60mm | 50mm |
| Mar. | 110mm | 50mm |
| Apr. | 130mm | 40mm |
| May | 130mm | 40mm |
| Jun. | 160mm | 60mm |
| Jul. | 160mm | 60mm |
| Aug. | 150mm | 60mm |
| Sep. | 210mm | 50mm |
| Oct. | 160mm | 50mm |
| Nov. | 90mm | 60mm |
| Dec. | 40mm | 70mm |
Currency and Exchange Rate, Tax, Currency exchange, Tip
Currency and Exchange Rate
Euro coins with different designs on one side for each country: Photo copyright of the European Central Bank
The currency is the Euro (denoted as €, Euro, or Eur, for short) and the subunit is cents. In French, it is pronounced "oo-ro" and "san-team", and in Dutch "yoo-ro" and "sent." 1 Euro is 100 cents, approx. 119 yen (as of March 10, 2020). The back of the originally designed coins show King Philip (in distribution from February 2014; there are still many coins with the previous king).
Banknotes are available in €500, €200, €100, €50, €20, €10, and €5.
Coins are available in €2, €1, 50 cents, 20 cents, 10 cents, 5 cents, 2 cents, and 1 cent.
Almost all products require a 21% added tax called TVA (in French; called BTW in Dutch). It is 6% for items such as books and foods. However, visitors to the EU for less than 3 months can have this tax refunded minus a fee by completing a procedure. (You can only receive a tax refund for purchases of €50.01 or more per receipt for items that you will take out of the country without using them.). This tax is not refundable for tobacco products, hotels, restaurants, and chocolate and some other food products.
Tips are not generally required. You may provide a tip when receiving a special service. The following are guidelines. Varies with the class of hotel or restaurant. Many people provide tips as a thank you at the end of a local departure or arrival tour.
Taxis: About 5% of the fare. €1 to 2 for handling bags.
Restaurant: While it depends on the class, tips are not generally required as a service charge is included in the price. When paying by credit card, you can also pay a tip by adding the amount to the total on the pay slip yourself.
Hotels: About €0.50 to 1 each time for the bellhop or when asking for room service.
Restrooms: Some show a fee. If there is restroom staff and no specified fee, pay about €0.50.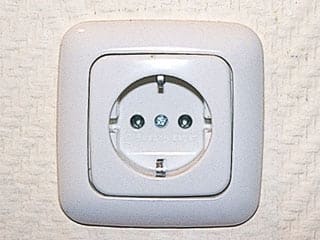 The voltage is usually 220V and the frequency is 50 Hz. Plugs are two-pronged C-type.
A plug adapter is enough for charging cameras or cell phones, but some electronics will also need a transformer. Check the voltage.
The TV and video system (PAL) differs from that of Japan (NTSC), so media from Belgium cannot be played on ordinary media players in Japan. If a DVD displays the same region code as Japan (2), then it can be played on a computer equipped with a DVD player, but not on ordinary DVD players.
The Blu-ray region code is B in Belgium and A in Japan.
The post office in Belgium is called bpost. It is generally open from 9:00 to 17:00 on weekdays. Some major post offices are also open on Saturdays.
Postcards and letters send by airmail to Japan cost €1.68 up to 50 grams. If you purchase five or more stamps, they are €1.62 each. To request air mail, if there is no "prior" on the stamp, affix a blue "prior" sticker. Mail will arrive in about 5 or 6 days.
There is also a small package service called bpack World, and you can buy padded envelopes, small boxes, and writing utensils at the post office.
Telephoning Japan from Belgium
00 (International phone code)
×× (remove the first "0" from the area code or cell phone number)
1234-5678 (phone number you are calling)
Telephoning Belgium from Japan
International Telephone Provider No.
001 (KDDI)*1
0033 (NTT Communications)*1
0061 (Softbank)*1
005345 (au mobile)*2
009130 (NTT Docomo mobile)*3
0046 (Softbank mobile)*4
010 (International phone code)
×× (remove the first "0" from the area code)
1234567 (phone number you are calling)
*1.

Not required if you have an international registration with "My Line". See URL My Line(www.myline.org) for details.

*2.

au does not require 005345.

*3.

Pre-registration to World Wing is required for NTT DoCoMo. Does not require 009130.

*4.

Call are possible without dialing 0046 from SoftBank.

*5.

* For the three cell phone carriers, hold down 0 until + appears, then add the country code and the phone number your wish to dial.
Holiday / National holiday
Holiday / National holiday
There are many holidays related to Christianity. Note that dates differ each year for some holidays.
January 1 : New Year's
April 12 : Easter*1
April 13 : Easter Monday*1
May 1 : May Day
May 8 : Brussels metropolitan holiday*2
May 21 : Ascension Day*1
May 31 : Pentecost*1
June 1 : Pentecost Monday*1
July 11 : Day of the Flemish Community (Day of the Battle of Golden Spurs)*2
July 21 : Belgium National Day
August 15 : Assumption of Mary
September 27 : Day of the French Community of Belgium*2
November 1 : All Saints' Day
November 11 : Armistice Day (Day of the Battle of Golden Spurs)
November 15 : Dynasty Day (German-speaking country)*2
December 25 : Christmas
December 26: Boxing Day*2
*1.

Dates differ each year for some holidays.

*2.

Holidays that are not public holidays, but are holidays for government offices, public organizations, schools, and similar institutions.
Mostly French and Dutch (Flemish). With Brussels at the center, Dutch is spoken in the north and French in the south (Brussels is a bilingual area). There are also some German-speaking communities.
Below are guidelines for general business hours. There is a roughly 30 min. to 1 hour difference between stores.
9:00 to 16:00 Mon. to Fri. (Many banks close for an hour for lunch).
Department stores and shops
10:00 to 18:30 Mon. to Fri. (10:00 to 19:00 for department stores). More and more supermarkets are staying open on Sun.
Lunch is from about 12:00 to 14:30 and dinner from about 18:30 to 22:00.
10:00 to 1:00 in the morning.
You must be at least 16 for tobacco or alcohol. You must be at least 18 for spirits. Some car rental companies also have age limitations. There are both lower and upper limits, so be sure to check with the company first. You must show your credit card.
When entering a shop or restaurant, greet the staff or waiter, thank them for their assistance, and say goodbye when leaving. This will greatly change their attitude when assisting you.
Smoking is prohibited in all public facilities. It is also prohibited in restaurants, bars, and cafes, so smokers must be careful when smoking.
Copyright (C) Globe-Trotter Media Partners Inc. All Rights Reserved.
Copyright (C) Diamond-Big Co., Ltd. All Rights Reserved.