on August 31st, 2021 (JST) current information.
Furthermore, the details under "Visa" and "Passport" are for Japanese nationals.
This information is likely to change suddenly, so please contact the relevant official authority (e.g., embassy) for the latest information.
Not required for a tourism visit that is no more than ninety days
Your passport must be valid for at least three months from the date of departure from Germany or another country in the Schengen Area.
Schengen Agreement
As of July 2021, countries in the Schengen Area are Iceland, Italy, Estonia, Austria, Holland, Greece, Switzerland, Sweden, Spain, Slovakia, Slovenia, the Czech Republic, Denmark, Germany, Norway, Hungary, Finland, France, Belgium, Poland, Portugal, Malta, Latvia, Lithuania, Lichtenstein, and Luxembourg. When entering from Japan or another country outside of the Schengen Area, complete immigration and customs clearance upon arriving at the first country in the area during your visit.
Visa, passport, and other information is subject to change without notice. Be sure to check with the Embassy, Consulate, or travel agency.
When visiting from Japan, it is prohibited to bring the following items into Germany.
a. Meat, meat products (ham, sausages, or other processed foods containing meat)
b. Milk, dairy products (up to 2 kg of powdered baby formula or baby food for personal use is permitted)
c. Eggs
d. Vegetables
e. Fruit (excluding bananas, pineapples, coconuts, dates, and durians)
f. Plants (including seeds)
g. Specified nutritional supplements (e.g. large quantities of vitamins or ginseng)
The types of controlled items may change depending on circumstances such as contagious disease outbreaks.
E-cigarettes and e-liquid cartridges can be brought into the country as long as they are for personal use. However, they must be brought back to Japan after your trip. Travelers who are flying may bring up to 430 EUR worth of e-cigarettes and e-liquid cartridges.
For bringing and possession of tax-free cigarettes
The following information for tobacco and alcohol applies to travelers aged 17 and older at the time of entry by air. It is subject to all baggage in the possession of travelers and is limited to items for personal use.
Tobacco: 200 cigarettes, 50 cigars, 100 slender cigars, or 250 g of cut tobacco. Or the combined amount of the above.
Liquor: 4 L of non-sparkling wine, 16 L of beer, and 1 L of other alcohol beverages containing over 22% alcohol (2 L if 22% or under)
Other: Goods or merchandise in value up to €430 equivalent purchased outside the EU or up to €175 for those aged 15 or under.
Time difference and Daylight Saving Time
There is an 8-hour time difference between Japan and Germany. Subtract 8 from the hour in Japan. In other words, 7:00 in Japan is 23:00 on the previous day in Germany. This changes to a 7-hour difference during daylight saving time,
which begins at 2:00 (3:00 a.m.) at night on the last Sunday of March and ends at 3:00 (2:00 a.m.) at night on the last Sunday of October.
Germany has extremely cold winters. Even Munich in the south is further north of Sapporo. Therefore, when considering what to wear, it is best to bring clothing suitable for temperatures slightly colder than Hokkaido. Though in some years, there are heat waves in the summer, there are also quite cool days when it rains, so cold-weather garments such as cardigans should be brought.
Currency and Exchange Rate, Tax, Currency exchange, Tip
Currency and Exchange Rate
The unit of currency is the Euro (abbreviated as €, EURO, or EUR), which is divided into cents. They are read in German as Euro and cent. €1 is 100 Cent, approx. JPY129 (as of August 27, 2021).
There are seven denominations of banknotes: €200, €100, €50, €20, €10, and €5. There are eight types of coins: €2, €1, 50 cent, 20 cent, 10 cent, 5 cent, 2 cent, and 1 cent.
In Germany, a value-added tax called "Mehrwertsteuer" (abbreviated MwSt.) of 19% is applied to almost all products. It is 7% for books and foods. Visitors who meet the predesignated requirements can complete paperwork to receive a refund of the value-added tax (up to 14.5%). Incidentally, it is the tax paid when shopping that is refunded. Taxes paid for hotel and restaurant fees are not refunded.
Fees charged in places such as restaurants and hotels include a service charge, so a tip (called "trinkgeld" in German) is not always required. However, there is a custom of tipping to show gratitude to the person providing a service. The amount differs depending on whether a special request was made or the level of satisfaction with the service, but the following values serve as references.
Taxis: Approx. 10% of the fare. Tip a little generously when there is a lot of luggage to put in the trunk.
Toilets: Approx. €0.20 to €0.50 if there is an attendant sitting in the restroom with a plate in front of him/her.
Restaurants: Though it depends on the quality of the restaurant, generally a tip that is 10% of the meal charge that is nicely rounded off is given when paying at the table, or change from the bill is left at the table.
Hotels: Approx. €1 to €5 for the bellhop or when asking for room service (depending on the hotel rating).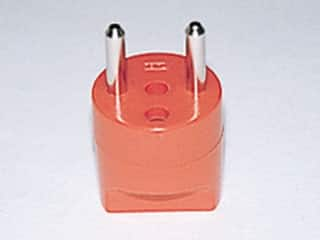 Voltage is 230V with a cycle of 50Hz. Plugs are generally Type C, though some are Type SE. Many electric products made for use in Japan cannot be used as is. A transformer is necessary.
The TV and video system in Germany (PAL) differs from Japan (NTSC), so DVD or other media from Germany cannot be played on ordinary video players in Japan. If a DVD displays the same region code as Japan (2), then it can be played on a computer equipped with a DVD player as it is normally compatible with PAL output, but the DVD cannot be played on ordinary DVD players (it is possible if the machine is compatible with PAL).
The region code for Blu-ray Discs in Germany is Region B, and discs bought in Germany cannot be played on regular Blu-ray players in Japan that is Region A.
Post offices in Germany are privatized establishments called Deutsche Post AG. In addition to postal services, many also sell stationery, etc. There are also counters in corners of train stations and shopping centers. Small packages are handled by the subsidiary, DHL, but can be shipped from the post office.
Mon. to Fri. 8:00 to 18:00 and until 12:00 on Sat., closed on Sun., holidays. However, it differs. For example, small post offices close for lunch and the post office in the central train station of large cities are open until late at night.
Airmail to Japan costs €0.95 for a postcard and €1.70 for a sealed letter up to 50g. Small packages up to 2kg called a "päckchen" can also be sent for €16, and a parcel called a "paket" is €46.99 up to 5kg.
Telephoning Japan from Germany
Dial 00 (International telephone ID Number)
X X(Remove the first 0 for area codes and mobile telephone numbers)
1234-5678 (Other parties telephone no.)
Telephoning Germany from Japan
International Telephone Provider No.
001 (KDDI)*1
0033 (NTT Communications) *1
0061 (SoftBank) *1
005345 (au Mobile) *2
009130 (NTT DoCoMo Mobile) *3
0046 (SoftBank Mobile)*4
010 (International Identification No.)
49 (Country Code, Germany)
X X (Remove the first 0 for area codes)
123-456 (Other parties telephone No.)
*1.

Not required if you have an international registration with "My Line" or "My Line Plus". See URL My Line/My Line Plus(www.myline.org) for details.

*2.

au does not require 005345.

*3.

Pre-registration to World Wing is required for NTT DoCoMo. Does not require 009130.

*4.

Call are possible without dialing 0046 from SoftBank.
Calling from within Germany
Not required when calling within the area. Area codes are required when calling between regions.
Lift the receiver of its hook.
Insert a telephone card according to the directions shown on the card.
Dial the other parties telephone number.
The remaining balance on the telephone card will be shown on the screen. After finishing the telephone call, place the receiver back on its hook and retrieve the telephone card.
Holiday / National holiday
Holiday / National holiday
There are many national holidays related to Christianity. Note that some national holidays fall on different days, depending on the year. There are also public holidays exclusive to certain states.
January 1: New Year's Day
January 6: Epiphany*1
March 8: International Women's Day*1
April 15: Good Friday
April 17: Easter Sunday
April 18: Easter Monday
May 1: Labor Day
May 26: Ascension Day
June 5: Whit Sunday
June 6: Whit Monday
June 16: Corpus Christi*1
August 15: Assumption Day*1
September 20: World Children's Day*1
October 3: Day of German Unity
October 31: Reformation Day*1
November 1: All Saints' Day*1
November 16: Day of Atonement*1
December 25, 26: Christmas
*1.

Public holidays exclusive to certain states.
Below are guidelines for general business hours, which differ by shop around 30min. to an hour.
Although it varies by bank and branch, they are generally open from around 9:00 to 16:00 on weekdays (Monday to Friday), with some closing for lunch, and to around 17:00 on Thursdays. They are closed on Saturdays, Sundays, and public holidays.
Around 10:00 to 20:00 from Monday to Saturday (some shops close earlier on Saturdays). Closed on Sundays and public holidays. Some shops in central train stations in big cities also open on those days. In some cities, several Sundays a year are designated to be open for business.
Lunch is from around 11:30 to 14:00, dinner from around 17:30 to 23:00.
In Germany, alcohol is prohibited for those under 16 (under 18 for spirits) and smoking is prohibited for those under 18.
Age limitations for rental cars depend on the rental company and vehicle type.
In Germany, greetings are important. When entering a store or restaurant, the clerk or waiter is greeted with "Guten Tag," "Danke" is said when being served, and "Tschüß" is said when leaving. The attitude of persons serving visitors changes just by observing these customs.
Copyright (C) Arukikata/Gakken