on May 15th, 2020 (JST) current information.
Furthermore, the details under "Visa" and "Passport" are for Japanese nationals.
This information is likely to change suddenly, so please contact the relevant official authority (e.g., embassy) for the latest information.
Travelers may stay for 30 days (29 nights, 30 days) without a visa if they enter Thailand for tourism purposes, have a confirmed travel ticket to leave Thailand within 30 days of entering, and have the equivalent of 10,000 B in cash per person (20,000 B per family). (Travelers may enter from a neighboring country by land or sea up to twice per calendar year.) For an extension past 30 days, a visa is generally required. Inquire with the Thai Embassy for details.
To enter Thailand, your passport must be valid for at least six months.
When visiting from Japan, it is prohibited to bring the following items into Thailand. Food products with plant ingredients can sometimes be brought in if they have been processed to eliminate disease and pests and raw fruit that is forbidden from bringing in is sometimes permitted if it is frozen to -17.8°C or lower.
a. Main raw fruit or vegetables
b. Main plant seeds and all other parts (excluding cigarettes, cut tobacco, and leaf tobacco)
c. Soil, organic fertilizer, weeds, quarantine pests
Note that you are not allowed to bring e-cigarettes into the country and that possession in Thailand is illegal.
Documents required at the time of immigration
To enter Thailand, you must fill out an arrival and departure card. Only fill out a customs declaration form if applicable.
Visa, passport, and other information is subject to change without notice. Be sure to check with the Embassy, Consulate, or travel agency.
For bringing and possession of tax-free cigarettes
Tobacco: Cigarettes 200 pieces, or cigars 250 g
Alcoholic beverages: 1 bottle (or up to 1 L)
If you are bringing items exceeding the above amounts into Thailand, you must declare the items to customs. Failing to provide such a declaration will result in high monetary penalties. Note that Customs is especially strict on tobacco. Some unfortunate visitors have even been fined for temporarily holding tobacco for their travel companion while they used the restroom, with the extra amount being added on.
Time difference and Daylight Saving Time
Thailand is 2 hours behind Japan. When it is noon in Japan, it is 10:00 in Thailand. Daylight saving time is not observed.
Thailand is located in the tropics, so it is hot all year round, but the climate in Thailand differs slightly from that in the southern Malay Peninsula, the northern mountain range, and the plateau country in the northeast. There are three seasons: the rainy season, the dry season, and the hot season (classified as the rainy season, the cold season, and the summer season by the Thai Meteorological Department).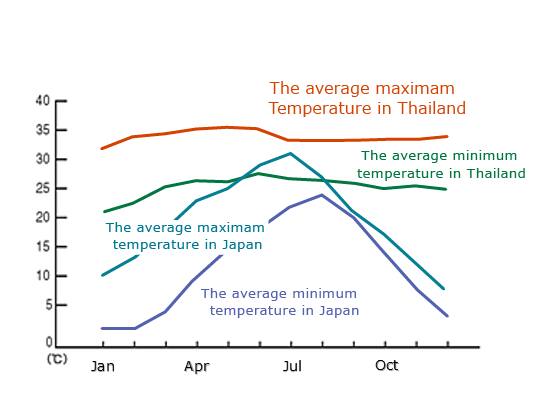 Average high temperature and average low temperature in Thailand (Bangkok) and Japan (Tokyo)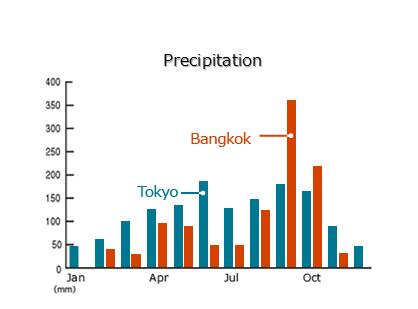 Monthly precipitation in Bangkok and Tokyo
The average maximum temperature in Japan (Tokyo) and Thailand (Bangkok), The average minimum temperature in Japan (Tokyo) and Thailand (Bangkok)

| month | The average maximum temperature in Japan (Tokyo) | The average minimum temperature in Japan (Tokyo) | The average maximum temperature in Thailand (Bangkok) | The average minimum temperature in Thailand (Bangkok) |
| --- | --- | --- | --- | --- |
| Jan. | 10℃ | 2℃ | 32℃ | 21℃ |
| Feb. | 10℃ | 2℃ | 33℃ | 22℃ |
| Mar. | 13℃ | 5℃ | 34℃ | 25℃ |
| Apr. | 18℃ | 10℃ | 35℃ | 26℃ |
| May | 23℃ | 15℃ | 35℃ | 26℃ |
| Jun. | 25℃ | 18℃ | 35℃ | 27℃ |
| Jul. | 28℃ | 23℃ | 32℃ | 26℃ |
| Aug. | 31℃ | 24℃ | 32℃ | 26℃ |
| Sep. | 27℃ | 21℃ | 32℃ | 25℃ |
| Oct. | 23℃ | 15℃ | 32℃ | 24℃ |
| Nov. | 17℃ | 10℃ | 32℃ | 25℃ |
| Dec. | 13℃ | 5℃ | 33℃ | 25℃ |
The average precipitation in Tokyo and Bangkok

| month | The average precipitation in Tokyo | The average precipitation in Bangkok |
| --- | --- | --- |
| Jan. | 50mm | 0mm |
| Feb. | 60mm | 40mm |
| Mar. | 110mm | 30mm |
| Apr. | 130mm | 90mm |
| May | 130mm | 80mm |
| Jun. | 180mm | 50mm |
| Jul. | 130mm | 40mm |
| Aug. | 150mm | 120mm |
| Sep. | 180mm | 360mm |
| Oct. | 160mm | 220mm |
| Nov. | 90mm | 30mm |
| Dec. | 50mm | 0mm |
Currency and Exchange Rate, Tax, Currency exchange, Tip
Currency and Exchange Rate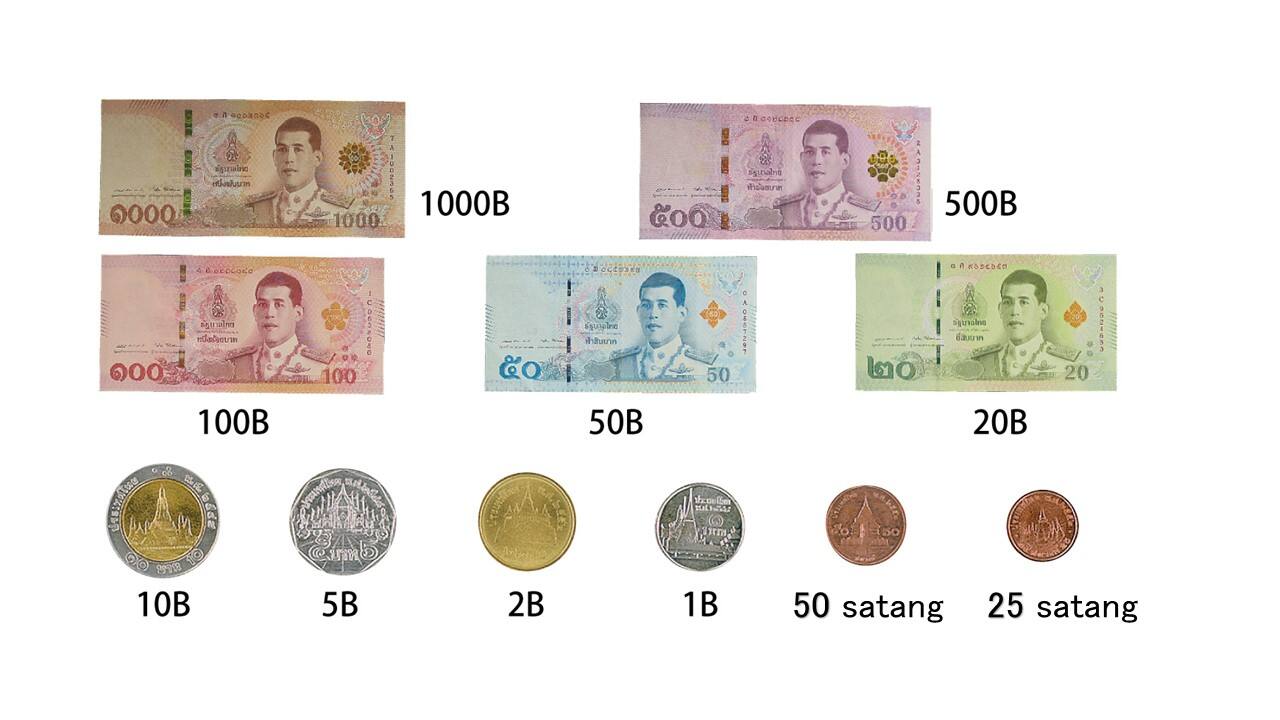 The unit of currency is the bhat (B), which is subdivided into the satang. B1 is 100 satang. As of May 1, 2020, the exchange rate is 1B, approx. JPY3.3.
In Thailand, a 7% value added tax (VAT; may increase to 10% in October 2020) is imposed on most products. If conditions are met, the VAT will be refunded, so do not forget to do the paperwork. Taxes imposed on services rendered within Thailand, such as payments for hotel fees and restaurant charges, are not eligible for the refund.
Just like tipping in Japan, leaving a tip at upscale places is a good idea.
Hotels: Tip bellhops who carry luggage and room service approx. B20.
Restaurants: At midrange or higher class restaurants that include a service charge, leaving change from the bill is fine, and when a service charge is not included, tip approx. 10% of the meal charge, up to about B100.
Taxis: Not required.
Thai Massage: From about B50 is tipped for an hour and From about B100 for 2 hours, depending on the level of satisfaction. Smaller in regional areas. Do not be fooled even if an employee indicates that tips are JPY1000. That kind of employee does not merit a tip. From about B100, depending on the grade of the spa.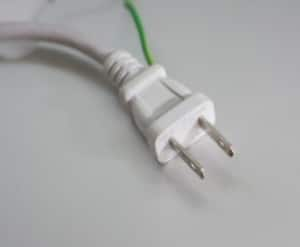 Plugs are the same shape as in Japan
Voltage is 220V with a cycle of 50Hz. Using electric products from Japan requires a transformer. Plugs are the 2-prong Type A used in Japan, Type BF, Type C, etc.
Thailand uses a different television encoding system (PAL) from Japan (NTSC). Products such as DVDs sold in Thailand cannot be played on video players built to Japanese specifications. When watching a DVDs, a region-free multi-player must be used. The DVD region code is 3 (Japan is 2). BD is the same code A used in Japan.
Post Office Business Hours
Though it differs slightly for each post office, usually they are open from Mon. to Fri., 8:30 to 16:30, Sat. 9:00 to 12:00, closed Sun. and holidays. The post office at Suvarnabhumi International Airport is open 24 hours a day, but only carries out mail service.
Airmail to Japan costs B12 to B15 for a postcard, and B14 for a sealed letter up to 10g. An extra B5 is added for every 10g thereafter.
Telephoning Japan from Thailand
A range of International Telephone Company numbers are available, 001 etc. The Country Code for Japan is 81.Remove the first 0 for area codes.
International Telephone Company Number (Choose one of the following) 001, 007, 008, 009
xx(Remove the first 0 for area codes and mobile telephone numbers)
1234-5678 (Other parties telephone number)
Telephoning Thailand from Japan
66 (Country Code, Thailand), remove the first 0. Then dial using any of the following.
International Telephone Company No.
001 (KDDI)*1
0033 (NTT Communications) *1
0061 (SoftBank) *1
005345 (au Mobile) *2
009130 (NTT DoCoMo Mobile) *3
0046 (SoftBank Mobile)*4
010 (International Identification No.) *2
66 (Country Code, Thailand)
1234-5678 (Remove the first 0 for numbers with eight or nine digits)
*1.

Not required if you have an international registration with "My Line"or "My Line Plus". See URL My Line/My Line Plus(www.myline.org) for details.

*2.

au does not require 005345.

*3.

Pre-registration to World Wing is required for NTT DoCoMo. Does not require 009130.

*4.

Call are possible without dialing 0046 from SoftBank.
For the three cell phone carriers, hold down 0 until + appears, then add the country code and the phone number your wish to dial.
Domestic calls from within Thailand
There are no area codes applied when making calls within Thailand. Fixed lines start with 0 for nine digit numbers, and 08 or 09 for ten digit mobile telephone numbers. The first 0 is required in front of all numbers regardless of where calls are being made in Thailand.
Holiday / National holiday
Holiday / National holiday
The dates of national holidays observed according to the lunar calendar change each year *1. When a national holiday falls on a Saturday or Sunday, it is observed on the following Monday.Buddhist holidays are designated no alcohol days and it is prohibited to sell or serve alcohol on those days *2.
National holidays in 2020 (year 2563 according to the Buddhist calendar)
January 1: New Year's
January 25: Chinese New Year (not a public holidays, but some shops close)
February 8: Makha Bucha (On the day of the full moon, usually in February or March)*1 *2
February 10: Substitute holiday
April 6: Chakri Day
April 13 to 15: Songkran (Thai New Year's) (differs slightly by region)
May 1: Labor Day
May 4: Coronation Day
May 6: Visakha Bucha (On the day of the full moon, usually in May or June)*1 *2
May 13: Royal Ploughing Ceremony Day (only government offices are closed)*1
June 3: H.M. Queen Suthida's Birthday
July 5: Asalha Bucha (On the day of the full moon, usually in July or August)*1 *2
July 6: Khao Phansa*1 *2
July 7: Substitute holiday
July 28: H.M. King Maha Vajiralongkorn's (Rama X's) Birthday
August 12: The Queen Mother's Birthday
October 13: Wan Ok Phansa (Leaving Vassa. Not a public holiday, but alcohol is banned.)
October 13: Rama IX Memorial Day
October 23: Chulalongkorn Memorial Day
December 5: National Day (Rama IX's Birthday)
December 7: Substitute holiday
December 10: Constitution Day
December 31: New Year's Eve
The official language is Thai. English is well-understood in luxury hotels, upscale restaurants, etc., but general understanding is low. Japanese is also understood in some places.
Below are guidelines for general business hours.
Mon. to Fri. 9:30 to 15:30, closed on Sat., Sun., holidays (differs slightly by branch).
Every day around 10:00 to 22:00.
Upscale restaurants close for a time in the afternoon. Some restaurants are only open at night. Food stalls are open from early morning until late at night, so that something is available to eat at anytime in urban areas.
Persons under 20 years old cannot purchase or consume alcohol and tobacco.
Bangkok and other cities in Thailand impose a maximum legal fine of B2000 on littering and throwing away tobacco in the streets.
Restriction on Sale of Alcohol Products
Alcohol can only be sold between 11:00 and 14:00 and between 17:00 and 24:00. Some bars and restaurants do not serve alcohol during the hours when sale is not allowed. However, many small privately-owned places will serve you alcohol outside of the sale hours. Alcohol cannot be sold or served at a bar or restaurant during Buddhist holidays, from 18:00 on the day before an election, and until 24:00 on the day of the election.
In Thailand, smoking is prohibited primarily in following public spaces and within 5 meters of their entrances.
Non-smoking During Business Hours
Public transportation (buses, taxis, passenger trains, boats, aircraft, school buses)
Air-conditioned buildings (waiting rooms for vehicle transport, etc., internet cafés, sports facilities, restaurants, elevators, sales areas, hotel lobbies, night spots such as bars)
Inside buildings (theaters, libraries, barbers, tailors, beauty salons/esthetic salons/spa facilities, pharmacies, department stores, medical facilities without beds, places of religious ceremony, toilets)
Other (public harbors, telephone booths)
Schools, city halls, sport facilities, medical facilities, museums, public transport, restaurants, main beaches, etc.
Violators will be fined B2000.
Restriction on Sale of Tobacco Products
Display sale of tobacco products is prohibited, so they are not on display in shops.
Copyright (C) Globe-Trotter Media Partners Inc. All Rights Reserved.
Copyright (C) Diamond-Big Co., Ltd. All Rights Reserved.