on August 27th, 2019 (JST) current information 
No visa is required for stays of up to ninety days for tourism.
Your passport must be valid for at least six months from the date of entry. It must also have at least two unused visa pages (that should generally be consecutive). Your fingerprints will be scanned at the time of entry.

*Visa, passport, and other information is subject to change without notice. Be sure to check with the Embassy, Consulate, or travel agency.
When visiting from Japan, it is prohibited to bring the following items into Malaysia.
a. Some fruits, some vegetables
b. Seedlings
c. Cut flowers, seeds
d. Piranhas, turtle eggs
e. Eggshells, animal or poultry parts, live animals, live insects, live fish

*Some types of fruit or vegetables, cut flowers, and seeds can be brought in with an import permit issued by Malaysia and export inspection in Japan.
*Eggshells, any part of animals and poultry, live animals, live insects, and live fish may sometimes be brought in with an import permit or permit from a relevant agency.                                      
Bringing in e-cigarettes: As of August 2018, there are no regulations for bringing it in the country.
For bringing and possession of tax-free cigarettes
Upon entering Malaysia, visitors may bring up to 1 bottle of liquor (approx. 1L) and 200 cigarettes (225g of cut tobacco) tax free. When bringing in monies equivalent to or more than US$10,000 (approx. 1.2 million yen), it must be declared to customs. In addition, bringing in obscene materials is prohibited. Carrying in drugs is subject to a maximum penalty that includes death and is imposed even on travelers.
Time difference and Daylight Saving Time
Malaysia is 1 hour behind Japan. When it is 12:00 in Japan, it is 11:00 in Malaysia. Daylight saving time is not observed. There is also a time difference between Malaysia and Thailand. Malaysia is 1 hour ahead of Thailand. Take note when crossing country borders. On the other hand, there is no time difference with Singapore.
Malaysia has a tropical climate and there is a rainy season in the east part of the Malay Peninsula and Borneo from October until March. There is a rainy season in the west as well from March to early April and from October to November, but the rainfall is not as heavy as it is in the east coast.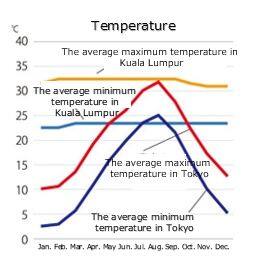 High temperatures/low temperatures in Kuala Lumpur and Tokyo
*Data for Tokyo is from statistical information from the Japan Meteorological Agency; data for Kuala Lumpur is from the Malaysia Tourism Promotion Board (Malaysian government)
Precipitation in Kuala Lumpur and Tokyo
*Data for Tokyo is from statistical information from the Japan Meteorological Agency; data for Kuala Lumpur is from the Malaysia Tourism Promotion Board (Malaysian government)
Currency and Exchange Rate, Tax, Currency exchange, Tip
Currency and Exchange Rate
The unit of currency is the Malaysian ringgit (RM), which is divided into the Malaysian sen (¢). 1 ringgit equals 100 sen. RM1 = approx. JPY25.25 (as of July 15, 2019).
There are six denominations of banknotes: RM100, RM50, RM20, RM10, RM5, and RM1. There are four types of coins: 50¢, 20¢, 10¢, and 5¢.
Tourism tax was introduced in September 2017 consisting of a flat-rate tax of RM10 per night levied on accommodation charges (excludes accomodation facilities with a total of four rooms or less). When staying on Penang Island, Langkawi Island, or in Malacca, an additional local hotel tax introduded at an earlier date is levied in addition to the federal tax. The Goods & Services Tax (GST), similar to the Japanese Consumption Tax, was discontinued on June 1, 2018.
Currency can be exchanged at a bank or authorized moneychanger in town. Currency can be exchanged at hotels, but the rate is poor.
Basically, there is no custom of tipping, but it is catching on in tourist areas. When receiving excellent service in tourist areas, it is a good idea to smoothly leave a tip. Porters should be tipped around RM5. A tip is not necessary when a service charge of 10% is included in fees at hotels and restaurants.
Voltage is 240V with a cycle of 50Hz. Many outlets are the three-prong Type BF. A transformer and converter plug is necessary when using electric products from Japan.
Malaysia uses the PAL TV and video system, and the DVD region code is 3. On the other hand, the video system in Japan is NTSC, and the DVD region code is 2. When playing VHS and DVD from Japan in Malaysia, or products from Malaysia in Japan, the video system and the region code for both the video and player, must be identical. Of late, region-free DVDs can often be played on computers. There are many knockoff products, so be very careful not to purchase them.
Airmail to Japan costs RM0.50 for a postcard and RM1.40 for a sealed letter up to 20g. An extra RM0.35 is added for each 10g thereafter. Mail is delivered to Japan in around 5 to 10 days.
Situation
How to phone
[Telephoning Japan from Malaysia]
When calling Tokyo (03) 1234-5678,
dial 00 (International telephone identification number)
▼
81 (Country Code, Japan )
▼
3 (Remove the first 0 for area codes)
▼
1234-5678(Other parties telephone number)
[Telephoning Malaysia from Japan]
When calling Kuala Lumpur (03) 1234-5678,
International Telephone Company No. 001 (KDDI)*1, 0033 (NTT Communications) *1, 0061 (SoftBank Telecom) *1, 005345 (au Mobile) *2, 009130 (NTT DoCoMo Mobile) *3, 0046 (SoftBank Mobile)*4
▼
010 (International Identification No.)
▼
60 (Country Code, Malaysia)
▼
3(Area code, remove first 0)
▼
1234-5678 (Other parties telephone number)

*1 Not required if you have an international registration with "My Line" or "My Line Plus". See URL www.myline.org for details
*2 au does not require 005345.
*3 Pre-registration to World Wing is required for NTT DoCoMo. Does not require 009130.
*4 Call are possible without dialing 0046 from SoftBank.
* For the three cell phone carriers, hold down 0 until + appears, then add the country code and the phone number your wish to dial.
[Making domestic calls within Malaysia]
Public telephone within the cities can be used with coins over RM 0.10, or by using any of the various telephone cards available. Lift the receiver, insert wither coins or telephone cards, and then press the other parties telephone number. Note that, due to the increased use of mobile phones, public telephones around the city have often been removed or are broken.
Holiday / National holiday
Holiday / National holiday
January 1: New Year's
February 5–6: *Chinese New Year
May 1: May Day
May 19: *Wesak Day (Birth of Buddha)
June 3: *Birthday of SPB Yang di Pertuan Agong
June 5–6: *Hari Raya Puasa (Eid All-Fitr)
August 11: *Hari Raya Haji (Festival of Sacrifice)
August 31: National Day
September 1: *Islamic New Year
September 16: Malaysia Day
October 27: *Diwali (Hindu festival of lights)
November 9: *Prophet Muhammad's Birthday
December 25: Christmas

*Note that some national holidays fall on different days, depending on the year (marked with an asterisk (*)).
The language is Malay, but English is also often understood. Other languages include Chinese and Tamil.
[Banks] Mon.–Fri. 9:00–16:00, closed on Sat., Sun., holidays.

[Public Institutions] Mon.–Thu. 8:00–12:45/14:00–16:15, Fri. 8:00–12:45/14:45–16:15, Sat. 8:00–12:45, closed Sun. and holidays.
*On the east coast of the Malay Peninsula, they are often closed on Fridays.

[Shops] Mon.–Sat. 9:00–19:00, closed on Sun.
*Basically, department stores and shopping centers are open from around 10:00–22:00, but many shops start later than the opening hours, so be careful when visiting in the morning.
[Embassy of Japan in Malaysia]
11, Persiaran Stonor, Off Jl. Tun Razak, 50450 Kuala Lumpur
URLwww.my.emb-japan.go.jp
Copyright (C) Globe-Trotter Media Partners Inc. All Rights Reserved.
Copyright (C) Diamond-Big Co., Ltd. All Rights Reserved.