on March 31th, 2019 (JST) current information.
Furthermore, the details under "Visa" and "Passport" are for Japanese nationals.
This information is likely to change suddenly, so please contact the relevant official authority (e.g., embassy) for the latest information.
None required for stays of up to 14 or 30 days (depending on the immigration officer; usually 30 days for general tourism visits). You also generally need to have a ticket for leaving Singapore (can be an open ticket).
Your passport must be valid for at least six months beyond the duration of your stay.
Visa, passport, and other information is subject to change without notice. Be sure to check with the Embassy, Consulate, or travel agency.
When visiting from Japan, it is prohibited to bring the following items into Singapore.
a. Chewing gum (however, you are allowed to bring in gum for oral care or medical use that has been approved by the Health Sciences Authority of Singapore)
b. Rhinoceros horns (any processed or unprocessed form)
c. Processed products made with endangered plants or animals
Violations may result in up to a 5,000 dollar fine as judged by customs. Serious violations may result in a prison sentence and fine decided by the court.
E-cigarettes are prohibited for sale and import in Singapore and you can be fined for possession, so do not bring it into the country.
For bringing and possession of tax-free cigarettes
Tax exemptions are applicable to newly purchased items, such as personal belongings and souvenirs that do not exceed S$500 (S$100 for a stay of up to 48 hours) in total value purchased.
The amount of liquor that an adult can bring in depends on the alcohol content. A combination of the following 5 patterns is exempt from taxes: up to 1L of spirits and 1L of wine, 1L of spirits and 1L of beer, 1L of wine and 1 L of beer, 2L of wine, 2L of beer.
Even a single cigarette must be declared; 1g (or 1 cigarette) is taxed S¢42.7. As a guide, 1 carton of Mevius is taxed approx. S$85.4, but in the case of several cigarettes, often they are tax exempt (however, they must be declared). When declaring items, keep the tax receipt so that proof can be provided anytime. Each cigarette circulated in Singapore is stamped with the SDPC mark, and restrictions on bringing in tobacco are being tightened. Cash amounting to S$20,000 (or the equivalent in other currencies) or more must be declared.
Singapore Customs(http://www.customs.gov.sg/)
Time difference and Daylight Saving Time
Singapore is 1 hour behind Japan. When it is 12:00 in Japan, it is 11:00 in Singapore. Daylight saving time is not observed.
Singapore has a tropical monsoon climate, so it has high temperature and high humidity throughout the year. There is a rainy season and dry season. During the rainy season from November to February, it often rains and the temperature drops.
On the other hand, during the dry season from March to October, there is little rain and the air is dry. The sunshine is particularly strong from June to August. However, even in the dry season, there are frequent squalls that last for 1 to 2 hours and suddenly stop. Therefore, carrying raingear is recommended.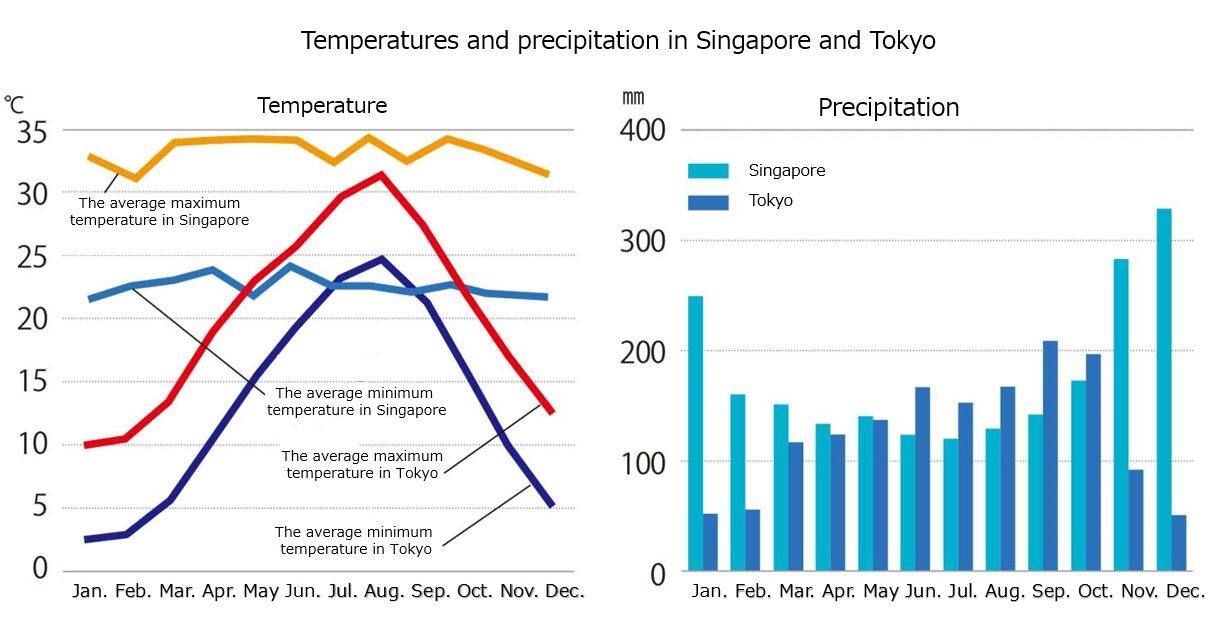 Temperatures and precipitation in Singapore and Tokyo
The average maximum temperature in Tokyo and Singapore, The average minimum temperature in Tokyo and Singapore

| month | The average maximum temperature in Tokyo | The average minimum temperature in Tokyo | The average maximum temperature in Singapore | The average minimum temperature in Singapore |
| --- | --- | --- | --- | --- |
| Jan. | 10℃ | 3℃ | 33℃ | 22℃ |
| Feb. | 10℃ | 3℃ | 32℃ | 23℃ |
| Mar. | 13℃ | 5℃ | 34℃ | 23℃ |
| Apr. | 18℃ | 10℃ | 34℃ | 24℃ |
| May | 23℃ | 15℃ | 34℃ | 22℃ |
| Jun. | 25℃ | 19℃ | 34℃ | 24℃ |
| Jul. | 30℃ | 23℃ | 33℃ | 23℃ |
| Aug. | 32℃ | 25℃ | 34℃ | 23℃ |
| Sep. | 27℃ | 22℃ | 33℃ | 22℃ |
| Oct. | 22℃ | 15℃ | 33℃ | 22℃ |
| Nov. | 17℃ | 10℃ | 32℃ | 22℃ |
| Dec. | 13℃ | 5℃ | 31℃ | 22℃ |
The average precipitation in Tokyo and Singapore

| month | The average precipitation in Tokyo | The average precipitation in Singapore |
| --- | --- | --- |
| Jan. | 50mm | 250mm |
| Feb. | 50mm | 160mm |
| Mar. | 120mm | 150mm |
| Apr. | 130mm | 130mm |
| May | 140mm | 140mm |
| Jun. | 170mm | 120mm |
| Jul. | 150mm | 120mm |
| Aug. | 170mm | 130mm |
| Sep. | 210mm | 140mm |
| Oct. | 200mm | 180mm |
| Nov. | 90mm | 290mm |
| Dec. | 50mm | 330mm |
Currency and Exchange Rate, Tax, Currency exchange, Tip
Currency and Exchange Rate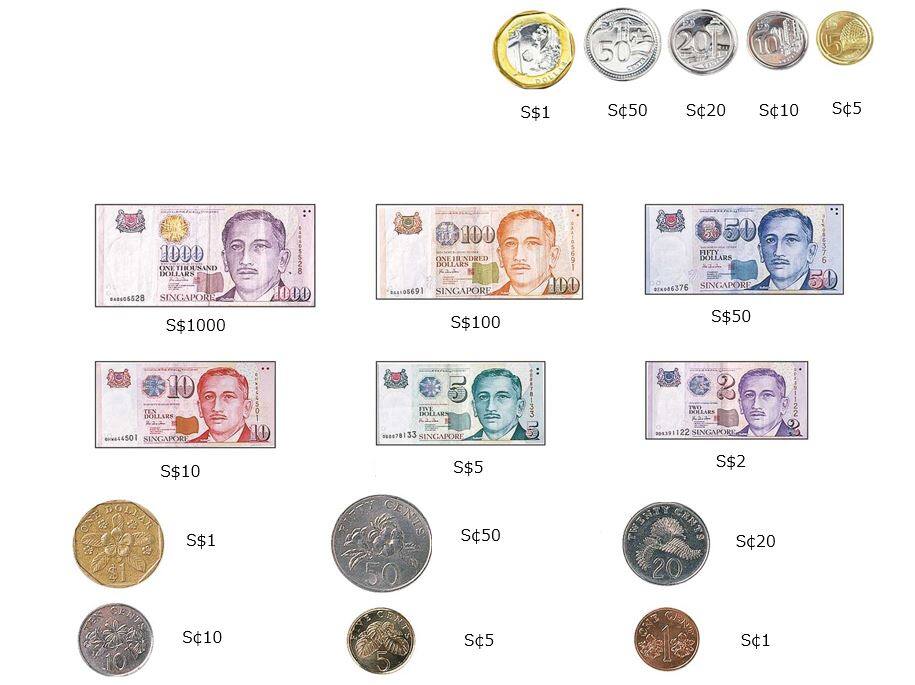 Singapore banknotes and coins
The unit of currency is the Singapore dollar (S$), which is subdivided into the Singapore cent (S¢). S$1 is approx. JPY75 (as of March 10, 2020). There are seven denominations of banknotes: S$2, S$5, S$10, S$50, S$100, S$1000, and S$10000. There are six types of coins: S¢1, S¢5, S¢10, S¢20, S¢50, and S¢1 (the S¢1 coin is not really circulated). Also, in 2013 five new types of coins were issued.
Normally, products are subject to a 7% consumption tax (GST), and a service charge of 10% is added to hotel fees and restaurant charges. During the F1 Singapore Grand Prix, hotels in the marina area add a 30% tax. Some local eateries do not add a service charge and consumption tax. They are not added at hawkers. When travelers (excluding residents) take purchased goods outside of Singapore, the paid GST can be refunded if specific conditions are met, minus a percentage taken by the company that processes the refund (refunds are not possible for meal and hotel charges).
Basically, Singapore does not have a custom of tipping.
Restaurants: If a service charge is added, there is no need to leave a tip, but if good service is received, ordinarily a tip of change from the bill is left.
Hotels: A tip (from S$2) is given to bellhops and maids for services.
Taxis: Not necessary.
Voltage is 230V at a cycle of 50Hz. Generally, plugs are the square, 3-prong type (BF), but some are the round 3-prong type (B3). Using electric products from Japan requires transformers, but most hotels lend them to guests, so this service can be taken advantage of.
Singapore uses the PAL TV and video system, which is different from Japan (NTSC), so normal video players used in Japan cannot play DVD and other media from Singapore. The DVD region code for Singapore is 3, while it is 2 for Japan. Normal DVD players in Japan cannot play DVDs from Singapore.
The Blu-ray region code is A, same as Japan, so Blu-ray discs purchased in Singapore can be played on Japanese media players. Please keep in mind that there may be no Japanese subtitles.
Airmail to Japan costs S$0.7 for a postcard or aerogram, while a sealed letter up to 20g costs S$1.4, with an extra S$0.35 added for each 10g thereafter (Takes 3 to 5 days). Sending parcels by air mail is S$60 up to 2 kg, S$97up to 5kg (up to 30 kg).
Telephoning Japan from Singapore
Dial 001 (International telephone identification number)
X X(Remove the first 0 for area codes)
Remove first 0 from mobile telephone numbers starting with 090 or 080
1234-5678 (Other parties telephone no.)
Telephoning Singapore from Japan
International Telephone Company No.
001 (KDDI)*1
0033 (NTT Communications) *1
0061 (SoftBank) *1
005345 (au Mobile) *2
009130 (NTT DoCoMo Mobile) *3
0046 (SoftBank Mobile)*4
010 (International Identification No.)
65 (Country Code, Singapore)
6123-4567 (Other parties telephone No.)
*1.

Not required if you have an international registration with "My Line" or "My Line Plus". See URL My Line/My Line Plus(www.myline.org) for details.

*2.

au does not require 005345.

*3.

Pre-registration to World Wing is required for NTT DoCoMo. Does not require 009130.

*4.

Call are possible without dialing 0046 from SoftBank.
Holiday / National holiday
Holiday / National holiday
Below are national holidays in 2020.
January 1 to 3: New Year's
January 25 to 26: Chinese New Year (lunar calendar New Year)( As the 26th falls on Sunday, the 27th is a substitute holiday. )*1
April 10: Good Friday*1
May 1: Labor Day
May 7: Vesak Day*1
May 24: Hari Raya Puasa ( As the 24th falls on Sunday, the 25th is a substitute holiday. )*1
July 31: Hari Raya Haji
August 9: National Day (National Foundation Day)
November 4: Deepavali (may change)*1
December 25: Christmas
*1.

National holidays fall on different days, depending on the year.
The official languages are Malay, English, Chinese (Mandarin Chinese), and Tamil.
Below are guidelines for general business hours, which differ by shop, department store, restaurant, etc.
Although hours vary by bank, most are open 9:00 a.m. to 4:30 p.m. on weekdays and to 2:30 p.m. on Saturdays. They are closed on Sundays and public holidays. Most ATMs are available 24 hours a day, 365 days a year.
11:00 to 21:00. Many department stores and large shopping centers open from 10:00. Seven-Eleven and Cheers convenience stores are found throughout towns and are often open 24 hours.
10:00 to 22:00. Some restaurants serve breakfast, and some close between lunch and dinner. Some food courts stay open until late at night.
Tobacco and alcohol is restricted to persons 18 years old and older. Entrance to persons under 18 years of age is prohibited for movies rated R (A). In the case of a NC-16 rating, persons under 16 years old are prohibited from entering. Identification, etc. must be shown. Persons under 21 are prohibited from entering casinos.
Various regulations and laws have been established to unify this small island country where many races live together. Fines to thoroughly enforce them have also been established. Even travelers are subject to fines, so care must be taken.
The primary example of a fine is a maximum of S$1000 imposed for littering. There are also fines for smoking outside of designated smoking areas, and spitting/hawking phlegm in public areas. There is a fine for eating/drinking in the MRT (trains). Bringing chewing gum into Singapore is prohibited. Also, crackdowns on drugs are extremely harsh. For instance, even foreigners who bring in an excess of specific amount of drugs will not get off with just a fine. A heavy punishment is imposed.
Note that you will be taxed for bringing tobacco into the country regardless of the amount, from even a single cigarette (¢42.7 per 1 cigarette). There have been many cases of people with tobacco entering the country without declaring it and being given heavy fines. If you are bringing in even a single cigarette, be sure to pass through the red customs line for goods to declare and declare your tobacco goods. You cannot bring in e-cigarettes.
Since there was a three-year period when the Imperial Japanese Army occupied Singapore during WWII (Shonan Island era), some elderly Singaporeans harbor anti‐Japanese sentiments. There are no particular religious taboos, but avoid wearing clothing that exposes the skin when visiting Islamic temples.
Laws concerning alcohol consumption
As of April 2015, it is illegal to sell alcohol between 10:30 p.m. and 7:00 a.m.
Both indoor and outdoor eating/drinking facilities are non-smoking, excluding some designated smoking areas. Even nightspots are non-smoking, but there are some establishments with smoking areas (restricted to those authorized by the National Environment Agency). Areas where smoking is allowed are required by regulation to clearly mark the place with a symbol (floor markings, table colors, etc.) or sign.
Copyright (C) Globe-Trotter Media Partners Inc. All Rights Reserved.
Copyright (C) Diamond-Big Co., Ltd. All Rights Reserved.