on December 14th, 2020 (JST) current information.
Furthermore, the details under "Visa" and "Passport" are for Japanese nationals.
This information is likely to change suddenly, so please contact the relevant official authority (e.g., embassy) for the latest information.
Generally no visa is required for Japanese visitors staying 15 days or less. A visa is required to stay longer than 15 days or if traveling for special purposes. Note that the type of visa varies with the travel purpose. For tourism, obtain a thirty-day tourist visa (L visa).
Your passport should be valid for at least six months. It should also have at least two unused visa pages.
When visiting from Japan, it is prohibited to bring the following items into China.
Animals and animal products
a. Live animals (excluding dogs and cats*1)
Includes any mammals, birds, fish, reptiles, amphibians, insects, and other invertebrates and animal genetic material.
b. (Live or aged) meat (including offal), meat products, aquatic animal products.
c. Animal-derived milk or dairy products
Includes raw milk, fresh milk, yogurt, and animal-derived cream, and other dairy products such as butter and cheese.
d. Eggs or egg products
Includes fresh eggs, preserved eggs, pickled eggs, liquid egg, eggshells, mayonnaise, and other egg-derived products.
e. Swallow's nests (excluding canned)
f. Oils, fats, skin, furs, hooves, bones, horns, and products made from those items
g. Animal-derived feed (meat meal, bone meal, fishmeal, whey powder, blood meal, and other single ingredient feed)
Animal-derived herbal medicines, animal-derived feed
*1.

Each person is only allowed one pet cat or dog with an animal quarantine certificate and vaccination certificate issued by official organizations from the exporting country (or region)
Plants and botanical specimens
h. Fresh fruit or vegetables
i. Tobacco leaves (excluding cut tobacco)
j. Seeds, seedlings, and other plants with reproductive ability
k. Organic culture mediums
l. Bacteria, viruses, or other biological pathogens, noxious insects or other noxious organisms, cells, tissues, organs, blood, or products made from those items or other biological specimens
m. Animal carcasses, animal specimens, animal-derived waste
n. Soil
o. Genetically-modified biological specimens
p. Other plants, animals, biological specimens, or quarantine plants or animals that are prohibited from import to the country
q. Plants or animals that are related to a country (or region) where plant or animal pathogens are spreading
r. Wastes, radioactive materials, or other items that are not allowed to be brought in to the country
Of plants or animals, plant or animal specimens or other quarantined plants or animals being carried in or sent by mail, those for which a quarantine certificate has been issued from an official organization from the exporting country (or region) are excluded.
These cards are on a single form, but are often found separated into halves.
Visa, passport, and other information is subject to change without notice. Be sure to check with the Embassy, Consulate, or travel agency.
The scope of tax exemption is up to the equivalent of 400 cigarettes of smoking tobacco and an external device worth up to 5,000 yuan.
For bringing and possession of tax-free cigarettes
Tobacco: 400 cigarettes, 100 cigars, or 500g of cut tobacco
Liquor: 1.5L of liquor containing over 12% alcohol
Time difference and Daylight Saving Time
Japan is 1 hour ahead of Shenyang.
Possessing land that is approximately 25 times the size of japan. The northeastern part of China has a temperate monsoon climate, but there is a large difference in temperature between seasons.
Temperatures in Shenyang and Tokyo
Precipitation in Shenyang and Tokyo
The average maximum temperature in Tokyo and Shenyang, The average minimum temperature in Tokyo and Shenyang

| Month | The average maximum temperature in Tokyo | The average mimimum temperature in Tokyo | The average maximum temperature in Shenyang | The average mimimum temperature in Shenyang |
| --- | --- | --- | --- | --- |
| Jan. | 10℃ | 2℃ | -5℃ | -16℃ |
| Feb. | 10℃ | 2℃ | 0℃ | -13℃ |
| Mar. | 13℃ | 5℃ | 6℃ | -5℃ |
| Apr. | 18℃ | 10℃ | 15℃ | 5℃ |
| May | 23℃ | 15℃ | 23℃ | 10℃ |
| Jun. | 25℃ | 18℃ | 27℃ | 17℃ |
| Jul. | 28℃ | 23℃ | 29℃ | 20℃ |
| Aug. | 31℃ | 24℃ | 28℃ | 19℃ |
| Sep. | 27℃ | 21℃ | 24℃ | 12℃ |
| Oct. | 23℃ | 15℃ | 15℃ | 5℃ |
| Nov. | 17℃ | 10℃ | 5℃ | -5℃ |
| Dec. | 13℃ | 5℃ | -2℃ | -12℃ |
The average precipitation in Tokyo and Shenyang

| Month | The average precipitation in Tokyo | The average precipitation in Shenyang |
| --- | --- | --- |
| Jan. | 50mm | 10mm |
| Feb. | 60mm | 10mm |
| Mar. | 110mm | 20mm |
| Apr. | 130mm | 40mm |
| May | 130mm | 50mm |
| Jun. | 160mm | 90mm |
| Jul. | 160mm | 160mm |
| Aug. | 150mm | 160mm |
| Sep. | 210mm | 70mm |
| Oct. | 160mm | 40mm |
| Nov. | 90mm | 20mm |
| Dec. | 40mm | 10mm |
Currency and Exchange Rate, Tax, Currency exchange, Tip
Currency and Exchange Rate
Banknotes other than in jiao are the fifth series added in 1999. While all notes feature Mao Zedong, notes with anti-counterfeit technology were added in 2005, 2015, 2019, and 2020, and there are two or three types with slightly different denomination designs.
The unit of currency is the Renminyuan (人民元), and is referred to as yuan in Chinese or simply kuai in spoken language. The abbreviation RMB comes from the word Renminbi, which is the same as Renminyuan. The fractional currency units are the jiao (jiao, or mao in spoken language) and the fen. However, the fen is rarely used these days. 1 yuan is 10 jiao, 100 fen, approx. JPY15.89 (as of December 14, 2020). As of November 2020, the types of coins in distribution are 1 fen, 2 fen, 5 fen (these three types are rarely used). 1 jiao, 5 jiao, and 1 yuan. The banknotes are 1 jiao, 5 jiao, 1 yuan, 5 yuan, 10 yuan, 20 yuan, 50 yuan, and 100 yuan. (The 1 jiao and 5 jiao notes are fourth series, and the rest are fifth series.)
In China, although taxes (service tax, city maintenance and construction tax, etc.) may be charged when lodging at hotels (not uniform rates). Under the value-added tax (VAT) refund system, you can receive a refund on the VAT when leaving China for purchases of 500 yuan or more at designated stores if you complete the required procedure.
Tipping is generally not required as there is no custom for tipping in China. Service charges are added onto lodging fees at many middle and high class hotels, and tipping is unnecessary in those cases.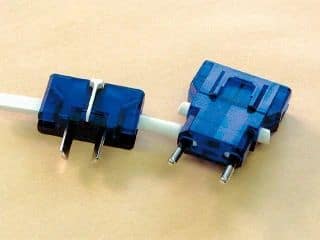 A multi-nation converter plug is convenient
Voltage in China is 220V with a cycle of 50Hz. For this reason, using electronic products from Japan often requires the use of a transformer. There are roughly 7 types of plugs used locally, with type B, C and O being the most common. Transformers and converter plugs can be purchased in Japan at stores selling travel goods as well as large electronic stores, or internet stores selling travel goods.
When purchasing video software such as DVD, BD or VCD, take note of both the broadcasting system and the region code. The broadcasting system in Japan is NTSC and China is PAL. To play PAL in Japan, a PAL compatible video player and TV, or a video player that can convert PAL into NTSC is required (BD is compatible with both). The DVD region code for China is 6 and Japan is 2, and the BD code for China is C and Japan is A (does not apply to VCD). Although the code for the video software and video player must match in order to be played, it can still be played if either is all-region compatible.
The color of the postal service in China is dark green, so the mailboxes are in dark green, not red. For airmails to Japan, postcards are 5 yuan and sealed letters are 6 yuan (up to 20g) and above. Business is divided into postal business and telecommunications business in China, and most cities have separate postal bureaus (postal services and telegraphs) and telecommunication offices.
Telephoning Japan from Mainland China
When calling (03) 1234-5678 or (090) 1234-5678
dial 00 (International telephone identification number)
3 or 90 (Remove the first 0 for area codes and mobile telephone numbers)
1234-5678 (Other parties telephone No.)
Telephoning Mainland China from Japan
International Telephone Company No.
001 (KDDI)*1
0033 (NTT Communications) *1
0061 (SoftBank) *1
005345 (au Mobile) *2
009130 (NTT DoCoMo Mobile) *3
0046 (SoftBank Mobile)*4
010 (International Identification No.)
86 (Country Code, Mainland China)
Remove the first 0 from telephone numbers for area codes
*1.

Not required if you have an international registration with "My Line". See URL My Line (www.myline.org) for details.

*2.

au does not require 005345.

*3.

Pre-registration to World Wing is required for NTT DoCoMo. Does not require 009130.

*4.

Call are possible without dialing 0046 from SoftBank.
If you want to stay on the phone you bring from Japan for the three cell phone carriers, hold down 0 until + appears, then add the country code and the phone number your wish to dial.
Holiday / National holiday
Holiday / National holiday
China's national holidays are a combination of the western calendar and the lunar calendar (Chinese calendar), and it should be noted that they include movable holidays that are observed on different dates each year. There are also national holidays and memorial days that fall on specific dates. Additionally, China is a multiethnic nation and there are unique festivals for each ethnic group that are not official holidays but many of which are very interesting to see.
January 1: New Year's
February 12: Spring Festival*1
March 8: International Women's Day*2
April 4: Qingming Festival*1
May 1: Labour Day
May 4: Youth Day*2
June 1: Children's Day*2
June 14: Dragon Boat Festival*1
August 1: Army Day*2
September 21: Mid-Autumn Festival*1
October 1: National Day
Government approved ways of arranging holidays are announced at the end of the year, and are adjusted yearly.
*1.

Movable holidays that are observed on different dates each year.

*2.

National holidays and memorial days that fall on specific dates.
The official language of China is Standard Chinese, a language that was created based on the Beijing dialect of Mandarin which is spoken by China's most dominant majority ethnic group, the Han race. Different ethnic groups have their own official languages. Additionally, even Mandarin which is spoken by multiple ethnic groups is divided into the Northern dialect, Wu (around Shanghai), Min, Yue and Hakka dialects as a result of the large territory of China. Each of these dialects differs so greatly that speakers of differing dialects cannot converse with each other. English is often not understood on the streets.
Shops and restaurants may differ in hours, but holidays and business hours for public institutions are also not regulated. Below are general guidelines for business hours.
10:00 to 20:00. Open everyday.
11:00 to 15:00, 17:00 to 22:00. Many stores are closed during Spring Festival.
The legal age to obtain a driver's license in China is 18. The law does not restrict the age for drinking and smoking. As of now, there are no rental car systems that can be easily used by travelers.
Copyright (C) Globe-Trotter Media Partners Inc. All Rights Reserved.
Copyright (C) Diamond-Big Co., Ltd. All Rights Reserved.