on November 27th, 2019 (JST) current information.
Furthermore, the details under "Visa" and "Passport" are for Japanese nationals.
This information is likely to change suddenly, so please contact the relevant official authority (e.g., embassy) for the latest information.
Japanese people do not need a visa for tourism or language studies for trips up to 180 days. For entry on business or as an international student, check with the Mexican Embassy in Japan.
Your passport must be valid for at least the duration of your stay.
Note for travel to Latin America via the United States
The Electronic System for Travel Authorization (ESTA) was introduced in 2009 for those wishing to travel to the United States without a visa. To use this system, you must apply for travel authorization in advance. Applications must be submitted at least 72 hours before departure on ( the official ESTA website(https://esta.cbp.dhs.gov/) ). Follow the procedure in Japanese, and enter the applicant information, passport information, travel information, address during your stay in the United States (e.g. your hotel), and other details in the roman alphabet. The application fee is $14. You can pay by American Express, MasterCard, VISA, or other credit card or by debit card.
If you are entering Mexico with an ESTA for the U.S., you can stay in Mexico without a visa for up to 90 days. If you will be arriving via the U.S., it is preferable if your passport is valid for at least 90 days.
Visa, passport, and other information is subject to change without notice. Be sure to check with the Embassy, Consulate, or travel agency.
When visiting from Japan, it is prohibited to bring the following items into Mexico.
a. Live animals
b. Meat (includes prepackaged products)
c. Perishable foodstuff
d. Fresh flowers
e. Seeds
f. Insects
Effective February 20, 2020, bringing electronic cigarettes into Mexico is prohibited. Products not containing nicotine (vape pens, etc.) are also prohibited.
For bringing and possession of tax-free cigarettes
Travelers aged 18 or older may bring in the following without being taxed.
Tobacco: Up to 10 packs of cigarettes, 25 cigars, or 200 g of loose tobacco
Alcohol: Up to 3 L
Customs rules are constantly being revised by the Mexican government. Note that some customs forms to be filled out upon entry to the country may still have the older rules on them.
Time difference and Daylight Saving Time
There are four time zones in Mexico. Mexico City and other major places are in the Central Standard Time (CST) zone that is 15 hours behind Japan.
In the Eastern Standard Time (EST) zone used in Quintana Roo where Cancun is located, the time is 14 hours behind Japan.
In the Mountain Standard Time (MST) zone used in the northern areas such as South Baja California, Nayarit, Sonora, and Sinaloa, the time is 16 hours behind Japan.
In the Pacific Standard Time (PST) zone used in Tijuana and other parts of North Baja California, the time is 17 hours behind Japan.
Daylight savings time is in effect throughout Mexico from the 1st Sunday in April to the last Sunday in October (excluding Quintana Roo where Cancun is located and Sonora). During that period, Mexico City in CST is 14 hours behind Japan.
Mexico is in the Northern hemisphere, so the hot and cold periods are around the same times as Japan. May to October is the rainy season and November to April is the dry season. During the rainy season, it is usually sunny in the daytime and the sky becomes overcast with rain clouds in the evening, but rain can fall all day in low pressure zones. Also, hurricanes come some years and cause damage to the Caribbean Sea side or Gulf of Mexico.
Note that the temperature difference between day and night is quite pronounced in high plains like Mexico City and areas surrounded by deserts like Los Cabos.
The average maximum temperature in Tokyo and Mexico City, The average minimum temperature in Tokyo and Mexico City

| Month | The average maximum temperature in Tokyo | The average mimimum temperature in Tokyo | The average maximum temperature in Mexico City | The average mimimum temperature in Mexico City |
| --- | --- | --- | --- | --- |
| Jan. | 10℃ | 2℃ | 21℃ | 6℃ |
| Feb. | 10℃ | 2℃ | 22℃ | 7℃ |
| Mar. | 13℃ | 5℃ | 26℃ | 9℃ |
| Apr. | 18℃ | 10℃ | 27℃ | 10℃ |
| May | 23℃ | 15℃ | 28℃ | 12℃ |
| Jun. | 25℃ | 18℃ | 25℃ | 12℃ |
| Jul. | 28℃ | 23℃ | 23℃ | 12℃ |
| Aug. | 31℃ | 24℃ | 23℃ | 12℃ |
| Sep. | 27℃ | 21℃ | 23℃ | 10℃ |
| Oct. | 23℃ | 15℃ | 22℃ | 7℃ |
| Nov. | 17℃ | 10℃ | 21℃ | 6℃ |
| Dec. | 13℃ | 5℃ | 19℃ | 6℃ |
The average precipitation in Tokyo and Mexico City

| Month | The average precipitation in Tokyo | The average precipitation in Mexico City |
| --- | --- | --- |
| Jan. | 50mm | 10mm |
| Feb. | 60mm | 10mm |
| Mar. | 110mm | 10mm |
| Apr. | 130mm | 30mm |
| May | 130mm | 70mm |
| Jun. | 160mm | 130mm |
| Jul. | 160mm | 170mm |
| Aug. | 150mm | 160mm |
| Sep. | 210mm | 140mm |
| Oct. | 160mm | 60mm |
| Nov. | 90mm | 10mm |
| Dec. | 40mm | 10mm |
Currency and Exchange Rate, Tax, Currency exchange, Tip
Currency and Exchange Rate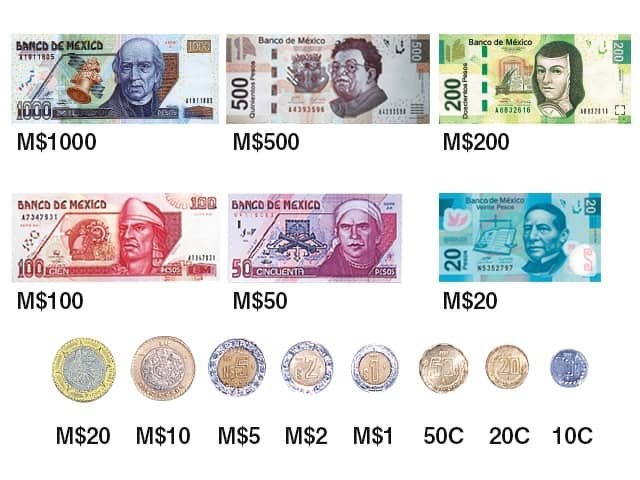 The unit of currency is the Peso. The currency symbol is a $ sign, but it is denoted here as M$ to distinguish it from U.S. dollars. M$1 is approx 5.7yen, US$1 is approx. M$19 (as of November 8, 2019). The Peso is divided into Centavos. M$1 is 100 Centavos. The inflation rate in Mexico is about 2 to 5% a year.
Banknotes are available in 20, 50, 100, 200, 500, and 1000 Pesos. Coins that are in distribution are 1, 2, 5, 10, and 20 Pesos and 10, 20, and 50 Centavos.
Mexico uses value-added tax (IVA) that corresponds to consumption tax in Japan, and 16% tax is usually included in prices. In addition, some places of accommodation require you to pay a separate 3 to 5% lodging tax (ISH). When making a purchase of M$1200 or more at a shop that is a member of the Tax Back program, you can receive a tax refund service. Get a Tax Back receipt at the shop and complete the procedure at a Tax Back desk in an international airport, for example in Mexico City, Cancun, or Los Cabos.
Tipping is a deeply-rooted custom in Mexico. As basic manners, do not forget to tip the staff at restaurants or activity facilities. Be careful not to tip too low as the receiver may be displeased.
Taxis: Although it is not absolutely necessary, it is easiest to round up payment to a round number.
Restaurants: The tip should be between 10 to 15% of the amount for your meal. Generally, you should leave the change on the table.
Hotels: Tip about M$20 when having your bags carried by a porter or ordering room service.
Tours and activities: Tip about M$20 to 50 to your tour guide or activity guide.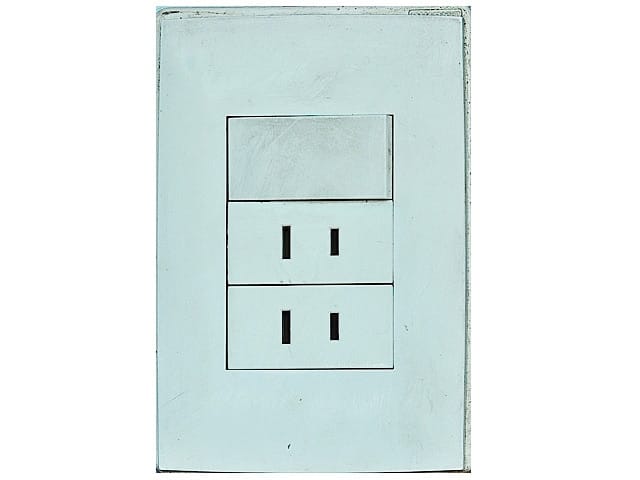 The voltages are 110 V, 120 V, and 127 V and the frequency is 60 Hz. The shape of the plug is the same as that in Japan (A type), but voltage is unstable, and it is best to use a power inverter when using electrical devices from Japan. Check the instruction manuals before leaving.
The video system is NTSC, which is the same as Japan, and video software purchased in Mexico can be played normally on Japanese media players. The region code for DVD software is 4 in Mexico, which differs from Japan that is region 2. Although some software cannot be played on regular DVD players, they can be played on multi-region DVD players or on computers with a built-in DVD player.
The postal fee for sending items from Mexico to Japan is M$15 for a postcard and the same amount for a letter (up to 20 g). When sending something to Japan, simply tell the clerk at the post office desk, "A Japon." At upper class hotels, you can ask the front desk to mail it for you. Postcards, letters, and small packages take 7 to 14 days to arrive in Japan, and EMS and DHL take 4 to 5 days.
Telephoning Japan from Mexico
When calling Tokyo (03) 1234-5678
dial 00 (International telephone identification number)
81 (Country Code, Japan )
3 (Remove the first 0 for area codes)
1234-5678(Other parties telephone number)
Telephoning Mexico from Japan
When calling Mexico City (55)1234-5678
International Telephone Company No.
001 (KDDI)*1
0033 (NTT Communications) *1
0061 (SoftBank Telecom) *1
005345 (au Mobile) *2
009130 (NTT DoCoMo Mobile) *3
0046 (SoftBank Mobile)*4
52 (Country Code, Mexico)
1234-5678 (Other parties telephone number)
*1.

Not required if you have an international registration with "My Line" or "My Line Plus". See URL My Line/My Line Plus(www.myline.org) for details.

*2.

au does not require 005345.

*3.

Pre-registration to World Wing is required for NTT DoCoMo. Does not require 009130.

*4.

Call are possible without dialing 0046 from SoftBank.
For the three cell phone carriers, hold down 0 until + appears, then add the country code and the phone number your wish to dial.
Making a long-distance call from Mexico
E.g. When calling (55)1234-5678
01 (long-distance service number)
1234-5678 (phone number of the person your are calling)
Holiday / National holiday
Holiday / National holiday
The following are the dates for holidays from 2020. There are many national holidays related to Christianity. Note that some national holidays fall on different days, depending on the year.
January 1: New Year's Day
February 3: Constitution Day*1
March 16: Benito Juarez's birthday*1
April 15 to April 12: Semana Santa (Easter)
May 1: May Day
May 5: Cinco de Mayo
May 10: Mother's Day
September 16: Independence Day
October 12: Columbus Day
November 2: Day of the Dead
November 16: Revolution Day*1
December 12: Day of the Virgin of Guadalupe
December 25: Christmas
*1.

holidays fall on different dates, depending on the year.
The official language is Spanish, but indigenous people living in Mexico each have their own language. Many people can speak English in such places as Cancun and Los Cabos.
Below is a guide for general business hours. Hours differ for shops and restaurants by establishment and area.
Generally open from 9 a.m. to 4 p.m. Monday to Friday, but some are open until 7 p.m. Some are open on Saturdays. They are closed on Sundays and holidays.
Government and other offices
8 a.m. to 1 p.m. and 3 p.m. to 6 p.m. Monday to Friday.
Most shops are open from 10 a.m. until about 7 p.m. daily. Local general stores are closed on weekends. Some crafts and other shops in tourist areas are open all year round.
Usually open from 10 a.m. until about 10 p.m. Last order is about 15 min. to 1 hour before closing. There are a lot of shops open late or 24 hours in such places as Cancun and Los Cabos.
Drinking alcohol and smoking tobacco are prohibited in Mexico for those under 18.
When renting a car, some car rentals companies do not rent any or certain cars to those under 25.
In Mexico, there is a custom of taking a siesta (afternoon nap). Although the time varies somewhat by season, it is generally from 1 to 4 p.m. Recently, the siesta custom is becoming less common in larger cities in Mexico.
Be especially considerate remembering that these are religious places. Remove your hat, do not speak loudly while inside, and do not take more photos than necessary.
Although it is not uncommon for office employees to have alcohol with lunch in Mexico, it is not acceptable to be drunk in public. Be careful, as you can be arrested for just walking with a visible bottle or can of alcohol in hand. Drinking is strictly prohibited outdoors and in shops.
Copyright (C) Globe-Trotter Media Partners Inc. All Rights Reserved.
Copyright (C) Diamond-Big Co., Ltd. All Rights Reserved.