on March 22nd, 2019 (JST) current information
No visa is usually required for tourism or business trips within ninety days. However, entry to the US is often denied for those entering and exiting frequently, or those staying in the US for a long time. Those traveling with a visa waiver must obtain electronic travel authorization from ESTA (excluding entry by land).
It is preferable to have a passport that is valid for at least 90 days from the date of entry. *Note for travel to the United States
Note When you travel to the United States
◆ESTA
The Electronic System for Travel Authorization (ESTA) was introduced in 2009 for those wishing to travel to the United States without a visa. To use this system, you must apply for travel authorization in advance. Applications must be submitted at least 72 hours before departure on the official ESTA website. Follow the procedure in Japanese, and enter the applicant information, passport information, travel information, address during your stay in the United States (e.g. your hotel), and other details in the roman alphabet. The application fee is $14. You can pay by American Express, MasterCard, VISA, or other credit card. Valid for two years from the completion of registration (except if your passport is lost)

◆Passport
Starting April 1, 2016, everyone traveling to the US without a visa must have an e-Passport (IC passport). This rule also applies to visitors with a valid Electronic System for Travel Authorization (ESTA). If you are traveling to the US with a visa waiver, you must confirm that your passport is an e-Passport (IC passport). Click here for related information.

◆Revision of the visa waiver program
The Visa Waiver Program Improvement and Terrorist Travel Prevention Act was enacted on January 21, 2016. According to this act, the following individuals cannot travel to the US on the visa waiver program (VMP).
- Nationals of VWP countries who have traveled to or been present in Iran, Iraq, Sudan, Syria, Libya, Somalia, or Yemen on or after March 1, 2011 (Libya, Somalia, and Yemen were added to the list on February 18, 2016).
- Nationals of VWP countries who are also nationals of Iran, Iraq, Sudan, or Syria.
These individuals must apply for a visa. Travelers may be eligible for a visa waiver with case-by-case screening if the purpose of travel was official business for an international organization, news reporting by a journalist, or legitimate business activities. Please check with the US Embassy or Consulate for details. Reference1, Reference2.

*Visa, passport, and other information is subject to change without notice. Be sure to check with the Embassy, Consulate, or travel agency.
When visiting from Japan, it is prohibited to bring the following items into the United States.
a. Fruit, vegetables, plants, seeds, foods, insects, plant products
b. Meat, processed meat, animals, animal or wild animal products (foods that contain eggs or meat extracts are also prohibited)
c. Disease agents, cell cultures, snails
d. Soil
*Alcohol such as absinthe with the alcohol content of 70% or more cannot be brought in to the country.
*Examples of food products that contain meat extract are cup noodles, furikake rice seasonings, curry roux, and instant soups.
Bringing in e-cigarettes: The scope for tax exemption is 200 cigarettes, same as for regular cigarettes.
If you want to enter in less than 18 years of age
The US Department of Homeland Security Customs and Border Protection (CBP) strongly recommends that those under 18 entering the US unaccompanied or accompanied by one parent or another individual who is not a parent or legal guardian have an English document signed by both parents or the parent who is not accompanying the minor.
For bringing and possession of tax-free cigarettes
For travelers who are 21 or older, tax is exempt for 1 L of alcohol for personal consumption or gifts up to $100 in value. Tax is exempt for up to 200 cigarettes (or 50 cigars or 250 g for other tobacco products). All food products containing vegetables, fruit, meat, or meat extracts are not allowed to be brought into the country.
Time difference and Daylight Saving Time
There are 4 time zones in the United States. San Jose is in the Pacific Time Zone (PST) and is 17 hours behind Japan. (It is 7PM the previous day in San Jose when it is noon in Japan.) Daylight saving (EDT) takes place from the second Sunday of March to the first Sunday of November, when the time difference with Japan is 13 hours. During daylight saving, it is 8PM the previous day in San Jose when it is noon in Japan.
San Jose is located in the northern part of the State of California, and is about 45 minutes' drive from San Francisco. The weather is almost identical to San Francisco. It is characterized by a Mediterranean climate with a cool summer and warm winter. In addition, there is little temperature difference between seasons. It is mostly sunny from spring to summer, with little rainfall. Despite the dry weather, it cools down at night even in summer, so it is essential to take a jacket with you if you are going outside. People with sensitive throats or skin may find the dry weather slightly uncomfortable. On the other hand, the winter is temperate, with a high level of rainfall from November to March. If you are visiting San Francisco during this season, rainwear is essential.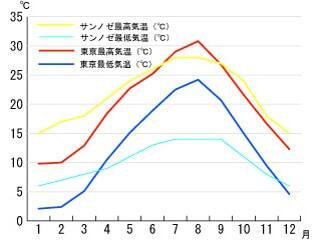 Currency and Exchange Rate, Tax, Currency exchange, Tip
Currency and Exchange Rate
The unit of currency is dollars ($) and cents (¢). $1 = JPY111.13 (as of March 10, 2019). There are six denominations of banknotes: $1, $5, $10, $20, $50, and $100. Note that many smaller shops do not accept $50 or $100 bills. There are six types of coins: 1¢, 5¢, 10¢, 25¢, 50¢, and 100¢ (= $1), but the 50¢, and 100¢ coins are not widely distributed.
There is a sales tax applied when making purchases and a hotel tax applied when staying at hotels. The rate (%) varies with the state or city. When eating at a restaurant, you will also be charged tax that is equal to or higher than the sales tax. There is no sales tax in certain places like Portland, Oregon and Montana, and states like Lousiana and Texas have a tax refund system for overseas travelers.
It is customary to tip when receiving any type of service, for example at restaurants, in taxis, or when staying at hotels (e.g. to the bellhop or housekeeping staff). The amount differs depending on whether a special request was made or the level of satisfaction with the service, but the following values serve as references.

[Restaurants] 15-20% of the total. If a service charge is included with the meal, leave some change on the table or tray when leaving.

[Taxis] Tips are about 15% of the fare (at least 1 USD).

[Hotels] Depending on the size and number of pieces of luggage, bellhops should be tipped about $2-3 per piece. Tip well if you have a lot of luggage. Leave $1-2 on the pillow for housekeeping staff.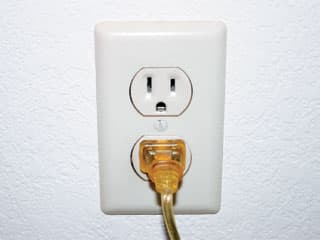 The voltage is 120 V. Plugs are three-pin. Although Japanese products with 100 V, two-pin plugs can be used as is, it should be noted that there is a minor voltage difference. Extended use of appliances such as hair dryers or chargers may result in overheating, so special measures should be taken, such as breaking up usage into shorter durations of time.
The TV and video system is NTSC in both Japan and the US, and the Blu Ray region code is A in both Japan and the US, so media from both countries can be played on media players in the other country. However, the DVD region code is 1 for the US and 2 for Japan. Therefore media that does not include both region codes or the label 'All codes' is not cross-compatible.
[Postal fees] Airmail to Japan is $1.15 for letters and postcards. There are some postal methods with a set rate for using a specified envelope or box.

[Post office hours] Hours vary slightly between towns/cities. Post offices are generally open from around 9:00 to 17:00 on weekdays.
Situation
How to phone
[Telephoning Japan from the United States of America]
Ex. When calling (03) 1234-5678,
dial 011 (International telephone identification numbers)
▼
81 (Country Code, Japan)
▼
3 (Remove the first 0 for area codes)
▼
1234-5678 (Other parties telephone No.)
[Telephoning the United States of America from Japan]
Ex. When calling Los Angeles (213) 123-456
International Telephone Company No. 001 (KDDI)*1, 0033 (NTT Communications) *1, 0061 (SoftBank Telecom) *1, 005345 (au Mobile) *2, 009130 (NTT DoCoMo Mobile) *3, 0046 (SoftBank Mobile)*4
▼
010 (International Identification No.)
▼
1 (Country Code, The United States of America)
▼
213 (Area Code)
▼
123-4567 (Other parties telephone No.)
*1 Not required if you have an international registration with "My Line" or "My Line Plus". See URL www.myline.org for details
*2 au does not require 005345.
*3 Pre-registration to World Wing is required for NTT DoCoMo. Does not require 009130.
*4 Call are possible without dialing 0046 from SoftBank.
* For the three cell phone carriers, hold down 0 until + appears, then add the country code and the phone number your wish to dial.
Holiday / National holiday
Holiday / National holiday
Note that some states have different holidays (marked with an asterisk (*)). Shops that claim to be open year-round are almost always closed on New Year's Day, Thanksgiving Day, and Christmas Day. Also, many stores have different hours during the summer holidays from Memorial Day to Labor Day.
January 1 : New Year's Day
3rd Monday of January : Birthday of Martin Luther King Jr.
3rd Monday of February : Presidents' Day
March 17 : *St. Patrick's Day
3rd Monday of April : *Patriots' Day
Last Monday of May : Memorial Day
July 4 : Independence Day
1st Monday in September : Labor Day
2nd Monday in October : *Columbus Day
November 11 : Veterans Day
4th Thursday in November : Thanksgiving Day
December 25 : Christmas Day
Mostly English, although it is not the law. Spanish is used in many places across the US.
Below are guidelines for general business hours. Hours vary with the type of business and location. Supermarkets are open either 24-hours a day or 22-hours. It is not rare for stores to close at around 19:00 in urban business districts.

[Banks] Mon.-Fri. 9:00-17:00

[Department Stores/Shops] Mon.-Fri. 10:00-20:00, Sat. 10:00-19:00, Sun. 11:00-18:00

[Restaurants] Coffee shops and other cafes are open from the morning. Breakfast is from 7:00-10:00, lunch from 11:30-14:30, and dinner from 17:30-22:00. Bars are open until late at night.
Although it varies by state, the drinking age is generally 21. Some places require you to show ID when buying alcohol. ID is also required at clubs and other places that serve alcohol. In the US, there is a very high rate of car accidents among younger drivers, and, with very few exceptions, almost all major car rental companies do not rent cars to people under 25. Extra fees are often required for drivers between the age of 21 and 24.
Copyright (C) Globe-Trotter Media Partners Inc. All Rights Reserved.
Copyright (C) Diamond-Big Co., Ltd. All Rights Reserved.