Receipts (International Flights)
Receipt Data Web Display Service
You can display and print your receipt data from Displaying (Printing) Receipt Data. Please have your ticket number ready.
You can use this service for tickets purchased from ANA (including Flight Awards).
The "Receipt Web Display Service" may not be used in the following cases.
For payments from convenience stores *1
EMD commission
Total airfare before and after exchange
For purchases from a source other than ANA, such as a travel agency *2
*1.

Please ask at the convenience store where payment was made. You can use the counterfoil from the convenience store payment as a receipt.

*2.

Please make your request at the point of purchase.
There may be other cases in which you cannot use the "Receipt Web Display Service." In such cases, requests can be made by receipt Application Form.
Receipts can be displayed if the following 2 periods are met.
From the date of purchase until 90 days after the departure date of the final sector of the itinerary
Within 2 years of the ticket issue date
You can change the name on the receipt in Japanese or English as desired.
You can also display and print a detailed breakdown (fare/tax/fee details. etc.) of the receipt.
If you are unable to use the "Receipt Data Web Display Service," please make your request by application form.
If you would like a receipt indicating the total amount (including tax) subject to Japanese consumption tax (at the rate of 10%), please call the ANA International Reservations and Customer Service Center to request one.
(For an example of how it will be indicated on the receipt, please see the Remarks field in the sample receipt below.)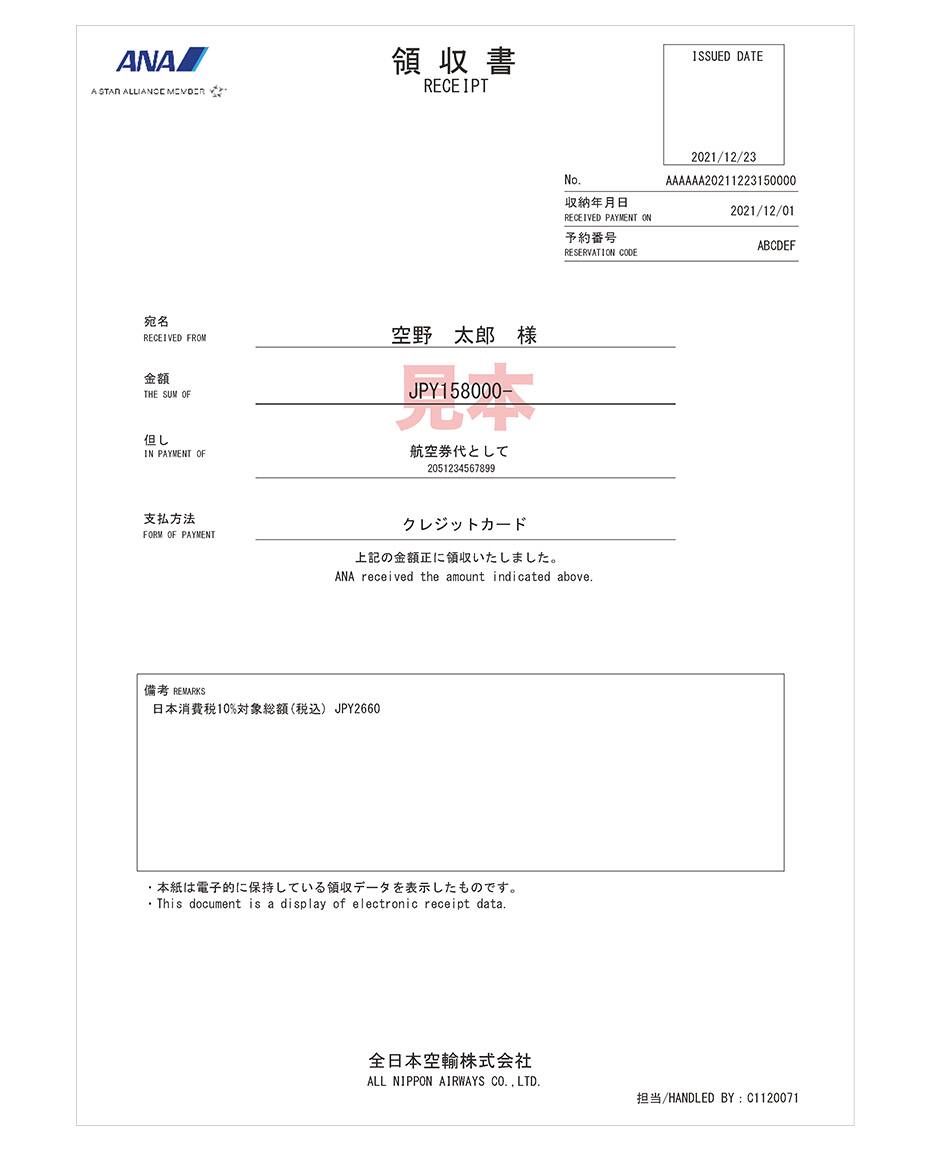 You can use this service for tickets purchased from ANA (including Flight Awards).
Delivery is available to addresses within Japan .Delivery will take a week to 10 days.
Please be aware that receipts cannot be issued by email or FAX.
For PayPal payments, the deduction method needs to be confirmed after you have made your application and therefore delivery will take more time than usual.
Notes

Receipts cannot be reissued.
If you have purchased your ticket through a travel agency or another location besides ANA, please request a receipt from the relevant location. (ANA cannot issue such receipts.)
If you have made a reservation for an international tour via the ANA website, request a receipt from the inquiries page for international travel products (e.g., tours and hotels).
ANA cannot issue receipts for payments made at convenience stores. The slip issued upon payment at the convenience store can be used as a receipt.
Please contact the relevant convenience store for more information about receipts.
If the ticket was purchased with ANA SKY COINS or ANA Value Vouchers, the receipt will indicate the amount that was paid excluding the ANA SKY COINS/ANA Value Vouchers.
Receipts for 1 passenger will be issued for each request. If accompanying passengers wish to receive their own receipts, separate requests for each passenger must be submitted.
You can request receipt issuance.