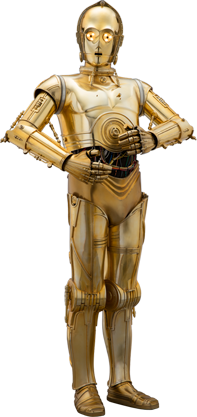 Your wait will be over soon! The eagerly anticipated Star Wars: The Rise of Skywalker will debut in cinemas on December 20, 2019. To commemorate this exciting development, ANA is pleased to preannounce the flight schedule of the C-3PO™ ANA JET for a limited period
Pre-set Flight Schedule

Date
Flight Number
Departure airport

(Departure time)

Arrival airport

(Arrival time)

Booking
December 1-December 14
27
Tokyo(Haneda)

(14:00)

Osaka(Itami)

(15:05)

32
Osaka(Itami)

(16:00)

Tokyo(Haneda)

(17:10)

243
Tokyo(Haneda)

(08:20)

Fukuoka

(10:20)

250
Fukuoka

(11:25)

Tokyo(Haneda)

(13:00)

267
Tokyo(Haneda)

(18:00)

Fukuoka

(20:05)

272
Fukuoka

(20:55)

Tokyo(Haneda)

(22:30)
*Scheduled flights are subject to change without prior notice.
*A limited number of seats are available for sale.
Special items only on the C-3PO™ ANA JET

Aprons for Flight Attendants
Paper Cups
Headrest covers

(Economy Class only)
Special boarding
certificate available in cabin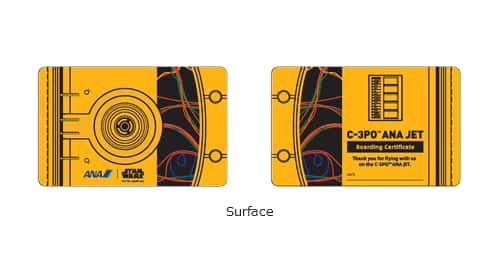 During the above period, a specially designed boarding certificate is available on board the C-3PO™ ANA JET.
*Please note that distribution of the boarding certificate is subject to flight conditions.
Campaign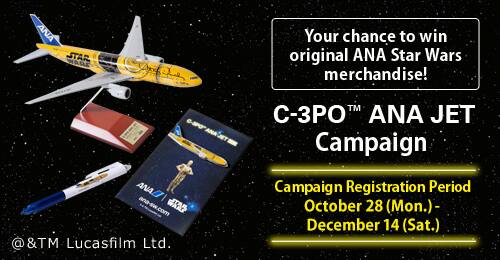 A must-see for Star Wars fans!
Board eligible flights during the campaign period for your chance to win original merchandise!